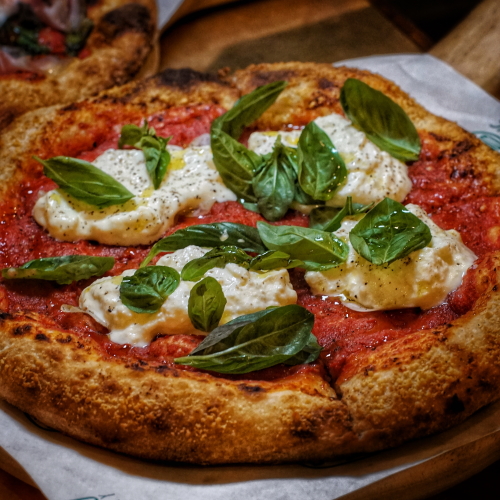 Le Vin Levain is A sourdough pizza masterclass at a steal
With an ever-growing wave of Artisan Pizza parlours popping up all over Singapore, we're spoilt for choice. Out of all of them, Le Vin Levain is one that has challenged my perception of price tag vis-a-viz Pizza quality.
A hard truth of our dining scene — Italian food wears down the wallet, rather counterintuitive to the homely culinary ethos of Italy. Finding good Pizza in the $20 range? A hard ask. While solid gems like Lino exist, it's mostly a muddle of greasy Americanised dross.
Enter Le Vin Levain — no-frills, deft in craftsmanship, and ultimately way more affordable. At least from my experience during its Tiong Bahru Bakery run, prior to its move to Drunken Farmer.
Crafty Pizza Craftsmanship with inspired twists
Le Vin Le Vain's Margherita ($15) was easily a contender for my favourite Pizza. Yes, on this entire little red dot — stupendous quality for that price.
Never had a more tantalising suite of ingredients on sourdough — rich tomato sauce, basil and, most importantly, home-made Stracciatella. Those were loaded packages of heady, punchy flavours but beguilingly retained a clean and blissfully creamy profile.
Made a great partner-in-crime for the sourdough base, which was smoky, crisp and fluffy with nicely littered air pockets. Along with a humble troupe of basil and sauce, the cast put on an exciting yet strangely familiar turn.
On the other hand, the Shrooms & Goat Cheese ($20) was one of Le Vin Levain's more avant-garde artisan pieces, one that some might not be partial to.
Surprisingly, the Goat Cheese wasn't the main driving force behind the funky madness. In fact, the rather subdued cheese took a back seat to the unabashedly spirited Chilli Honey.
It oozed a sensual light heat while the bright floral notes weaved into the umami of Pancetta and the hefty earthiness of Roasted Shittake & Kale.
Somehow, Le Vin Levain managed to make the smorgasbord of flavours work smoothly in tandem. Came swinging out of the left field but stuck its landing on the palate.
Le Vin LeVain Not just about Pizza
Our biggest surprise of the night came in the form of Le Vin Levain's Blue Praw Roll ($17). Ordered as an afterthought to the starring Pizzas but it certainly pulled its weight.
This compact roll packed massive flavours. Laksa Sammbal flavours screamed at you with unadulterated gusto, and strong notes of fragrant, homely spices stream through your tongue to leave a gentle sizzle.
The brioche could have done with a touch more butter but hey this is a commendable effort considering Le Vin Levain are not Lobster Roll specialists.
Will I go back? Hell yes — especially with its new Natural Wine haven of a home at Drunken Farmer. I'm salivating at the prospect.
Le Vin Levain (Pop-Up)
Address: (Drunken Farmer) 11 Stanley St, Singapore 068730
Hours: (Tue-Sun) 12pm-8:30pm