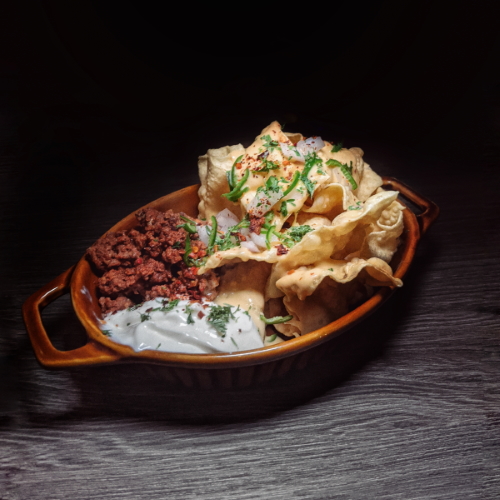 Roketto Izakaya brings quirky local flair to your favourite dishes.
We have a lot of fusion restaurants in the scene, but none as unapologetically Singaporean as the popular mod sin concepts by celebrity chef Willin Low.
His formerly shuttered Wild Rocket is now back at Relish at Frasers Towers, which transforms into Roketto Izakaya at night. Local flavours are playfully injected into bar food this time.
This "Orh Luak" Oyster Omelette Spaghettini ($20) has been making its social media rounds. Not a fan of "fusion pastas" that are often tacky but this was a tasteful injection of local flair.
The sambal sauce blitzed the palate with immensely rich hae bee flavours, supported by a killer dose of spiciness. Plump batter-encased oysters rounded up the dish with a distinctly orh luak element. Worth the masochistic heat.
The most memorable was the Papadum Nachos ($8.50). A twisted stroke of genius resulted in nachos from a parallel universe in which it was invented by Indians. The substitutions all made way too much sense.
Always enjoyed the airier but heftier crunch of papadum, and it worked extremely well in the context of nachos. Perfect base for the cheese, yogurt and flavourful tandoori. An addictive bar snack for sure.
Instead of liquor, maybe fish soup shots ($4.50) would do the trick. I enjoyed the intoxicating hit of fish soup richness with some spicy nuance. That golden brown omu fishcake was also perfect for dunking into the soup. Alas, not sure $4.50 for a shot of fish soup is worth it.
Roketto Izakaya x Nutmeg and Clove Pop Up
Currently, popular bar Nutmeg & Clove (No. 32 in Asia's 50 Best Bars) is also hosted at Roketto for a collaboration. Quite the perfect pairing of local inspired bar food and cocktails.
My pick of poison was a putu piring inspired Putu Highball ($20). Supremely smooth and easy to drink as with most high balls, but also bolstered by elegant accents of kueh in every sip from the coconut water and pandan.
Always an enjoyable place to go for fusion food with daring injections of local innovation. Simply put, not many places can do it as well as the godfather of Mod Sin cuisine Willin Low himself.
Roketto Izakaya
Website | Instagram | Facebook
Address: Frasers Tower, 182 Cecil St, #02-12/13, Singapore 069547
Getting There: 5 min walk from Tanjong Pagar MRT
Hours: (Mon-Sat) 6pm-11pm
Price Range: Approximately $20-$50 per pax.