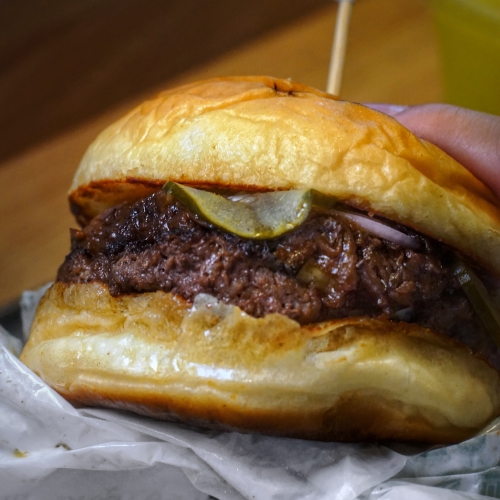 One Fattened Calf is the Burger Gem Everyone's Been Sleeping On
Rome was not built in a day. Building something profound from scratch is one of the most gruelling undertakings — it demands effort, planning, tweaking, and above all, tenacity. In the same vein, I would liken One Fattened Calf Burger's proprietors as masterful burger architects.
Akin to conceiving a stately structure, a burger is a creation that's simple but also insists on your fastidious groundwork. Simple things most often do — as amalgamations of myriad facets, not dictated merely by salient features but also by the countless intricacies underneath.
That's where the team at One Fattened Calf triumphs, as a husband-and-wife duo stood at the helm, prepared for the relentless R&D journey to craft out their dream burger.
Blink and you'd walk past the store operating out of a small space at one-north, dismissing it as another generic fast food joint. However, this concept is anything but. It's a cumulation of years of infatuation with cooking, months of R&D, daily fresh potato bun baking, and oodles of passion.
One Fattened Calf is a true gem that perfectly straddles the balance between familiar comfort and elevated gourmet standards. It's like an elevated Shake Shack or a homelier Burger Labo and I think that's the endearment of this burger joint — intimate but marked with furtive professionalism.
A Burger with Flawless Foundations
To be an architect is a fastidious uptake since the bells and whistles of the facade require the buttress of strong fundamentals. Before the flashy fillings, there are two paramount components to crafting a great burger — the patty and the buns.
One Fattened Calf demonstrates an understanding of the importance of fundamentals as their burgers feature homemade potato buns and specially sourced grass-fed patties sculpted out of 150g of pure beefy richness.
Don't expect ornate luxury on the outside but its inner workings are rock solid. A perfect grill on the beef patty made it exuberantly juicy and robust, whereas a pristine toast on the buns incited a gentle crackle amidst glorious fluff.
One Fattened Calf posits a few wildly different takes on their burger —including one where cheese is swapped out for Butter ($15)— though I gravitated towards the Gold Burger ($18) that's loaded with luscious brisket.
Balance is a finicky mistress since some palates skew towards unfettered hedonism while some seek assiduous flavour rationing. One Fattened Calf's ultimate burger creation belongs to the former category — a massive behemoth of flavour.
An overload of sapidity comes from the crowded tuft of brisket and charred onions, injecting a wealth of depth and sweetness to the base. Even with its flavour opulence, traces of pickle tartness and onion sharpness salvage it from the brink of surfeit. Just slightly, but more than enough.
Refined Fast Food Accoutrements
Another key element that sets One Fattened Calf apart from its craft burger contemporaries is actually quite unexpected — the sides, accompanying the burger as a $4.90 Burger Combo add-on.
For a simple, fast-food-style, classic this Cheese Fries ($7.90 ala carte/ $2.50 add-on for combo might be one of the best elevations, being bathed in their secret cheese concoction. A sprinkle of paprika to add some heat and distinct aroma easily helped it escape the cloying fate of similar cheese fries.
The Golden Lime Slushie ($4.90 ala carte) isn't anything too extravagant but it hits the spot as a simple slushie does. Smooth, refreshing and vibrantly zesty — it's the best remedy to the relentlessly robust flavours of their burgers.
Fast food is comfort food but One Fattened Calf proved that it can be elevated beyond that. Here's a gem that's unpretentious and intimate but the owner's passion and finesse with his subject matter is plain for all to see.
Make your online orders here.
One Fattened Calf Burgers
Website | Facebook | Instagram
Address: #01-31, Galaxis, 1 Fusionopolis Pl, 138522
Hours: (Mon–Tues, Thurs–Sat) 11am–3pm, 5pm–8pm, (Wed) 11am–3pm