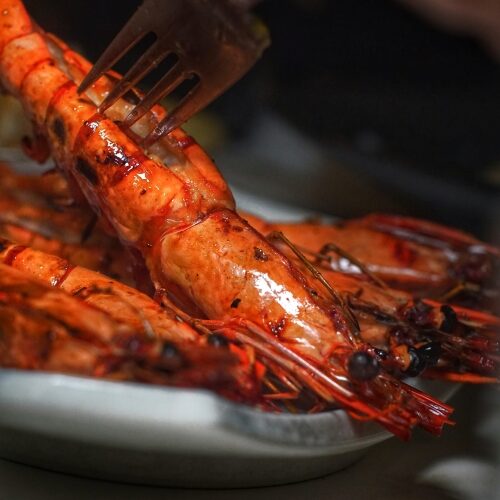 Smoky Japanese Grill Retreat at Guriru, Teppei's new Poolside Concept
Singapore has a longstanding romance with scenic dining. Photogenic al fresco hideouts command a lot of popularity, as sumptuous views of the skyline and the sea draw in crowds looking to bask in beauty. Newcomer Guriru however, provides a different kind of scenic ambience.
This quaint Japanese grill concept trades out swanky vistas for a quaint poolside party experience, where fairy lights are strewn adjacently to a pool, accompanied by white tents that inject a trace of beach club energy.
All the vibrant colours littered the space bring about a sense of casual fun, as red and yellow hues provide vivid contrast against the turquoise hues of its pool backdrop.
Everything at Guriru is centred around one core component, an open space where a charcoal grill station is set up. This is the stage where Chef Yamashita Teppei, of Teppei and Man Man Unagi fame, is supposed to shine.
Guriru is where Chef Teppei wishes to bring to life his nostalgic fondness for the Hamayaki style of charcoal grilling that's popular in his hometown. A relaxing, unpretentious grill experience that only Japanese natives will be privy to.
Perhaps not as idyllic as the influencers-with-dogs-infested swathes of sandy beaches occupied by the likes of Tanjong Beach Club, but the decor is considerate and worked perfectly within the restraints of the compound.
Hits and Misses
Something endemic to new openings is a lack of consistency across its offerings. Maintaining excellence amongst a gamut of dishes is a tumultuous uptake for a new establishment and Guriru is no different.
All fledgling concepts have a bedding-in period and Guriru has some kinks to work out. Truthfully, it could be overlooked if Chef Teppei's luminous reputation wasn't attached — but it is, so there is much more potential pegged to the project.
Fans of Guriru's sibling outlets might want to start with something familiar and the Chirashi Don ($18) would satiate cravings just as well as the likes of Teppei Syokudo. Plump fish cubes and enjoyable seasoning — just what you'd want from this classic.
However, let us talk about the big hits. Amidst some disappointments were quite a few glowing gems that would easily assuage anyone for return visits. The first of which was the Gindara ($16).
For a characteristically delicate fish such as Cod, this was immaculately worked over smouldering coals. While the flesh was as solid as it comes, the clincher was Guriru's pristine caramelisation which imbued a smoky sweetness that would make Maillard proud.
A more exclusive off-menu item that showcases Guriru's skill over fish was the Nodoguro. Unlike the full-on grill of the Gindara, this Blackthroat Seaperch is only given a gentle kiss by the blowtorch.
Using this shallow aburi method, the fresh sashimi is left plump and creamy but with a sublime contrast against the light crispy and salaciously smoky aburi layer.
Meats are also ingredients that seldom disappoint when pampered by the smoky touch of charcoal so it was no surprise the Kurobuta Pork Belly ($12) and Meltique Beef ($18) arrived luscious and succulent.
Guriru doesn't do anything too ornate to the proteins but the smoke and texture speak for themselves. The fatty and tender pork belly, drenched in a sweet and sticky teriyaki sauce, was probably one of the best meat dishes of the night.
Room to GRow-riru
Now, onto the kinks of this spanking new concept — consistency and scaling. As with most starting establishments, Guriru slightly struggled to eke out consistently great food on that hectic tasting night.
A classic seafood grill, the Whole Squid ($16), came slightly underdone and rubbery. However, they quickly remedied it and sent back a much more palatable plate of squid, juicy and accompanied by a punchy aioli.
Alas, if there was one dish that must have straight up disappointed us, it was the Unagi ($22). Guriru's was decently glazed and charred but just didn't boast of the same plump freshness Chef Teppei's Man Man is renowned for.
There aren't any huge glaring flaws and the standards here could hold up against all other casual Izakayas. Unlike other Teppei concepts though, this focuses more on free-and-easy poolside vibes and less on astounding culinary finesse.
That laidback ethos also cumulated in quite a decently varied alcoholic menu with simple Yuzu Highballs ($15) to freshen you up between heavy bites.
Personally, I say dive into the Sake section of Guriru's menu, where the house pours were great value by the glass — the Nanbujin ($15) and Kuromatsu ($12) showed a perfect dichotomous contrast between elegant florals and crisp, umami dryness.
Ultimately, Teppei's concepts have always been about heart and about fun and at Guriru, they focus more on making you feel comfortable with impeccable service and comfort food.
There are kinks to work through but the interesting premise of a poolside space with open-air charcoal grills is surely one to look forward to, especially if they continue in fine-tuning operations.
Make your reservations here.
Guriru
Website | Facebook | Instagram
Address: 2 College Rd, Level 1, Singapore 169850
Hours: (Mon–Thurs) 12pm–10:30pm, (Fri–Sat) 12pm–11:30pm