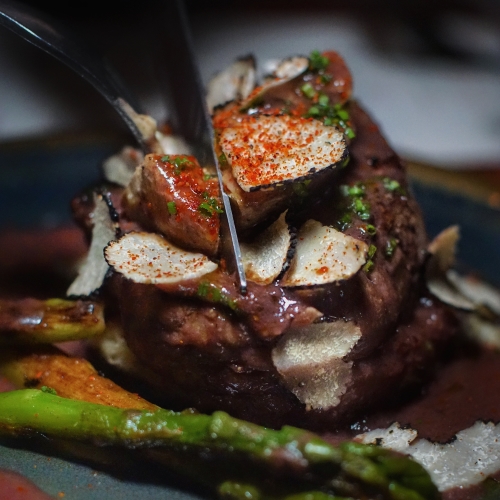 KInou is a quaint Restaurant at Keong Saik DigGing into Basque Cuisine's French Roots
An utterance of "Basque food" to the average Singaporean would probably elicit a response of "oh, creamy molten burnt cheesecake right?" And then get showered in quizzical stares as you go on about the culture-rich Basque regions of Spain and perhaps even more eyebrows raised when you dive into its Southern France territory, and that's Kinou's prime directive — a conduit to the magnificent flavours of the region.
Basque cuisine is something that's given surprisingly respectable representation in Singapore, wherein a Michelin Star was even accorded. Alas, it's not quite as pervasive as it should be.
That's where Kinou comes in as the perfect casual alternative for the cultured —but not that cultured— gourmands who wish for an evening without starched white linen invading your every gaze.
More importantly, Kinou's heritage is as deeply entrenched in authentic Basque roots, as chef-owner Benjamin Tilatti derives some of the restaurant's most popular dishes from his family-guarded recipes.
A certain warm homeliness comes through but with a touch of class. At its core, it's a rustic family restaurant that is jazzed up with some modern pizzazz and striking neon welcome signage.
Basque in the Flavours
One misconception is that Basque food is Spanish food. That is patently untrue. Even if the restaurants of Bilbao and San Sebastian dominated global attention, the Basque region actually extends into the south of France as well.
This distinct French-leaning branch of cooking is what Kinou specialises in. For that, just be prepared to be hit with a gamut of richness and righteousness done to produce, as is the French fashion.
Naturally, a prominent feature at Kinou would be meats, an irreplaceable component of both French and Spanish styles. Starting us off simple were Kinou's Basquaise Skewers ($21) and Txistorra ($23).
The latter is a boisterously rich —though slightly salty— sausage endowed with a bouncy, juicy bite while the former is a simple suite of skewers done to immaculate smokiness.
As challenging as it is to conjure up a good squid, Kinou's ensemble of baby squid and chimichurri is one of the most stunning specimens of any tentacled seafood to date.
While unassumingly plated in simple, neat rows, each individual Xipiron ($23) was markedly plump and enrobed in the gorgeous verdant hues of the chimichurri, providing a perfect herbaceous counterpoint to the smoky squid.
While the squid dish may sound like quite the daunting dish to top, Kinou answered with an even more remarkable follow-up in the form of their special Kinou Beef Tartare ($36).
Luscious Black Angus beef is decisively dissected into chunky morsels, varying from the ubiquitous fine-mince style. The result is plump, succulent bites where the beefy richness is accentuated by the punchy salinity of Uni Aioli and caviar.
The Key is Cheesecake
Showcasing a beautiful trinity of opulence is one Tournedos Rossini ($64), an exclusive gathering of the creme de la creme of ingredients. A slab of Black Angus Tenderloin is adorned with exuberantly rich seared foie gras, then perfumed with truffle's intoxicating musk.
Notwithstanding the staggering net worth of its members, this was a rather simple dish and doesn't really offer much beyond what the scope of ingredients advertises. But Kinou's wine-tinged sauce? Sublime.
Kinou's Confit de Canard Larnaudie ($39) is perhaps the one dish that didn't quite rise to the occasion, considering its stature as the classic of classic French dishes, as well as Chef Benjamin's favourite dish.
Mostly attributable to Chef being out on private business that fateful day but the dry fowl was rather lacklustre and sadly dry inside. Perhaps a return trip for one prepared under Chef Benjamin's supervision is on the cards.
When all is said and done, a surprising seductress appeared at the tail end of the meal and stole my heart — the Basque Cake ($12). Far removed from the flavour of yesteryear, Kinou's slice displays no hints of inordinately molten cream cheese.
Despite my fondness for burnt cheesecake. this classic take easily rivals the best of them. The gateau was immaculately moist and soft while graced with elegant cheesiness that doesn't overwhelm. A helping of raspberry sauce at the side gives it that fruity, tarty pop that most of us would be familiar with.
Kinou is a gem worth unearthing. Basque flavours are due the attention they deserve and there's no doubt Chef Benjamin's humble restaurant puts forward a great representation of the beauty of its massive flavours. For a foray into less-paraded styles of cuisine, this should be on your bucket list.
Make your reservations here.
Kinou Restaurant
Website | Facebook | Instagram
Address: 2 Teck Lim Rd, Singapore 088380
Hours: (Tues–Thurs, Sat) 3pm–12am, (Fri) 12pm–12am