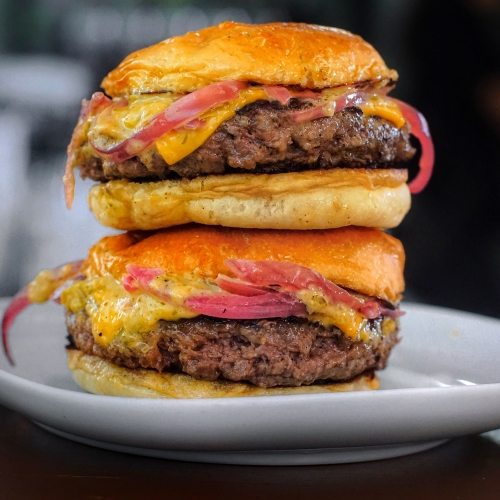 BurgerLabo is Singapore's Best Display of Burger Crafting Ingenuity
As Singapore's restaurants continue on a lavish trajectory, it's always comforting to find places that make you feel completely at home. For BurgerLabo, where the close-knit staff call their boss "uncle", that intimacy is indelible.
BurgerLabo's quaint standalone cottage might be small but it's packed with plenty of heart. The passion is evident from owner Ken Loon's tenacious insistence on crafting the best burgers in Singapore.
Since my first visit two years ago, the recipe has evolved substantially owing to the team's persistence in improving and elevating their humble basic cheeseburger.
Even with the successful genesis of its much more wallet-friendly sibling of 2280 Burger, the drive for perfection never ceases. Their motto of "be better" is a resounding affirmation of that commitment.
For any burger lover in Singapore, BurgerLabo is the endgame. The concept continues to grow, both in terms of service and in culinary excellence, to ensure the most ingenious burger engineering.
The Legendary Basic Burger
Admittedly, most people's upper limit for a burger doesn't extend past $20. To me, however, BurgerLabo's burgers are one of the few that warrant a try at that price tag, no matter the result.
Very few places command fervent customer loyalty but Ken Loon's burger project has been the subject of many plaudits since day one. Needless to say, you can't really have comprehensively hunted burgers in Singapore without a taste of this.
It's unlikely to find two people with identical criteria for a "perfect burger", of course. But to me, BurgerLabo's earliest Basic Burger was hands down the best basic cheeseburger in Singapore.
That first was a titillating totality of unelaborate but meticulous burger crafting — a masterfully congruent assembly of different components and a meld of different quality beef. That's not to mention the crispy and addictive side of truffle fries that come with the burger.
Fast forward to 2021 and BurgerLabo's Basic Burger ($25) blueprint has markedly evolved. The greens were substituted for beer pickled onions, and brioche buns were sourced from Bakery Brera. In combination with the sapid shio kombu mayo, it was imbued with echoes of the Big Mac — but elevated.
We're in 2022 now and the legendary burger has received yet another update — this time with the introduction of sumptuously fluffy potato buns. These buns are made to order locally, from a long-running family bakery, in line with Ken Loon's ethos to support local.
Throughout the years, one thing hasn't changed — the grillwork. BurgerLabo's patty has always been sublime, marrying nuances of different beef cuts into one dreamily luscious patty that's tender to the bite but also miraculously coated with a fine layer of smoky crust.
Chowing down on one is an exercise in euphoria as your incisors slices through the pillowy buns and the patty floods the palate with the most gratifying beefy bliss. Capping it off, the shio kombu mayo and pickled onions enliven things with punch and acidity.
A Refined Taste of the Seas
Fish burgers are a whole different ballgame from beef. Seemingly, it's hard to find outstanding fried fish in Singapore without breaking the bank. But safe to say, BurgerLabo's Blue Cod Fillet Burger ($22) was also quite refined.
Word of advice — pay the $5 premium for an additional Aji Fry Fillet. It adds a Midas touch with its clean but slightly briny elegance that accentuates the delicately sweet blue cod fillet. A tantalising and tangy mix of smashed avo, pickles and BurgerLabo's signature shio kombu mayo then acted as a buttress to elevate the dainty fish profile.
In a way, the fine differences in texture between the two fish also add quite a bit of interesting textural interplay. While both sported moist flesh and crispy exteriors, the slightly firmer texture of the Aji had good chemistry with the flakier Blue Cod, adding more mouthfeel.
Despite the name "BurgerLabo", the Lobster Roll ($38) is actually one of the crowd-pleasers too. Fresh and plump crustacean is drizzled with a spade of their gloriously rich shio kombu mayo, in a way similar to Burger & Lobster's dangerously addictive butter sauce.
A crunchy toasted baguette then bookended all that briney goodness, playing a great counterpoint to the oceanic flavours and the sprightly spiff of lemon. A great alternative if beef is a dietary restriction but I'd prefer the fish or chicken burger — you're here for burgers after all.
And those burgers are killer and demand your attention if you're a fan of burgers. BurgerLabo might not be the perfect burger you're seeking but as a burger aficionado, you'd definitely enjoy the dedication put into crafting premium, top-notch burgers.
Make your reservations here.
BurgerLabo
Website | Facebook | Instagram
Address: 41 Malan Rd, Singapore 109454
Hours: (Tues–Sat) 12pm–3pm, 6pm–10:30pm
*This was an invited tasting (but I've also visited on my own dime multiple times).