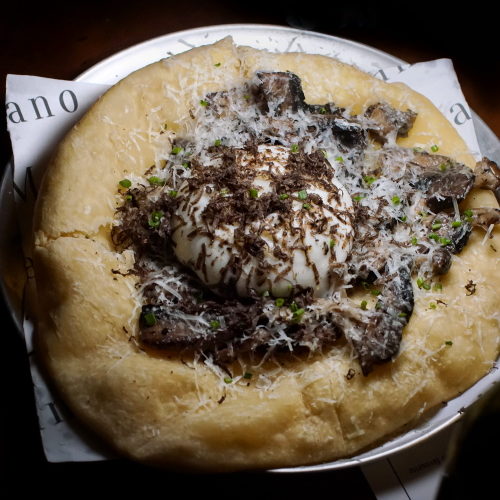 A Night of Pizzazz — Bar Milano's Pizza Fritta Challenge
While I'm a fan of cool pizzas, I'm ashamed to say I hadn't heard of pizza frittas until Bar Milano.
I first knew of Bar Milano from my favourite food critic's review, where she extolled on its demonstration of "the art of sprezzatura" — a sartorial concept of studied carelessness.
My visit has left me inclined to agree. The decor, the food, the service all scream no-frills and laidback — but there's a rustic modishness to this casual Keong Saik joint.
Virgin Fritta experience at Bar Milano
My visit was for a tasting for Bar Milano's new pizza fritta prototypes. Guests were to vote for their favourite to add to the menu.
Pizza frittas are a rarer form of pizza locally, but are a classic recipe from Naples. The Neapolitans fry the dough first before baking to create a bomboloni-esque crust.
Firstly, our dinner kickstarted with the Squid Ink Garlic Confit Cream, Prawns, Clams and Sea Urchin Alioli.
On first bite, striking garlic notes permeated the mouth and a wave of seafood umami washed over the palate headily.
While the overall profile fell over flatly from the heft of flavours, there was still a rather enjoyable undercurrent of brine and sweetness.
However, the subsequent Grilled Sweet Corn, Grilled Zuccihini, Smoked Ricotta and Guanciale might be one of our favourites.
It was a charmingly nuanced ensemble of starkly different ingredients, deftly tied together by a subdued sweet corn puree.
Hard to resist a bright base profile accented by trace zucchini bitterness, light smoke kiss and peppered with guanciale decadence. Definitely consider this, Bar Milano.
Burrata Makes Everything better
Similarly, the third course of Vodka Sauce, Smoked Burrata, Parma Ham, Calabrian Chilli, Peso and Oregano Salt was another home run.
While burrata pizza is in vogue, Bar Milano stands out from the rest with some inspired strokes of genius.
Firstly, the vodka-infused red sauce and Calabrian chilli pumped up the intensity with their sharp, punchy flavours.
Following which, it's rounded up with gentle whispers of smoke and general herbaceousness. Robust, well-rounded with an alluring depth of flavour.
We were rather underwhelmed by the truffle-heavy finale though.
A combination of Truffle Cream, Roasted Mushroom, Truffle Burrata and Shaved Black Truffle sounded good on paper.
In practice, it was more eye-candy than a palate pleaser. Don't misunderstand, it's not bad — just didn't quite deliver on its seductive façade.
For starters, silky truffle cream and truffle burrata initiated a luxurious, creamy party in my mouth, whilst the juicy, meaty roasted mushrooms mingled with their earthy flair.
However, the perfume was decidedly feeble, especially with the wealth of reddish-brown fibre packed onto the disc of fried dough.
Bar Milano's truffle fiesta just slightly pales in comparison with truffle pizzas I've had elsewhere.
Besides the pizzas, all the wine pairings from indie vineyard Fero13 were rather lovely affairs. These "hipster" wines suit the no-frills attitude of Bar Milano to a tee as well.
In particular, I found The Lady Pinot Grigio to be a marvellous chaser to the seafood of the first fritta. In fact, it even softened some of the monotony of its richness.
Overall, my virgin pizza fritta experience at Bar Milano was eye-opening. It might have even ignited a spark in me for pizza frittas—return visits might be on the menu.
Thank you Bar Milano and @eaterries for extending the invite.
Bar Milano
Website | Instagram | Facebook
Address: 55 Keong Saik Rd, #01-02 KeSa House, Singapore 08915
Hours: (Daily) 11am-10.30pm
*This was an invited tasting.