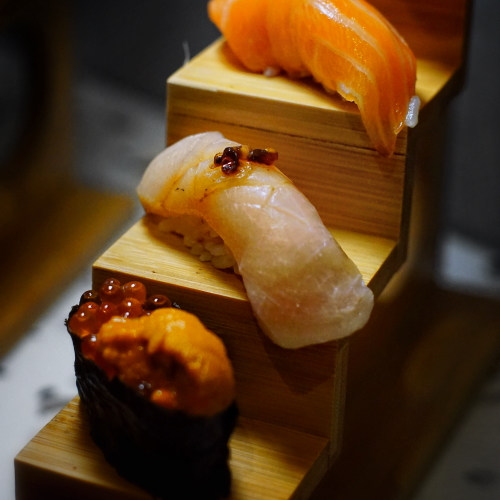 Next Level Sushi Presentation at Takeshi-San
You have to set yourself apart as an affordable sushi place, in this local market that's crowded with great Japanese joints. New opening Takeshi-San does just that with its presentation (or "gimmick" as some would say).
The shop space's decor was nicely set with wooden tones, with a gorgeous ceiling array which added a chic modern flair.
Plating a Step Above
Above all though, Takeshi-San's highlight is in the next level stairway plating for their sushi Kaidan sets.
If there's one set to go for, it's the Takeshi Kaidan Set ($26). Great variety with fresh cuts adorned upon well-seasoned rice.
A special shout-out to those plump, juicy Hotate pieces sharply dressed with Aburi-ed cheese, as well as the well-charred unagi with a decadent foie gras sauce.
The Salmon Kaidan Set ($18) is another set worth considering at Takeshi-San.
While I generally don't subscribe to the idea of Aburi and Mentaiko on Salmon, Aburi lovers would love this. Takeshi-San's cuts of Salmon were fresh, tender, and a notch above the typical sushi chain too.
Alternatively, there's a deep-fried Fireball Roll ($18) for those who don't want traditional sushi. These tempura-batter-fried babies sported a nice texture nonetheless.
A combination of spicy scallop, crabmeat, and cream cheese produced an interesting mix of flavours. However, I'm not quite sold on their combination with the eel sauce.
Udon wanna miss this
Out of all the dishes at Takeshi-San, the A5 Wagyu Truffle Inaniwa Udon ($32) was the biggest show-stealer. The udon was unbelievably bouncy, with a sublime texture that almost ricocheted when bit.
A nice creamy truffle sauce and sous vide egg are sleekly coated onto those bouncy noodle strands, elevating the textures further.
A5 Wagyu that accompanied it was well-cooked — juicy and tender but wasn't particularly mind-blowing as you'd expect from A5.
On the flip side, the fusion-inspired Prawn Pasta ($22) didn't really impress. Takeshi-San's execution was a bit iffy, which was a detriment since pasta is such a sensitive ingredient.
A marked sogginess and lack of bite are amplified by the delicate nature of angel hair pasta.
Delightful Sides at Takeshi-San
It's not really a Japanese feast without the classic egg custard. Takeshi-San does a pretty solid Ikura Chawan Mushi ($8) which was flavourful, silky, and lavishly filled with Ikura.
Of course, they also offer gyozas, the most classic side at any Japanese restaurant.
Takeshi-San offers a few variations of gyoza, such as Plain Gyoza ($8), Aburi Gyoza ($10) and Mentai Gyoza ($10).
Takeshi-San is new but shows plenty of promise already. They definitely can set themselves apart from their competitors, as a more modern fusion-focused sushi restaurant at wallet-friendly prices too.
Come for the nice staircases of sushi, stay for the sublime udon.
Takeshi-San
Address: 38 Lor Mambong, Singapore 277694
Hours: (Daily) 11.30am–3pm, 5.30pm-10pm
*This was an invited tasting.