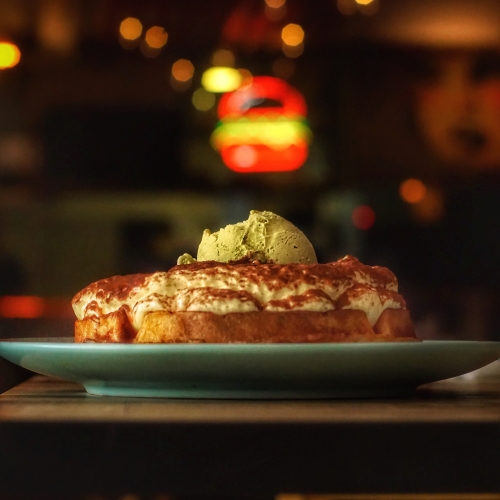 New BBW by Tie Fun Wan Puts quirky Spins on Waffles including Tiramisu and Korean Chicken
Perhaps it's sacrilege to say but waffles are passe and have been yesterday's news for years. The flood of ice-cream-on-waffle parlours had long outlived their novelty. But if you're frowning and expecting the next hole-in-the-wall artisan gelato cafe that's dyed in dreamy whites, don't worry — it's not. We're going to talk about the spunky new BBW by Tie Fun Wan.
Inheriting Tie Fun Wan's original space, BBW is very much its spiritual successor in terms of vibes and their approach toward food.
The Kovan stalwart was previously known for its endearingly nostalgic Chinese-Fusion rice bowls but this new concept is short for "Burger, Beer and Waffles", signifying a change in direction.
After four years, a change of scenery isn't the worse as BBW retains the soul of Tie Fun Wan, since chef Ken Chia remains on top of things in the kitchen. It's just been given a spiffy facelift with prominent neon signs and darker colours taking centre stage.
That can only mean one thing — BBW by Tie Fun Wan will no doubt exude that same rebellious spirit of its predecessor, so expect a wrench to be thrown into the classical mould of waffles as you know them in Singapore.
All for Waffles
Waffles are, admittedly, not hard to execute. But that begs the question of why so many artisan gelato stores struggle to make theirs crisp and fluffy. Glad to say — BBW by Tie Fun Wan actually aced the texture test.
Just tapping on its outer shell would yield an assertive thud that signals its crisp and cutting in releases a cacophony of crackles, before the knife is met with the surprisingly pillowy innards of the waffle.
It's on that solid foundation that BBW by Tie Fun Wan builds on one of their bread and butter, their Savoury Waffles ($14) where a choice has to be made between Korean, Japanese, Singaporean, and Thai styles.
Choosing Korean was the right choice it seems because the gochujang sauce layered immaculately atop the juicy chicken and the sweet maple sauce, kicking up a sweet-savoury storm reminiscent of the highly-raved Chicken French Toast from Supernova.
Despite my lengthy monologue about the banality of ice cream and waffles, BBW by Tie Fun Wan is actually a place that shatters that mould. They innovate with interesting ideas that actually work without being contrived like capping the waffles with Creme Brulee ($11.90) and Tiramisu ($12.90) cream.
The latter was assembled with quite meticulous care towards balance — cream is fluffier and lighter than your usual tiramisu cream which helps steer it away from cloyingness. More importantly, the faint rum and coffee notes were a match made in heaven for the toastiness of the waffles.
The CLassic Burger & Milkshake Duo
Other than their waffles, BBW by Tie Fun Wan has another main focus — burgers. What is a natural pairing to these juicy, decadent parcels of richness that everyone loves? Milkshakes.
As far as milkshakes go, these had most of the basic components down to a science. Biscoff lovers would be infatuated with the Lotus Biscotti ($8.90) and how it flaunts its rich buttery sweetness amidst a plush creamy texture that goes down effortlessly.
Its meaty counterpart here was slightly less stellar though. The Messy Burger ($20), supposedly BBW by Tie Fun Wan's signature, was undoubtedly a decent burger but didn't quite hit the same highs as their waffles.
Those who like their buns saucy would appreciate the glorious mess of mushroom ragout, greens, and egg piled atop the patty. Ultimately though, it falls victim to its grandiose presentation as the slightly overdone patty, while juicy, didn't explode with the decadence you'd expect.
Notwithstanding the burger, BBW by Tie Fun Wan was a surprisingly fabulous experience — they surprised me with their quirky elevated spins on the ubiquitous waffles, all at a reasonable cost too. If they can work out their opening kinks, I can see this Kovan bistro thriving — as its predecessor did.
Make your reservations here.
BBW by Tie Fun Wan
Website | Facebook | Instagram
Address: 50 Hougang Ave 1, #01-00, Singapore 538885
Hours: (Tues–Thurs, Sun) 11:30am–10pm, (Fri–Sat) 11:30am–11pm
*This was an invited tasting.