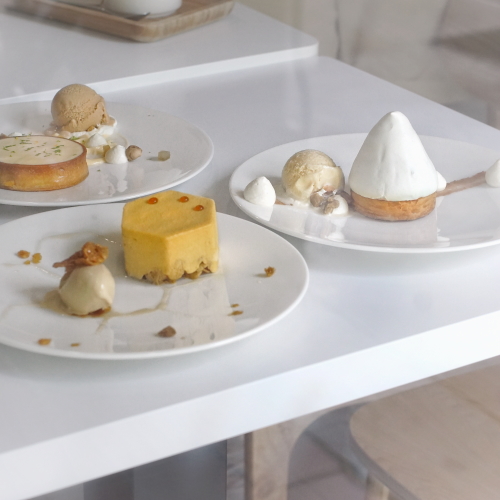 A Review of Every Single Pastry at Lee's Confectionery
There are many amazing patisseries in Singapore but not many have the same eye for aesthetics as Lee's Confectionery. These creations are as much a treat for the eyes as the palate.
It's a small shop so you can expect a small wait at times. Many cafe hoppers would appreciate the minimalist white decor's potential as a backdrop for those aesthetic #foodtagram shots.
One caveat is its location in the far-flung area of Chinese Garden. So, is it worth the Journey to the West? Here's a review of every single pastry on the Lee's Confectionery menu.
The Lee's Confectionery Classics
One of Lee's Confectionery's perennial items is the Madu ($8), a deft layering of textures and flavours.
I was smitten by the textural interplay between the whipped Horlicks cream and honey cornflakes, while honey and caramel added a fragrant punch to it.
Above all, it's gorgeously crafted and accompanied by dainty honey drizzles.
Another Lee's Confectionery classic was the Tart ($8), in its v2.0 iteration. The smooth, creamy texture accentuated the crumbliness of the tart base.
Zippy lime citrus provided a sublime contrast to the prominent hazelnut and buttery tart.
New Year, New Sweets
The new year begets new offerings and Chun ($10) is Lee's Confectionery's sweet start to CNY. Its striking scarlet façade hides a jammy overflow of strawberry coulis, which injected a nice fruity piquancy to the sponge.
However, it was rather mild and the star was actually the ginger torch flower and strawberry ganache. A rather exotic touch of ginger torch flower imbued a sharp-spiced kick that rounded up the flavours.
For something earlier in the year, you can try Lee's Confectionery's first release of 2021, the Pomp ($8). Appropriately named, this dessert oozes pomp.
Its flavour is the opposite, however, primarily being a focus on the dainty and refreshing pomelo. Some traces of cream cheese and tart butteriness gave some nuance, but only slightly.
Lee's Less Memorables
Not all were hits. For example, I struggle to remember anything about the Choc ($8). There's supposed to be tamarind in this, but it was a rather disappointing monotony of richness.
Above all, it sported a jarring salinity that spoilt the richness. For the shining reputation of Lee's Confectionery, this wasn't much different from any other chocolate tart in the market besides the salt, sadly.
The Mont ($8) featured a delightful base of gentle water chestnut flavours and vanilla mascarpone. Not saccharine and overall a pretty solid creation, but just not too memorable.
Likewise, the Ahpo ($8) was a good blend of flavours. Soft kisses of cinnamon permeated the caramelized green apple core, which saw the perfect foil in the gently earthy chai ice cream.
In addition to the pastries, Lee's Confectionery's coffee was pretty underwhelming. Sourced from one of my favourite local roasters, Tiong Hoe, but it was a rather generic nutty, roasted cuppa.
But they are a patisserie after all, so it's not a big deal.
Overall, Lee's Confectionery hasn't disappointed me from my last visit. There's still magic in their dessert plating masterclass, and the items on the menu were generally good.
I can only look forward to the next menu refresh, to make the pilgrimage down to the West just for Lee's Confectionery.
Lee's Confectionery
Address: 343 Jurong East Street 31, #01-59, Singapore 600343
Hours: (Sun-Tues, Thurs) 12pm-6pm, (Fri-Sat) 12pm-10pm, closed on Wed