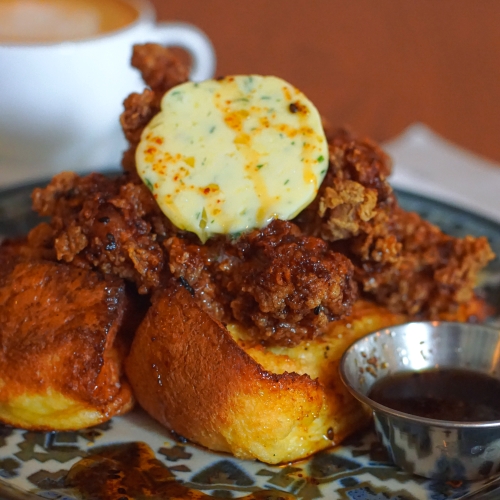 Atlas Group's New Supernova is a Vougiesh Cafe Lookbook Come to Life
Local Natives, Mumford & Sons, etc. — a string of indie bops reverberate through the spacious constrains of Supernova's chic cafe space along Tanjong Katong road.
The soundtrack sets the mood perfectly. The only thing that could be more perfect was if "a champagne supernova in the skyyyyy…" blew through the speakers.
Atlas Group's newest cafe is pure, unadulterated interior design porn meant for anyone born after 1990. Supernova is the picture-perfect manifestation of the fantasies of the design-conscious millennial who keeps a coddled collection of Kinfolk issues.
Trails of sunlight set the mood, leaking in from the stout windows, mingling with warm hues of amber wafted by vogueish chandeliers and svelte wall lamps.
A rustic charm permeates throughout Supernova's interior, dressed up more like a romanticised reimagination of a Western saloon than a cafe suit for brunch dates.
Bold streaks of grey accented the wooden undertones of the cafe, extending to the centrepiece of Supernova. An impressively stylish counter — an ingenious hybrid of an old-school speakeasy bar with an acrylic shelf that glowed with striking orange, housing wines in a whimsical natural wine bar fashion.
As Much Substance AS Style
I just popped by for an afternoon coffee run, where the crowd thinned and I had most of the Supernova space for myself, despite the feverous cafe hoppers that plague the place on the weekends.
As someone who's quite familiar with the Atlas Group's patented style of sleek, modern brunch that satiates —also with prices befitting its bougie vibes— I wasn't expecting anything to blow me away.
I admit my mistake because Supernova's Fried Chicken French Toast ($24.50) was easily the best rendition of French Toast I've found in Singapore thus far.
Every inch of the ensemble was beautifully executed — the fried chicken had that gratuitous crunch on its craggy exterior while gushing with juices from its tender innards. More importantly, the French Toast was divinely pillow-like and melt-in-mouth.
Real magic only happens when you assemble the fried chicken, French Toast, and syrup together as Supernova intended. Simultaneously an immaculate medley of sweet savoury, a charming suite of spices and herbs, and a riot of crisp and fluff — sublime contrasts all around.
Being a huge fan of grilled cheese, I also gravitated towards their peculiar Grilled Cheese and Pumpkin Soup ($18.50). Glorious scores of Gruyere and Mozzarella came sandwiched between chunky slices of crispy charred sourdough, while they switched out the common tomato soup for a pumpkin one.
While the sandwich itself could probably do with a touch more cheesy richness, Supernova's Pumpkin Soup was spectacularly balanced and smooth. It applied a tangy and sweet layer of silkiness onto the grilled cheese that massively elevated the combo.
On the other hand, Supernova's Portobello & Gorgonzola Rigatoni ($22.50) was a pretty standard brunch carb — decent texture and a good amount of umami in the sauce but nothing too different from your run-of-the-mill cafe pasta.
A Good Dose of Caffeine
Even though Supernova has an extensive wine list on hand, I resisted my alcoholic urges and got a cup of Flate White ($5.80) as planned.
My opinion on the Atlas Group's coffee remains the same — simplistic, aromatic, easy to drink, but not much wow factor. It's definitely a palatable brew for most people though, which is always good.
A great alternative to the espresso brews here would be the iconic Milky Way ($7.70) bottled cold brew carried by all of Supernova's cafe siblings in Singapore. Perhaps a bit saccharine but the dreamily smooth mouthfeel is to die for.
Being as infatuated with ambience as I am, this new cafe opening is one of the few I'd been so excited about. Supernova could be one of the most gorgeous hype cafes to grace the Singapore cafe scene in a while — doing away with banal, uninspired all-whites while beautifully mixing sleek modern aesthetics with shades of retro.
Supernova Cafe
Address: 266 Tanjong Katong Rd, Singapore 437053
Hours: (Tue–Sat) 8am–10pm, (Sun) 8am–7pm