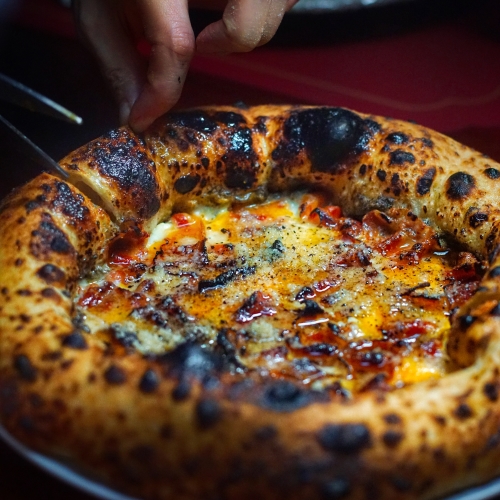 Wala Pizza is A Pizza Home dining Sanctuary in the Singapore Heartlands
A misconception that many have is that you can only get good pizzas in a fancy restaurant. Considering its humble origins in the austere Napoli purlieus, that shouldn't be the status quo. Amidst a wave of swanky artisan pizzerias, it's refreshing to see Wala Pizza bringing the homely carbs back to its roots, straight out of a home oven.
Conceived during the Covid period, this home kitchen is run by a couple who are obsessed with pizza. What first started as a pandemic home project spawned Wala Pizza, which has since become quite the home dining sensation in Singapore.
Pizzaiolo Jenna uses her food science background to fastidiously tweak pizza dough to perfection, while her husband Melvin also aids in the kitchen and with home agriculture — yes, their herbs are all cultivated by themselves.
First stepping into Wala Pizza, you'll be greeted by the bubbly demeanour of Jenna who immediately tries to commit each of your names to memory. After some handwashing, you are chaperoned to a dining space enclosed behind partitioning curtains.
There's nothing too fancy about this dining room that's mostly centred around a stately wooden table and a neon sign bearing their insignia. On the table, red placemats are arranged neatly with crockery immaculately set atop while brass table lamps jazz it up with a cosy, luxe ambience.
Once everyone is seated, Jenna primes everyone for the night. She starts simply by expounding on her passion for pizza and then details the intricacies of designing the menu for Wala Pizza's Pizza Omakase ($128).
Energetic and convivial — her excitement to showcase her creations was palpable.
The Simple Start is the Most Effective
After a momentary sojourn to the kitchen to prepare the starters, Jenna promptly returned with two dishes to kick off the night.
The first was an interesting Herring & Redbeet Hummus dish, designed to be embraced by a fibrous blanket of kale, homegrown by Wala Pizza.
A potent mix of flavours —simultaneously fragrant, savoury, and sweet— from the herring's marinade and its bedfellows of capers, pomegranate, and extra virgin olive oil.
Its follow up was a preview of the doughy canvas for all the creations at Wala Pizza — a simple Garlic Basil Bread.
As homespun and inelaborate as it gets, this was a flavour bomb. Fresh basil perfume mixed with an elegant garlic aroma to counteract the smoky dough and the heavy gamut of aged Parmigiano.
Above all, it's the dough that will arrest your gaze. Wala Pizza's dough is a stunning work of art. Delicately chewy dough that swelled up from a beautifully complex lattice of air pockets, punctuated with salaciously charred leopard spots all throughout its brim.
The dough is undoubtedly the paramount ingredient in pizza making. All pizzas must adhere to and complement the dough — be it the chewy Napolitano classics, crunchy Romana variants, or the NY-style heavy-hitters.
Hence, with Wala Pizza's infatuation with dough technicalities, there was no doubt that the first pizza, the timelessly chic Sicilian Pistachio Mortadella would deliver.
Sicily is Italy's benchmark for pistachio, an ineffaceable part of Italian cuisine. Its striking nutty fragrance was controlled and refined which made for a well-balanced ensemble with lemon zest, mortadella, stracciatella and creme fraiche.
The Wala Pizza Specials
Jenna is someone who respects the classics but isn't afraid to challenge the boundaries. It's with that industrious trial-and-error that she developed certain ingenious spins like Wala Pizza's Pumpkin Four Cheese.
Defying conventions, the foundation is built on a creamy base that's a fusion of pumpkin, aged Parmigiano, mature cheddar, gorgonzola, and charred halloumi. Vivacious with complexity as gorgonzola exuded its sharp funk while pink peppercorns injected a floral acidity.
Deriving inspiration from her Spain travels, Wala Pizza's Paella-Style Squid Ink Scallops was a titillating confluence of Spanish and Italian classics.
This was an ocean of intense flavour depth as smokiness and brininess were muddled with the oomph of pesto and reduced San Marzano. A sputter of smoked paprika then gave it that spice-forward flair to round up the gamut of richness.
After the whimsical creations, we approached what Jenna described as the climax. And what better opener to soar into the crescendo than Wala Pizza's all-time favourite Truffle Carbonara.
If the Squid Ink Pizza was an ocean of depth, the Truffle Carbonara is a volcanic eruption of decadence. That much is evident from the perky and glistening morsels of crispy guanciale embedded into the golden-orange crater.
That blitz of unadulterated sapidity effortlessly elucidated why this is Wala Pizza's blockbuster. It's an incessant explosion of guanciale umami, egg yolks, and aged Parmigiano injected with an intoxicating dose of truffle.
The Climax
We soon found ourselves at the final main course at Wala Pizza and they decided to finish with aplomb. The climax of Three-Way 'Toms & Chovies naturally had to feature the cardinal Italian ingredient, the tomato.
Despite it not being exceedingly inventive but the quality of produce and congruous layering was sublime — achieved through a trinity of San Marzano sauce, sun-dried tomatoes, and a garlic roasted tomato confit.
I was smitten by the heavy touches of anchovy funk setting in over the tomato twang before a pesto-lined sphere of Burrata adorned a sensually velvety mouthfeel. A perfect testament to Wala Pizza's love for the dignified classics.
Whereas I'm not a big advocate for dessert pizzas, Pizza's iconoclastic Five-Spice Pumpkin Kaya was convincing — there's thick, viscous lava of kaya overflowing and it's enriched with the most exotic kiss of Chinese five-spice.
Flakes of orange zest imbued aromatic flair to cut through the robust sauce base but the coconut dairy-free ice cream wasn't as effective in alleviating the heaviness due to the absence of creaminess. Slightly cloying at the end but a wonderfully quirky idea, nonetheless.
And that is the crux of Wala Pizza. It's unconventional and bold, yet respectfully defers to the Italians' time-honoured conventions on moulding dough to perfection.
At its heart, this home kitchen is a food scientist experimenting on her most beloveddish and it's self-evident that she relishes this opportunity. To me, there aren't many more impressive pizzerias in Singapore — restaurant or not.
New slots are only released on the 20th of every month at 12pm. Make your reservations here.
Wala Pizza
Website | Facebook | Instagram
Address: Their home is somewhere between the Yew Tee and Choa Chu Kang MRT stations
Hours: On Booking Basis Only