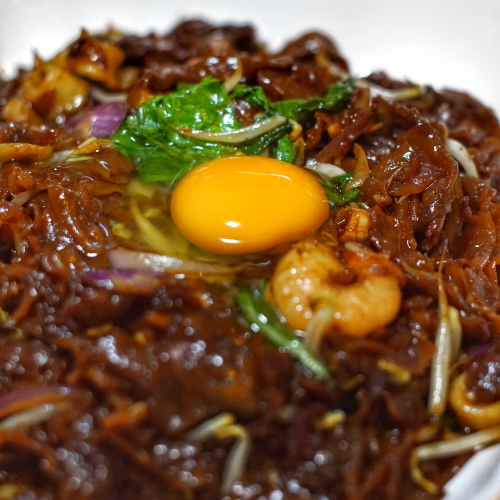 Keng Eng Kee Seafood are Royalty of Singapore Zi CHar
Zi Char (literally translated into "cook and fry") is an unmistakable symbol of the Singapore hawker scene, playing host to countless family gatherings over the decades set to Hor Fun and Chilli Crab. With its ubiquity, it's worthy of respect when a stall can leave a deep etch on the Zi Char scene as Keng Eng Kee Seafood did.
Already into their third generation, this is a family business that has withstood the tumultuous storms of the F&B scene and still stands steadfast almost 50 years later.
In a way, it's a powerful symbol for our "UNESCO Heritage" hawker culture when Keng Eng Kee Seafood can persevere and still keep reinventing itself while staking a claim on frying up some of the best renditions of Moonlight Hor Fun and Coffee Pork Ribs.
The Exceptional Signatures
After the server is done shooting out a long list of signatures and recommended dishes, we promptly waited for the arrival of one dish in particular — Keng Eng Kee Seafood's legendary Moonlight Hor Fun ($6).
The execution was immaculate — a healthy dose of intoxicating smoke imprinted on every silky, chewy sheet of Hor Fun while rich yolk and tender beef added all the oomph you needed in a plate of carbs like this. Alas, I've had this dish on multiple occasions and the execution turned out to be iffy at times but when it hits the mark, it hits hard.
The starting act was quickly superseded by the Coffee Pork Ribs ($15) which was astoundingly delicious. Compared to many other versions of this unassuming dish, Keng Eng Kee Seafood somehow manages to make theirs stand out like a true star.
A flavour bomb wrapped in a delightful sheen of glaze imparting a nice balance of caramelised sweetness and coffee bite — it's not unimaginable for an individual to finish an entire portion, it's that addictive.
Following that, Keng Eng Kee Seafood kept upping the ante and dazzled us with a smoky pot of Claypot Pork Liver ($12) that might be one of the best pork liver dishes you'd find in Singapore.
Not only was it dyed with the smoky depth of the sauce after being sealed up in the claypot but it didn't carry any hints of offal stench and boasted of a tender, bouncy bite that isn't far off from the likes of Mui Siong or Michelin-starred Hill Street Tai Hwa.
Classics that You can't Go Wrong With
Crab is ingrained into the Singapore hawker DNA — a lavish Zi Char feast doesn't feel quite right without a heaping of crustacean soaked in some manner of sauce. Chilli Crab is undoubtedly the most iconic dish and so it's only natural to find a mound of crab slicked in the familiar sweet-spicy twang make its way onto our table.
Keng Eng Kee Seafood does a pretty solid plate of Chilli Crab, the sauce had all the right flavours notes going on and the crab meat was luscious. That said, it wasn't discernable to my palate as being far and above other renditions of the local classic.
On the other hand, Keng Eng Kee Seafood's Salted Egg Crab was bathed in one of the silkiest and most decadent salted egg sauces on any crab I've had. Salted egg sauce may be overdone but theirs packed all the right aromatics and texture and that's more than good enough for a messy, saucy eat like crabs.
Zi Char is something that's often done in the homeliest way possible — it's supposed to be hard-hitting and gratifying and fills up a whole family. On that front, I think Keng Eng Kee Seafood is one of the best Zi Char experiences in Singapore with its hearty signatures like the Moonlight Hor Fun, trumping even the likes of more upscale establishments like New Ubin Seafood.
Make your reservations here.
Keng Eng Kee Seafood
Website | Instagram | Facebook
Address: 124 Bukit Merah Lane 1, #01-136, Singapore 150124
Hours: (Daily) 11:30am–2pm, 5pm–10pm