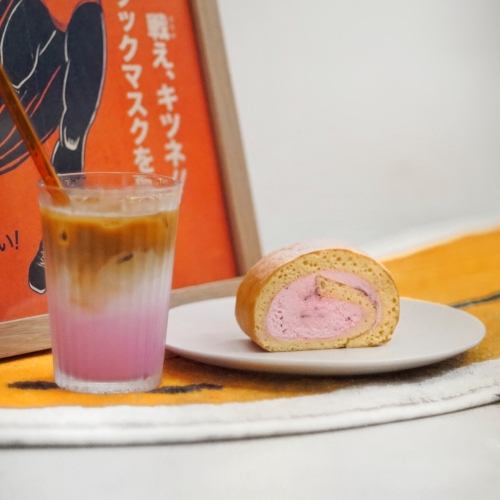 Rookie's Coffee Shop is a Fun Cafe Adventure with Dirty Bandung & Swiss Rolls
"There is a method to my madness." Said Junior, owner and head barista of the newly opened Rookie's Coffee Shop at Queensway. The usual bells and whistles of a typical new cafe opening aren't present — the space is as unpretentious as you can get. (Read my interview and profile piece on Junior here.)
But Rookie's Coffee Shop still comes with a spry pop of orange to add some vibrance to its simplicity, while some quirky music choices add a personal touch to this laidback spot.
Junior subscribes to delivering a stripped-down coffeehouse experience where the brews are the star and customers' interests in specialty coffee will be sparked. As a self-proclaimed "rookie", this is his vision and the raison d'etre of this coffeehouse.
It's not just a mishmash of design philosophies — you can see faint echoes of places such as the old Kurasu at Odeon Towers, from where he hails, and there are whispers of Double Up Coffee represented through youthful branding and type font.
If you're one for al fresco vibes, an army of foldable tables and chairs are ready to spring to action and let you bask in the homely shade of the Queensway HDB blocks while enjoying birdsongs from a bird shop right next door.
Ultimately, the moving cogs in the Rookie's Coffee Shop machinery are more than the product, the ambience, or the food — it's the people. The intimacy, knowledge, passion, and expertise of Junior —a former Singapore Aeropress Champion— is the driving force behind making this a comfortable spot for caffeine aficionados.
Lemon Bar To Set The Bar
It might be weird to hear lavish praise heaped onto something as rudimentary as a Lemon Bar ($5) but what you get at Rookie's Coffee Shop is simple lemon-loaded gratification.
The lemon component was vivaciously zesty while being beautifully balanced by a buttery and crumbly almond base — enough piquancy and punch but fine-tuned to not be too overwhelming.
Together with the Lemon Bar is a Chocolate Chip Cookie ($3.50), both of which are supplied by Little Big Coffee Roasters. Comparatively, the cookie was a lot more forgettable but it's a plain treat for those times you want unembellished cookie goodness.
Aeropress Coffee from a Champion
We've already mentioned this but owner Junior clinched a championship from Aeropress a few years ago. If there's a place for you to get Aeropress, it's obviously Rookie's Coffee Shop.
Aeropress is a rare sight in most specialty coffeehouses in Singapore, with most skewing towards using V60 for similar style brews. But Junior understands the apparatus keenly and his curation of beans were specially geared towards utilising the additional air pressure which V60s aren't privy to.
You won't get anything that Junior himself won't drink because the slew of beans on rotation at Rookie's Coffee Shop is sourced from his personal favourites and close associates, so quality is assured. One of the best examples was a Chorongi AB Kenyan ($6.50) from Double Up Coffee that was stupid smooth and perfectly balanced with soft acidity.
You can also find intriguing blends such as the Marvin Barratnes Costa Rica ($6.50) Single Origin that hits with pronounced black tea notes, while tinged with lemon citrus and even exquisite upmarket selections like the Jairo Arcila Colombian Geisha ($6.50).
For regular espresso drinkers, the Iced White ($5) used a Honduras Single Origin that glided down effortlessly like silk and sported a delightful but controlled fruity note, melded with the milk but not turning excessively milky.
Rookie's Familiar Comfort
As mentioned before, there is a certain method to the madness of Junior's Rookie's Coffee Shop. It required a bit of time to gestate but they found a unique new niche.
With a whimsical approach to coffee unrestrained by specialty coffee customs, they'd conjured wild inventions like the Bandung Espresso ($5.50/$6.50).
Working on the blueprint of the rose beverage all Singapopreans are familiar with, the Bandung Espresso at Rookie's Coffee Shop is imbued with the fragrant depth of coffee.
Though not mercurial, this dirty Bandung twist is still prone to changes to the espresso blend.
Nevertheless, both the elegantly floral Ethiopian variation and the fragrant and headily malty Rwanda blend were splendidly unique. The bandung wasn't lost in translation at all — asserting its distinctiveness while not feeling gimmicky or washed out.
Another frankenstein on Rookie's Coffee's menu that might deceive you is the Iced Jelly White ($7). This looked suspiciously like the grass jelly soy milk drinks prevalent in Singapore's hawker centres.
Despite appearances, this was a simple mix of white coffee with soft chunks of homemade coffee jelly. It's nothing like the former save for a spoonful of brown sugar syrup to inject some sweetness to keep it from tasting too flat.
But perhaps the real retro highlight of Rookie's Coffee Shop are the array of Plain Jane Swiss Rolls ($6–$7) available. Many have a fond sense of nostalgia for swiss rolls and the Serangoon cafe makes some of the best in Singapore.
Enchantingly moist and fluffy while creamy in the centre, these are flawless swiss rolls. The must-order is the Earl Grey Swiss Roll that features an elegant bergamot twang amidst earthy tea fragrance.
However, I'm also partial to the Raspberry Swiss Roll that contained a nice raspberry sweetness that didn't taste artificial or cloying. In fact, I thought it was a perfect foil to the quirky signature of Rookie's Coffee, the Bandung Espresso.
If you're a coffee lover looking to explore novelty —but not to the extent of becoming gimmicky— Rookie's Coffee Shop's Aeropress brews, retro offerings, and their unpretentious approach to serving the best coffee makes this a spot that you'd find comfort in.
Rookie's Coffee Shop
Address: 124 Bukit Merah Lane 1, #01-144, Singapore 150124
Hours: (Tues–Fri) 10am–5pm, (Sat–Sun) 10am–6pm