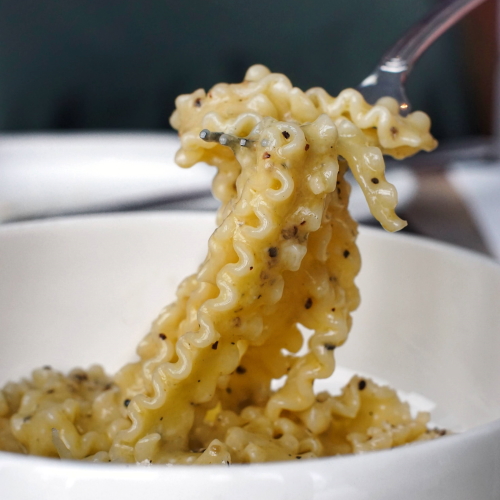 A Sumptuous Pasta Affair with Caffe Fernet's Spectacular Marina View
The spectacular sight of the Marina Bay Sands has become a common fixture in our dining scene, adding some majesty to many restaurants' mise-en-scene. But there's a touch of elegance to the cul-de-sac at Collyer Quay that Caffe Fernet rests on, making it feel like a charming unwinding spot.
Overlooking the Marina waterfront, you get to indulge in a sense of idyllic bliss in the day as sunlight floods the entire space, streaming in through its perimeter of glass panes stretched from floor to ceiling.
Caffe Fernet gives you a feeling of warmth but with a modern edge injected into it as it's doused in splashes of a bold, striking shade of red hearkening to the classic Italian aperitifs like Campari and Aperol.
While on paper, the space inside isn't sprawling, Caffe Fernet manages to make it feel bigger than it is with good ventilation and a generous supply of sunlight — the perfect spot for a weekend boozy brunch.
On the other hand, their outdoor alfresco seats are also ready to be snatched up for any evening hot dates you'd arranged if you wished to revel in the Marina's view up close with refreshing wafts of sea breeze.
All Italian Affair
Self-styled as "New-Italian Cuisine by the Bay", Caffe Fernet's menu is a mishmash of time-honoured Italian flavours and more novel takes on the classics.
A good representation of their attunement to classic Italian ingredients is the quintessential antipasti of Burrata ($26), this one jazzed up with butternut pumpkin and sourdough.
Unlike the trite pairing with piquancy through tomatoes, Caffe Fernet drops a mound of creamy dairy atop a bed of sweet and umami pumpkin, while crunchy crouton-like sourdough added more contrast.
Then it's all finished off with a tangy drizzle that deftly balanced it for a layered but straightforward enjoyment, as Burrata dishes tend to be — but with a slightly different taste profile.
As a Jigger & Pony concept, it's folly to not commit to a glass of the Classico Negroni ($22) that Caffe Fernet offers for only $16 during happy hour.
This was a solid, classic concoction made with Beefeater Gin, so expect sweetness but also balance in its punch.
An easier All-Italian classic of Aperol Spritz ($17) also comes with an affordable price tag of $13 during happy hour for those who just want to knock back glasses of the bubbly and supremely easy to drink tipple.
Renowned For Cacio E Pepe Pasta
What hit the table next should not be a surprise to anyone — it was pasta. A mandatory order at any Italian restaurant, much less Caffe Fernet which is legendary for its Mafaldine Cacio e Pepe ($26).
First thing's first — this was a sumptuous plate of pasta. Your palate gets blanketed by rich, nutty umami from browned butter while the feisty kick of pepper and Pecorino gradually built up with every mouth.
Caffe Fernet did a great service to those ribbons of Mafaldine too, delivered with a delightful al dente bite. Alas, it's not exactly a Cacio e Pepe. Not in the traditional sense. The emulsification of the Pecorino was off the mark, leaving it thin at parts while the browned butter detracts from the paramount ingredients of Pecorino and Pepper.
Our other order fared equally well, as the Rigatoni Spicy Vodka ($28) came soundly executed with a robust and zesty red sauce with tender bits of pork sausage hiding in the crevices of the toothsome Rigatoni.
The texture, the flavours, the slight heat — this was straightforward but downright satisfying, and effortlessly contests with Caffe Fernet's signature Cacio e Pepe.
The most wonderful ambience, the best value drinks for happy hour, and sumptuous plates of pasta — there's nothing Caffe Fernet doesn't do right as an Italian restaurant. It may not be high brow, high concept, or even Michelin standard but most of the time, Italian food is about the simplicity and comfort it brings.
Make your reservations here.
Caffe Fernet
Website | Instagram | Facebook
Address: 70 Collyer Quay, 01-05 Customs House, Singapore 049323
Hours: (Mon–Thu) 4pm–10:30pm, (Fri–Sun) 12pm–10:30pm