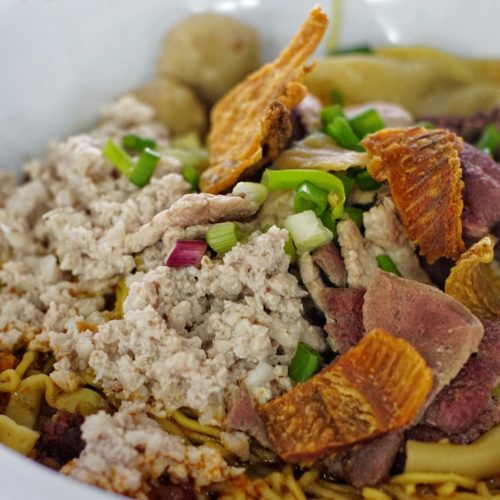 Hill Street Tai Hwa — Best Bak Chor Mee in the World?
Singapore's hawker culture was recently inducted onto UNESCO list for intangible cultural heritage . It's been long coming, helped by stalwarts like Hill Street Tai Hwa putting our hawker scene on the map by earning itself a Michelin Star .
Michelin pedigree or not, they still remain consistent as ever since my first visit in 2016. The Lavender stall is firmly my first choice for Teochew-style bak chor mee.
I could eat this every day, but alas the price for Michelin-starred Bak Chor Mee also includes an hour (sometimes more) of your life trapped in a slow-moving queue.
Hill Street Tai Hwa's Signature
What makes a good bowl of Dry Bak Chor Mee ($6/8/10) is in its blend of vinegar and chilli.
For my money, no one comes close to replicating Hill Street's impeccable medley of punchy, vinegary goodness.
Morsels of sole fish then gave a kiss of heady umami to round up the flavours.
The magic was not just in the sauce. Hill Street Tai Hwa's noodles sport the perfect crunchy bite, and the sauce clung onto each strand quite evenly.
Every component was masterfully cooked especially the liver, which is excruciatingly hard to get right. However, theirs was impossibly tender and without a trace of the silt-like texture commonly seen elsewhere.
a Souper Alternative
The dry varietal is undoubtedly their signature, but the Soup Version ($6/8/10) has its fans too. And it's easy to see why.
Every sip of that rich, brown broth saw seaweed umami permeate the mouth, underscored by a robust porkiness.
Every component was also cooked to perfection, similar to Hill Street Tai Hwa's more popular dried version.
One detriment though, was that whilst the noodles lock in more of the broth's flavours, they lose some of the al dente crunch that made the dried version so enjoyable.
Overall, both versions were great but the dried version inched it for me.
Of course, the queue is off-putting and I've explored alternatives like High Street Tai Wah at Hong Lim, run by the owner's younger brother.
Whilst they may be cut from the same cloth but the OG's quality and consistency is still incomparable. I say bite the bullet and just give this a try, it's worth it.
Hill Street Tai Hwa Pork Noodle
Address: 466 Crawford Ln, #01-12, Singapore 190466
Hours: (Tues–Sun) 9.30am–9pm