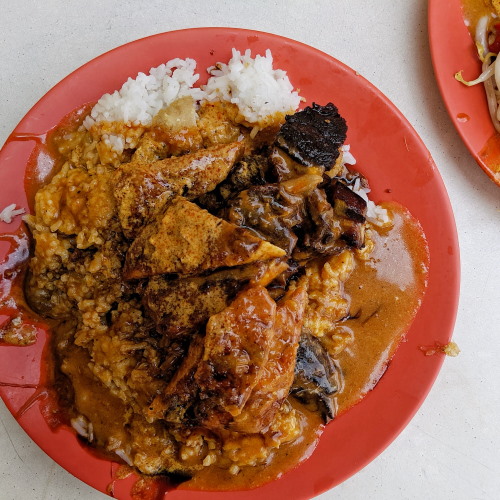 Hainanese curry rice legend, opened before I was even born
very few haven't heard of this establishment when talking about Hainanese Curry Rice in Singapore, it has a legendary status. This Scissors Cut Curry Rice is the original branch at Jalan Besar.
A Saucy Affair
Curry rice is not an elegant dish. Far from it — sloppy, gooey, messy while a drab coat of curry coats everything. But oh boy is it a beautiful mess.
This plate that I ordered consisting of their signature fried pork chop, braised pork and fish cake cost me $5. Pricing is set like your typical cai png store. Not exactly cheap for what is essentially cai png drenched in curry. However, I wholeheartedly felt that it was worth the money.
First and foremost, we have to talk about Scissors Cut Curry Rice's overflowing puddle which comprised of curry and braise sauce. It was not jelak and not overly spicy; it was just right.
The marriage of the sauces resulted in an impressive ensemble of flavours — a harmonic balance of sweetness, fragrance, umami with just a wisp of spiciness to keep it interesting. It was also gloriously viscous and effortlessly coated onto all the components.
Scissors cut ingredients
The other star was the pork chop, which can be aptly described as crispy on the outside, tender on the inside. Paired with the sauce, it was decadence in every bite. That said, it did turn slightly soggy after a while, so eat it fast.
For the rest of the liao. The braised pork was flavourful and tender, with ample amounts of fat (not really melt-in-the-mouth). I could detect a hint of the rich braise, which played very well with the curry.
It wasn't overwhelmed by the curry and in fact the introduction of that slight tinge of coconut milk helped cut through some of the richness.
However, the fish cake was pretty pedestrian, and in hindsight I should have ordered something else, but it was not terrible by any means.
If you're looking for instagrammable food, avoid Scissors Cut Curry Rice. If you're looking for solid comfort food that will warm your tummy and satisfy your appetite, this is a place worth checking out.
Beach Road Scissors Cut Hainanese Curry Rice
Address: 229 Jalan Besar, Singapore 208905
Hours: Daily 11am to 3:30am