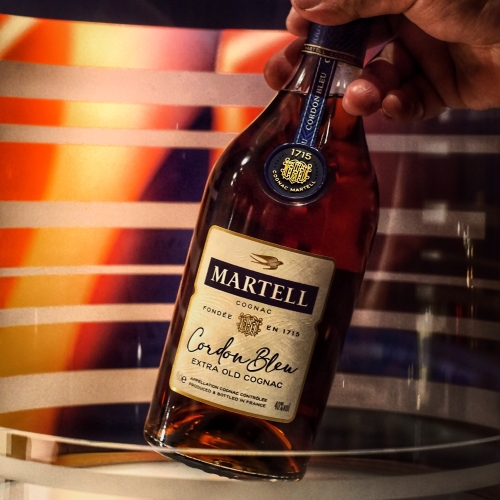 Martell Concocts the Perfect Pairing With Top Singapore Restaurants like Featherblade, Madame Fan & More
Here's a chance for you to see alcohol pairings in a whole different light — Perfect Pairing by Martell is the glitzy new collaboration between Martell and Singapore's hottest restaurants, which aims to break that mould of chasing sophisticated dishes with wines whose names most of us are likely to mispronounce.

While wine will always retain its status in the most punctilious of settings, the Perfect Pairing by Martell aims to explore a different kind of synergy between their signature expressions and a dizzying array of culinary influences.
With a staggering eleven collaborators included, we'll see Cognac flavours introduced to a myriad of styles from the heartwarming Cantonese comforts of Taste Paradise, inspired Asian twists from Avenue 87, and even the refined modern concepts from Table 65, a respected Michelin Star recipient.
The campaign will run from 14 October 2022 to 18 December 2022 and if the idea of a dinner with the perfect Martell Pairings piques your interest, check out the list of all the collaborators here.
Thanks to a swanky closed-door event at Mandala Club prior to the launch, I was given an intimate preview into the expansively creative pairings that have been planned by three concepts, namely Madame Fan, Table at 7, and Feather Blade.
Madame Fan
Starting off the Perfect Pairing by Martell preview on the right foot was Madame Fan and her slew of progressive Chinese bites.
Finished in just one mouth, the Pearl of the Sea was a clean, satisfying bite of steamed Soon Hock fish and braised pumpkin rice, imbued with the slight caramel undertones of Martell Noblige.
Madame Fan's star contribution to Perfect Pairing by Martell though appeared even more luxurious with a motley of Hokkaido Scallop and Caviar.
Built on a Cordon Bleu-infused honey mustard dressing, it's not something that will blow you away flavour-wise but still yields a pleasant mix of silky textures and harmonious flavours.
Table at 7
Switching up the culinary styles, Table at 7 starts off with its Perfect Pairing showcase with a Milky Fish Broth served with a flask of Martell Cordon Bleu.
For this tasteful riff on the comforting classic, you're pampered with tender lobster and fish noodles, while pours of Cognac can be adjusted depending on personal preference for richness.
Bebek Bengil is probably a name that resonates with those familiar with Bali. Well, Table at 7 has put out its own interpretation of the iconic crispy duck for Perfect Pairing by Martell.
It stays true to the traditional and rustic Indonesian flavours with a good bit of heat beneath the heartiness. That said, the duck was slightly dry — but a swig of the Martell XO pairing reels it back somewhat.
Onto the third course by the Modern-Indonesian restaurant, we're introduced to a majestic block of Wagyu Beef Cheeks "Buah Keluak".
While the beef itself was decent, the truffle risotto was slightly off the mark. Overall though, the complexity of the Buah Keluak pairs beautifully with its Martell Chanteloup XO companion.
Feather blade
We all know Feather Blade for their signature "proper steaks" but they are showing a slightly different side of their repertoire for Perfect Pairing by Martell as we're presented with a plate emblazoned with an edible message of "Proper Steaks Here".
Don't get me wrong, the French Kiss was a gleeful digression as you licked through the lines of Beef Tongue Mousse, Martell VSOP-infused jam and Foie Gras Mousse. Alas, the complex and umami dish was a puzzling choice for a "palate cleanser" course.
Nonetheless, they swooped in with the perfect nightcap to end off the Perfect Pairing by Martell preview in the form of the Sweet Endings Brownie Dessert.
A simple but decadent brownie that's adorned on the rim of a Martini glass that was filled with a malty-rich Milo Coffee Martini, enhanced with a kiss of caramel-tinged Noblige.
And that's all she wrote. I think fans of Martell will be satisfied — amidst the fun night dominated by glorious amounts of Cognac from Martell, the Perfect Pairing really strutted quite the diverse range of culinary pairings that will be interesting to try for yourselves.
Find out more about what's lined up for Perfect Pairing by Martell and make your reservations here.
*This was an invited tasting.