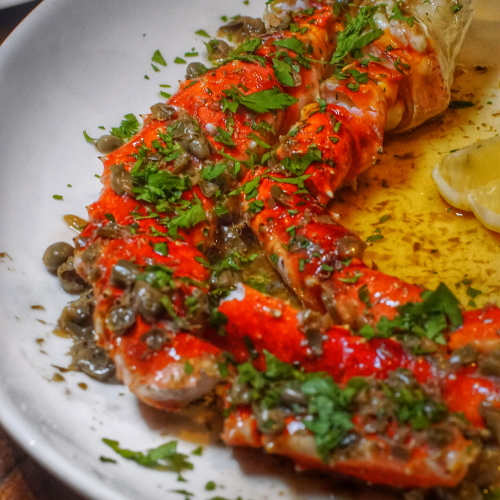 Burnt Ends Embodies artistry of Meat and Smoke
Burnt Ends was the first restaurant that I had the privilege of dining at after Singapore's first lockdown earlier this year. Being a perennial World's 50 Best nominee and Michelin Star recipient, I've been hankering to head down for aeons.
With their reputation as one of the best restaurants in Singapore under the prolific Unlisted Collection stable, it's natural to expect impeccable service and even better cooking.
Despite the struggle of obtaining a reservation, the fateful day finally arrived — I was going to pop my Burnt Ends virginity, save for my takeaway orders for their burgers and deified donuts.
After being seated, my friend — a seasoned veteran at the establishment — had her favourites quickly roll off her tongue onto the order chit. Now it was just a torturous waiting game for the smokehouse to floor me.
No Pretension at Burnt Ends
Or so I thought because the first items were quite promptly presented to us and these morsels of flavoursome goodness started our night off with a bang.
While White Pepper Chicken Necks ($8) don't sound like something that will inspire many lofty expectations, Burnt Ends' morsels of plush, tender necks incited quite the riot in the mouth using their feisty peppery kick.
A Grissini and Taramasalat ($12) follow up kept the Burnt Ends flavour train moving with its creamy burst of umami with heady herb notes that gave it a sumptuous boost in profile.
Boasting a booming crackle, the textures just worked seamlessly together. Was it mind-blowing? Not really. But it's hella comforting in an earnest and straightforward way.
While my dining partner and I are rather averse to having greens in our daily meals, we couldn't miss out on how Burnt Ends' smoky grills working their magic on our sworn enemies.
They over-delivered by spoiling us with a fork-tender bite on their Garlic Shoots with Gremolata ($12) that's underscored by a crisp crunch. Compounded by smoke and umami, the plate was cleaned alarmingly fast for a group of self-proclaimed carnivores.
Then came another non-meat dish that we hastily devoured. Granted it was just a few mouthfuls but the silky smooth porridge in this Maitake and Egg with Back Truffle ($36) was exceedingly comforting.
Everything was made even cosier by the sensually smoky mushrooms, tastes like home — if it was lined up in plush luxe carpets and had a rustic fireplace. That homely, but somehow also luxurious profile, is something Burnt Ends seems to excel at.
Church of Smoke & Meat
Halfway through the meal and I am already attuned to the Burnt Ends ethos. Burnt Ends isn't a place with pretensions — it's straightforward, unadulterated, but with luxurious produce worship. This is a church of smoke and meat.
It's not where you go for high concept fine dining, it's simple but it's simplicity at its finest. Their artistry of smoke and meat is like pop art and is easily appreciated by most people. Burnt Ends are more like the Andy Warhol of meat, rather than Picasso.
Here, we have my favourite item from Burnt Ends — of all time. Having ordered a takeaway portion of their legendary Beef, Marmalade & Pickles ($14).
It's probably a disservice to go into a prosaic outpour about these decadent treats just know that these aren't your normal umami bombs — they are umami WMDs.
Similarly, the King Crab Legs and Garlic Sauce ($95) had us tearing through the blissfully luscious flesh like junkies, clamouring for the next hit of that deathly addictive garlic butter sauce.
We even got some Sourdough ($5) to mop up the cocaine-like concoction and ensure not a single drop was left. Admittedly the bread skewed towards stale but they were the perfect vessels to mop up Burnt End's irresistible sauce.
If you're a steak fan, you'd probably have heard of Burnt End's steaks. As steak aficionados, a steak was obviously a requisite and we went for the modish but still somehow underrated Flat Iron ($59.50/170g) cut.
Burnt Ends don't miss — this had a gorgeous pink centre that's drenched in a moreish burnt onion sauce to elevate the entire ensemble. Such a satisfying and succulent beefy fix — good steak I'd definitely indulge on again though.
Chasing on the tail of the steak was their iconic Bone Marrow Bun ($12). This was kinda forgettable. Rich and robust it may be, it was also a rather unctuous eat.
It's probably sacrilege to declare this as one of my top picks with Burnt Ends' produce-focused meat artistry, but these crusty Marshmallows ($4) were the best to have graced my palate.
Not only were they pillowy soft with intoxicating smoky notes amidst that glorious caramelisation, a sprightly touch of cinnamon imbued a certain je ne sais quo to these stunning toasted candies.
Was Burnt Ends a life-changing experience? Possibly not. But I couldn't find any flaws in their cooking, everything was earnest but prepared to the highest standards.
If anything, they show you don't need flash and high concepts to go toe-to-toe with other Michelin establishments. The simple accessible pop art of Andy Warhol is perhaps even more charming to most than the froufrou concepts of Piccasso.
(*Note: this review was written before Burnt Ends shifted to Dempsey Hill)
Burnt Ends
Website | Instagram | Facebook
Address: 7 Dempsey Rd, #01-04, Singapore 249671
Hours: (Tues) 6pm–11pm, (Wed–Sat) 11:45am–11pm