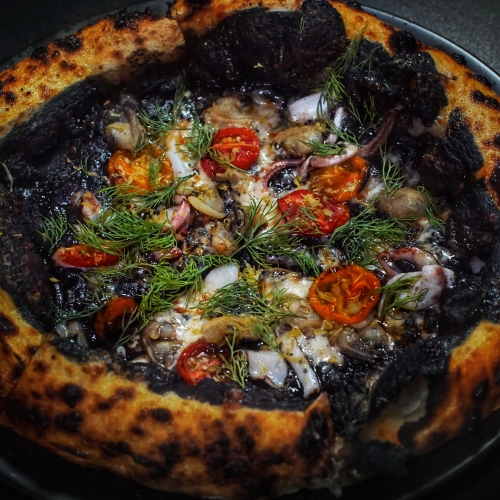 4 AM Pizza Bids Goodbye to Sentosa on A High Note
And thus… Out it came, the last pizza from the oven at Southside Interim Market and 4 AM Pizza ended its first chapter on a high. I stood witness to their last hurrah at the far-flung venue in the southside of Sentosa before its impending transformation, one that will regrettably not involve pizzas or any food.
It wasn't a hugely poignant moment for me, being my virgin visit to 4 AM Pizza but still a bittersweet one as I finally found the impetus to head down for their brand of whimsical artisan pizza.
Despite its relative inaccessibility, this was one of the most popular pizza joints in Singapore, receiving an insane flurry of plaudits, chiefly amongst foodie circles.
Sprouted from a COVID passion project, it had since gestated into a full-blown concept beside sister brand Legato. 4 AM Pizza is a success story that deserves a proper send-off — though this might not be the last we see of them.
A Wicked Trio
The crux of 4 AM Pizza is plain and simple — impeccable sheets of leopard-spotted and pillowy soft dough with deep hollow veins running through its crust.
Perhaps second only to Wala Pizza, they conjured one of the most astoundingly euphoric bites of dough magic I've had.
Even if the dough is the lifeblood of pizza, it's still a challenge to assemble a truly satisfying pizza without astute planning and blending of creative ingredients — a skill that 4 AM managed to demonstrate straight off the bat.
The first of the night, a Squid Ink ($38) pizza, was marked by a striking crater of black sauce that glistened like a majestic lake under the moon.
Despite ingredients that may suggest an overwhelming wave of umami, 4 AM Pizza designed this pizza with the golden ratio of brackish richness to citric vivacity, ensuring balance by serrating through its heaviness.
We were then greeted with olfactory bliss as aromas from the splendorous spices loaded into 4 AM Pizza's Blue Swimmer Crab Curry ($42) reached the table long before it, to announce its impending arrival.
The chunks of soft crab meat weren't the focal point but instead, it was the base sauce — mellow, layered with fragrances, and harmoniously accentuated by moderated heat. Its profile was not just impossibly rich but also multi-faceted while not being overcomplicated.
Due to a collab with revered home kitchen Nyonya Bong, we're given the choice of bolder Peranakan flavours on 4 AM Pizza's final menu at this venue. The Buah Keluak Otah ($42) was an instinctive instantaneous choice.
Undoubtedly, the umber-hued Buah Keluak sauce was the crucial component with its sublime layering of complex earthiness, umami and bitterness.
…And the other Three
4 AM Pizza's expertise seemed more in line with expansively rich and deep flavour profiles, something noticeable from the latter half of the meal.
For one, the Garlic Clams ($38) pizza was rather inelaborate and the closest to "average" on the menu, tasting like a straightforward transposition of Vongole on a pizza without much oomph. Not quite sure it commands the $38 price tag.
In the same vein, 4 AM Pizza's Carbonara ($35) was pleasant but suffered from a lack of the signature umami, skewing more towards being creamy and comforting than ferociously robust.
Nevertheless, they capped their run here at Interim Market with a supremely clean and delectable Burrata Caprese ($38).
4 AM Pizza makes theirs a marvellously palatable mix of dairy and citrus, smothered with silky-torn-up Burrata debris, herbs, tomatoes and zest.
Certainly, tweaks can be made considering 4 AM Pizza's steep price points. Nonetheless, I will be more than keen to return for any future endeavours, especially after seeing for myself the ability to roll out dough that's this supple and pillowy.
4 AM Pizza Will Be On Indefinite Hiatus.
4 AM Pizza
Address: 80 Siloso Rd, Southside Interim Market, Singapore 098969
Hours: Temporarily Closed as of October 2nd 2022