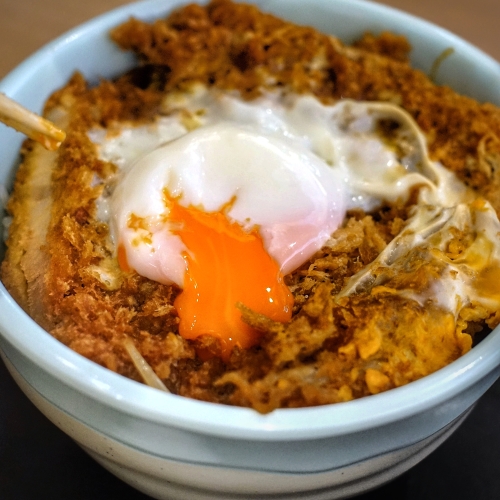 Unbeatable Value for Authentic Japanese Tonkatsu at Maruhachi
Japanese cuisine is closer to a discipline than just another categorisation of food. Building upon specific skills is time-exhausting and only a select few can claim expertise in certain dishes. For Tonkatsu, not many can contend with Maruhachi in Singapore — despite its hawker dwellings
Chefs could spend years, even decades, honing their skill in frying Tonkatsu and finetuning the recipe. Which makes head honcho Chef August Wijaya's background at Ginza Bairin immensely alluring.
Before its tragic demise, Ginza Bairin was a perennial recommendation directed toward friends. It goes without saying that the sudden resurrection of Ginza Bairin in this new Maruhachi incarnation made my heart swell with excitement.
During a serendipitous first visit to one of their hawker outlets last year, every expectation, every slither of hope was graciously satiated.
Since then, Maruhachi branches have propagated throughout Singapore and this marks my first return — an apt gauge of whether they still produce the best value Tonkatsu in Singapore.
Bang for the Buck
Disregarding the kopitiam purlieus that Maruhachi are regularly spotted in, they definitely offer one of the best value for an array of Donburi, curry rice, and Tonktasu.
Remaining unchanged in quality from a year ago, Maruhachi's Special Pork Katsu Don ($12.80) is easily their strongest offering.
Doused in a sweet, sapid sauce and buried under a lavish deluge of egg and onions, it's underscored by a layered blend of textures from the firm, tender pork, crunchy onions, and the silky egg.
Switching things up at Maruhachi is a special Cheese Menchi Katsu Set ($12.80), which is on a limited run until 30th June.
A succulent pork patty and creamy cheddar core are enclosed within the signature airy panko crust, to endow a nice hefty bite and glorious cheese ooze amidst light panko crunch.
Sometimes you don't want to keep things simple and the stripped-down ensemble in the set might not sufficiently satisfy. Maruhachi offers a solution in the form of a Cheese Menchi Katsu Curry ($10.80).
The mild spice and pleasant sweet punch of the Japanese-style curry prove to be a formidable bedfellow for whichever base you choose, adding a nice bit of oomph and enlivening flavour.
That said, the curry can be rather inconsistent — thick and silky at times, slightly coagulated at others.
A Dip in Form
As the spiritual successor to Ginza Bairin, I always advocate for an order of their Black Pig Pork Katsu Set (S$15.80). Undoubtedly the best value proposition that Maruhachi offers.
Quality Tonkatsu entails a two-factored textural experience — a playful bounce in reply to a bite before the meat firmly snaps to separate. All of which are contained within the delicate crackle of panko.
At least when they are on their form, like they were during my previous visit. Sadly, maybe Chef August was a key factor in Maruhachi's excellence because my trip to the Sembawang outlet left me disappointed with tough Kurobuta.
Perhaps the accelerated expansion was an encumbrance in Maruhachi's trajectory of quality control. Maybe it was just an off day at Sembawang. Nonetheless, a visit is a necessity for fans of Japanese food in Singapore.
But as long as they are on form, there is little competition for the value to quality ratio.
Maruhachi Donburi & Curry
Address: 365 Sembawang Cres, #01-10, Singapore 751365 (Multiple outlets)
Hours: (Mon–Sun) 11am–8:309pm
*This was an invited tasting.