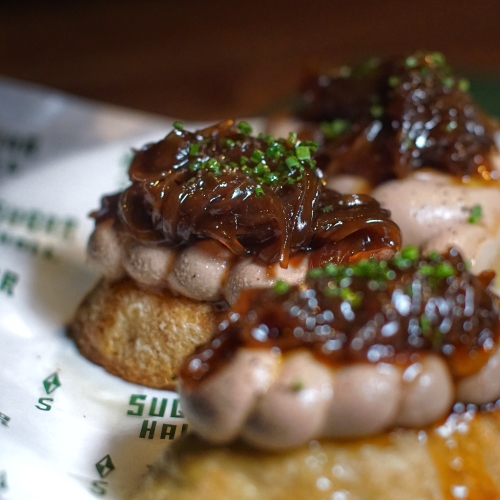 Iconic Cocktail Bar Sugarhall Returns as an Unpretentious Rum-Fuelled Party
About an entire decade ago, the Sugarhall brand was a prominent name amongst bar-hoppers. It's that place for rowdy fun and no-holds-barred pub vibes. It was the good old days where that slice of Amoy Street was a dichotomy of contrasting moods with sibling Jigger & Pony beside, acting as a shrine to Japanese bartending excellence.
It had a good run but things eventually winded down. Their vacated home along Amoy has long seen multiple tenancy switches and Jigger & Pony also subsequently moved on to bigger things at Amara Hotel.
Seeing the resurgence of classics in the local bar zeitgeist, it seemed like the perfect time for the Jigger & Pony Group to revive Sugarhall. This reopening, situated above Rosemead, drove many fans into a frenzy hoping for a taste of the old days.
Self-described as a pub, the spiffy second-floor hideout is clad in suave wooden fixtures and a modish wall of rustic picture frames, housing a slew of portraits of Singapore bar industry icons. This was really the homecoming so many alcoholics were looking forward to.
Unlike before, this new Sugarhall has also taken up a more refined sheen. Not as much as Jigger's drastic glow-up but decorum has caught up with the group's elevated standing. That ambition is reflected in hunting Davide Boncimino as Bar Manager, an expert in rums with years of experience.
Pub Grub Hubbub
Quite honestly, I rarely ever expect good food from bars. Their speciality is in tipples and I will gladly make do with decent accompanying bites. Sugarhall does go beyond that, with Rosemead Executive Chef David Tang building a strong menu of pub grub to go with the drinks.
There are some of the simplest, most austere finger goods like the addictively juicy Spicy Pickles ($7). If you're into pickles, that is — this definitely had a good brine-to-acidity ratio.
More sizeable grub at Sugarhall would lean more towards the archetypal British pub grub such as the Chicken Liver Toast ($8). This was an exercise in heartiness that would subdue the rowdiest drunkards.
Rich and creamy ribbons of chicken liver pate are spread over some crunchy toast before a luscious crown of caramelised onions is adorned. Although traces of liver funk could be detected, the well-browned alliums do well to obscure and balance it out.
Another bite that's a match in heaven for alcohol would be the Fried Chicken with Sweet-Sour Glaze ($29). Sugarhall's take on the fried chicken is surprisingly esoteric, despite the straightforward English pub decor — it's an endearing hybrid between Western and Korean style chook.
As with both styles, crispy skin and succulent flesh are crucial. The seasoning is the standout, using a Korean-inspired sauce while a familiar style of marinade and hot peppers blanket you with that signature Southern comfort.
While I'm not one to wax lyrical about desserts in general, their Burnt Cheesecake with Rum and Raisin ($21) is both unique and sinfully creamy.
There's a dreamily molten core buried under a rubble of rum-soaked raisins that add a boisterous blast of acidity and funk, resulting in a vibrant party of richness and rum notes.
Be Charmed By Rum
At its core, Sugarhall is a rum bar. You'd find a wide range of molasses-rich spirits on their shelves —sometimes even available in special rum flights. Not to mention how most of their signatures are crafted with rum.
However, out of all their tipples, it is imperative to start off with Sugarhall's signature Dark & Stormy ($24). The drink that will set the mood for the night. Mixed with Hampden overproof rum and a lively homemade ginger beer concoction, this is a dangerous drink that will hit hard stealthily because it's so easy to drink.
Theirs is not only punchier in terms of dosage but also with tuned up effervescence and a much more elegant profile all around. It escapes the trappings of the "generic brand ginger beer" profile if you know what I mean.
Undoubtedly, any rum speciality bar would feature Daiquiris ($22) and Mai Tais ($24) among its highlights. Sugarhall's Daiquiri will please aficionados with its perfectly sprightly profile while their latter is an enjoyable textbook mix with some pyrotechnic flair.
Those who want to steer away from the classics though should get a taste of their H&M Sour ($24). We are all well aware of Matcha's mainstream popularity but Sugarhall managed to incorporate the earthy tea fragrance tastefully into the tipple, not merely a contrived addition for novelty value.
Likewise, the Mango Colada ($24) is a rather deft twist on the tiki classic. The vivacious mango sorbet imbues more piquancy and depth, while the balance and smooth icy texture of the drink were just all spot-on. A surprising favourite of mine, considering my bias towards stronger concoctions.
Lastly, the Hotel Nacional ($24) is also a good shout for those who enjoy a drink with oodles of fruitiness that is also deceptively lethal. Easy to drain but surprisingly complex despite the fruit-forward profile, thanks to the mix of two different rums and a spirited jumble of tropical fruits.
If you're a sucker for rum, Sugarhall is likely to be a place where you can let loose and truly immerse yourself. No strings attached, no frou-frou and plenty of heart — Bar Manager Davide Boncimino and his team have started off with a bang and the ball is in their court to keep the rum-fuelled hustle and bustle going!
Make your reservations here.
Sugarhall
Website | Facebook | Instagram
Address: 19 Cecil St, Level 2, Singapore 049704
Hours: (Wed–Thurs, Sun) 5:30pm–12am, (Fri–Sat) 5:30pm–2am
*This was an invited tasting.