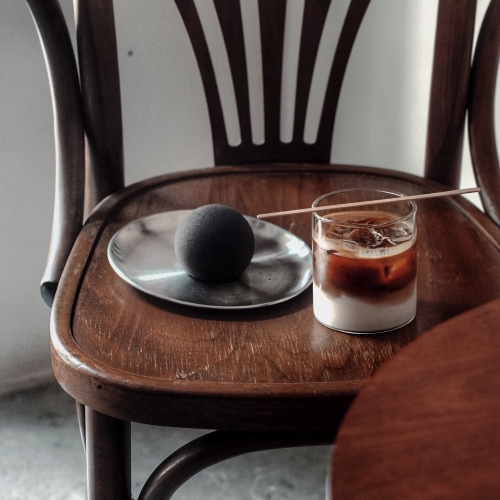 New Tanjong Pagar Cafe 51 Tras is a Flourishing Collective of Creative Energy
Nestled along a bustling lane, Just a stone's throw away from Tanjong Pagar MRT, you'll find a verdant panelled door at 51 Tras Street that leads inward into a spacious, industrial space. A space where, as you pass through the door arch, you can feel the distinct rumblings of electronic music vibrating through your body.
51 Tras is a chic free-spirited concept that feels compellingly cosy and edgy, as compared to the scattering of cafes in the Tanjong-Pagar-Telok-Ayer purlieus.
It feels more dynamic, more vibrant — and that's in part due to its intrinsic nature as a sanctuary for creatives to mingle in.
The raw edge of the industrial stylings lends to that. High ceilings, inelaborate white walls and vestigial pebbled flooring out front, left slightly exposed and imperfect, give it that rustic charm.
Going further in, the textured floor stretches out through 51 Tras' space, coalescing into elements of the fittings such as the main bar counter and seats.
A dainty tree rests at the far end, surrounded by gravel stones, and gently pelted by effulgent tendrils of light reaching in from a skylight right above it. Paints quite a pretty picture.
A collective of ideas
Besides sporting one of the more well-thought-out cafe designs in Singapore, 51 Tras also boasts of another intriguing core concept — as a collective, the menu is a collaborative effort with other visionaries such as Maxine Ngooi from Tigerlily and Francis Wong, previously from Non Entrees.
What social media would feed you the most frequently are snapshots of their photogenic cakes, abstractly sculpted into smooth spheres, as if they were the embodiment of celestial bodies.
Francis Wong's cake designs are exactly that, designed off 51 Tras' given "eclipse" theme. When the Total Eclipse ($9) came, it looked like a frigid asteroid dyed in a sleek charcoal shade of grey.
When split open though, the space rock exposes a soft, strikingly red forest berry coulis core. Everything came together strongly — first the dainty aroma of vanilla, then came a vibrant berry tartness, before whiffs of the sweet chocolate shell embraced it all.
Elegantly balanced without any facet skewing too saccharine, while the smooth blend of textures came together sublimely.
In contrast, the Aburi Chee Cheong Fun ($14.50) by Ben Yeo felt like an unimaginative cafe spin on familiar local flavours, drummed up in price by the label of "elevated local fusion". For a succinct summary — it's unrighteously overpriced.
Lightly torching rolls of chee cheong fun and drowning it in a sweet-savoury deluge of sauce, then placing the crowning glory of onsen egg while photogenic, does nothing to differentiate it from the much more affordable hawker renditions. The silver lining was that fried shallots were wonderfully sweet and amorous though. But for that price?
A collection of Caffeinators
Moving past the food options, 51 Tras actually does posit quite the eclectic range of caffeinated brews. Instead of your usual matcha lattes and cold brews, they threw a spanner into the works.
One spanner to be precise — Einspanner ($8.50/$9). Only sparsely observed in the Singapore cafe scene, theirs is a pretty solid deal. Creamy, rich, not too sweet. A delightful cuppa for those craving more body.
Another interesting concoction at 51 Tras is the Honey Orange Chocolate ($7). As the timeless combination it is, this was a seamless glide from dark, fruity chocolate in the body to a persuasive citrus finish that lingers with a subtle perfume.
In the more routine caffeine department, the Iced White ($7.50) is a dependable cuppa that does the job fine but doesn't astound, being an inelaborate medley of Brazilian and Ethiopian.
While there are still some ways to go, 51 Tras presents a promising concept that has a lot of room to grow into. As far as food and drink options are concerned, this mishmash of different collaborators does breathe quite a refreshing freshness into the menu. As far as service and vibes are concerned, they do it as intimately and personably as any cafe in Singapore.
51 Tras
Address: 51 Tras St, Singapore 078990
Hours: (Wed–Sun) 11am–7pm