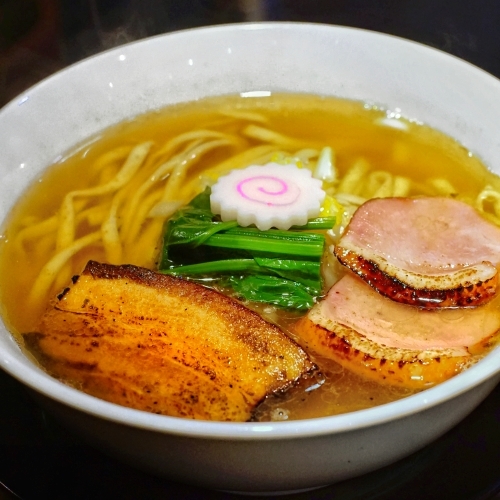 Michelin-Awarded Enishi Is Singapore's Ultimate Ramen Hidden Gem
In the most unlikely of places, on the second storey of International Plaza, you chance across one of the most authentic Japanese Ramen-Ya. This small nine-seater is Enishi, one of Singapore's best-kept ramen secrets — compact but supremely cosy.
Slotted birch columns fenced in the small space, brightly lit and inelaborate, centred around simple counter seating where you can see the kitchen in motion.
This hole-in-the-wall ramen joint is one of the two Enishi outlets you can find in the world — one in Singapore, and one in Kobe where they were awarded a Michelin Bib Gourmand.
So it came as no surprise to many who were aware of Enishi that their ramen gained a surge of popularity when word started circulating on social media. People were clamouring to acquire a bowl of their exclusive 100-bowl-a-day-only ramen made with authentic Japan-imported ingredients.
Nowadays, you'd find a queue forming outside with ramen aficionados pining for a bowl of their signature Tantanmen. Not quite the same hype that other popular ramen joints in Tanjong Pagar command but pretty respectable for its stealthy location.
Dan Dan Men Umami Tsunami
What draws the majority of the crowd is a rather distinct signature, Enishi's Tantanmen ($19.80). Tantanmen is a unique Japanese localisation of the iconic Chengdu speciality of spicy Dan Dan Noodles. The heat is turned down and there is more focus on nutty fragrance.
In Enishi's rendition, the highlight was a boisterous peanut-forward sauce that rampaged like a tsunami of fragrantly nutty umami when slurped up. Can be a tad overbearing but you can easily tame the boldness with splashes of the accompanying bowl of broth and the motley of vinegar at your fingertips.
Another great aspect was how the ensemble of condiments and ingredients allowed slivers of complexity to peek through the heaviness of the sauce. The pleasant scores of onion sharpness and pickle acidity were a deft balancing touch.
Overall, Enishis's Tantanmen manages to deliver some of the most interesting textures I've had in any ramen shop in Singapore. Unlike Mazesoba, the sauce was a lot fuller and heftier but can also be controlled through the broth. Overall, a very fun bowl to work through,
Impossibly Crisp Dashi Broth
Still, my loyalty to Enishi ultimately lies with their Dashi Broth Ramen ($19.80). A rather unique broth in the local ramen scene, it's a light and clear broth that is deceptively rich. Each mouthful was a graceful stream of crisp umami, underscored by a gentle citric piquancy.
Unlike the brutish oomph of the popular Tonkotsu broth, the Dashi broth was an eloquent display of different facets of flavour harmoniously shining through,
The wheaty profile of Enishi's handmade noodles and the light bouncy bite also complemented the soup elegantly. Truly an unbeatable comforting ensemble.
It's understandable many ramen lovers in Singapore still prefer the familiar richness of Tonkotsu broth — do give Enishi's less conventional ramen a try, though. Sure, there is only two ramen on Enishi's menu but this specialisation also means quality born from a dedication to the craft.
Enishi Singapore
Website | Facebook | Instagram
Address: 10 Anson Rd, #02-85A International Plaza, Singapore 079903
Hours: (Mon–Sun) 11am–3pm, 6pm–9pm