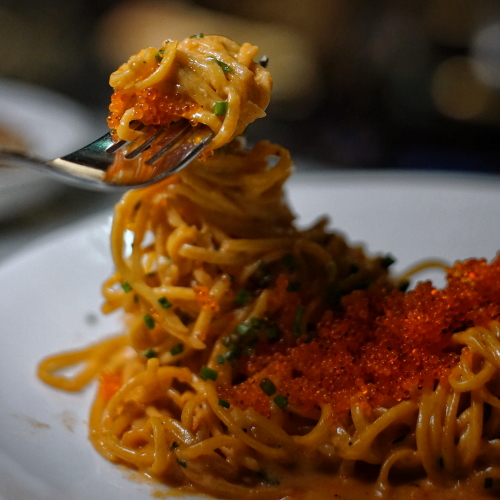 A Modern Pasta Bar wIth pristine textures and Mixed Signals
Countless people vouch for Pasta Bar as the epitome of pasta making in Singapore. With a name as confidently chic and simple as "Pasta Bar", you'd expect great finesse worthy of its moniker of being the pasta bar.
For first-timers, the Keong Saik hideout might seem like a pasta mecca in the flesh. Built around an impressive open kitchen, lined with front row seats to a concerto of pasta flailing around in pans and rousing flambe glows, it's a sight to behold for sure.
A mix of modern and rustic fittings fits Pasta Bar to a tee. Loose strands of dangling fresh pasta, an air of rustic cosiness help portray an evolved modern pasta bar that still pays heavy respects to the romantic, time-honoured craft of pasta making.
This was the place to be, for impressing a pasta-crazed date, for treating your palate to an evening of pasta magnificence. Hopes and expectations were running high, much like the flames and smoke dancing throughout the pass.
Pasta Bar's Hits
Texture is the element paramount to a good pasta dish. It is the dramatic downfall to any pasta dish no matter how inspired its sauce is. Suffice to say, I was blown away by Pasta Bar's texture — pristine and absolutely picture perfect regardless of make.
With their iconic Sea Urchin Tagliolini ($35), the perfect bounce and hardness of each slither of fresh pasta is apparent. Upon that, they presented bold flavours, dyed in the crisp brine of uni accented by a gentle sweetness swimming in a sea of umami.
Alas, that's where Pasta Bar's mixed signals came in. Everything was marred by the sauce's struggle to truly present itself with a creamy snugness you'd expect from a $35 plate of pasta.
Maybe a dish on the edge of greatness that regrettably fell short as we could never truly immerse ourselves in the flavours and the pasta textures.
Whilst it has found itself removed from the current menu, we thought the Duck Agnolotti (S$42) gave the Uni Tagliolini a run for its money. A strong heady burst of flavour from the duck confit, and porcini make these dumplings an indulgence.
Aided with that intoxicating perfume of shaved truffle, it was quite an enjoyable plate of pasta but yet not quite memorable. Solid execution but falls way short of its exorbitant S$42 price tag in terms of taste.
The big Miss at Pasta Bar
Here comes the piece de resistance of Pasta Bar, their Garganelli Cacio e Pepe (S$28). Having heard many good things about their take on this classic, we came in with lofty expectations.
Those expectations were quickly knocked down from their vantage point and smashed into pieces as we took our first bites. Attempting to coat my palate in the supposedly thick and silky sauce felt like a futile exercise.
The sauce was a tad below the desired creaminess and was missing the merciless sharp punch you'd want from the exuberant pepper profile of this classic dish. Lacking those, Pasta Bar just merely churned out a rather mundane plate of pasta with some Pecorino and Parmigiano.
As someone who loves making pasta, I'm genuinely quite impressed by their amazing execution on their fresh pasta which so many restaurants in Singapore seem to struggle with. But as someone who enjoys eating pasta too, I really wanted more oomph from their sauce.
Pasta Bar
Website | Instagram | Facebook
Address: 55 Keong Saik Rd, #01-05 KeSa House, Singapore 089158
Hours: (Wed-Sun) 12pm – 3pm, (Mon-Sun) 6pm–11pm