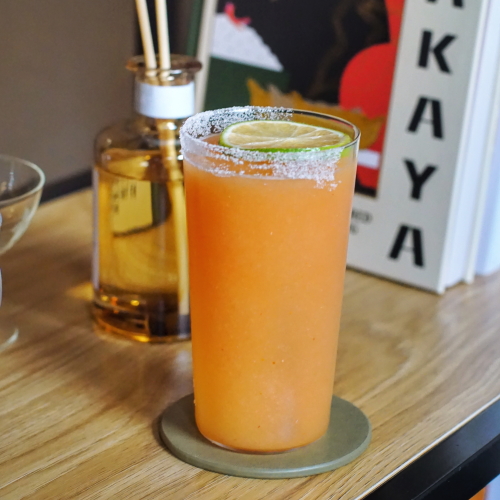 Last Word Is A Cosy Classics Bar with a Killer Bloody Mary
I'm sitting at the bar of Last Word right now, my fingers speedily weaving around my keyboard, conjuring up words in an attempt to distil the quaint vibes of this new speakeasy hidden in the hip Beach Road neighbourhood.
It's a Friday night and the space is bustling, it's energetic, and the bartenders are busy working magic on their jiggers and shakers while soft, sultry jazz serenades the dimly lit shophouse space.
I jaunted upstairs right after a happy hour free-flow fried chicken sandwich session at its sibling downstairs, Nutmeg & Clove. It's plain to see that Last Word and Nutmeg are markedly different experiences.
The air here is noticeably more dignified, a lot more refined, and the aesthetics whisper with more elegance whilst bathed in the embrace of soft, warm lights.
At the bar right now is Group Head Bartender, Shelley Tai of Quinary fame, carefully manoeuvring through her polished set of apparatus to craft out measured concoctions, while fellow mixologists Sylvia and Joel strived for the same standards at their stations.
You Can't Go Wrong With Classics
You can't go wrong with the classics." If you subscribe to that mantra, you'd be mistaken. Classics are simple, timeless, and sturdy but also come with a higher quality floor because of simplicity and ubiquity.
Last Word, however, does a stellar job of paying homage to these time-honoured concoctions' heritage. You don't get trite, shoddily mixed cocktails here — they are respectful but also fearless enough to put their own spin on these favourites.
The best example of that fearlessness is seen in their Bloody Mary ($25), a remarkable departure from the iconic canned-tomato blueprint of the savoury drink.
Shelley says it's one of her favourites on the menu, inspired by the bartending legend Ueno-san of High Five in Tokyo. And I have to say, that was an ingenious homage — by far the most refreshing Bloody Mary I've had in Singapore, speaking as its sworn enemy.
First, fresh tomatoes are smothered into liquid ala minute, before lime and Last Word's horseradish-infused Vodka are thrown into the mix, resulting in a lightly rich, subtly spicy, and impressively refreshing tipple that you wouldn't believe is related to the Bloody Mary.
However, as I said earlier, the concept is very respectful of time-honoured recipes here and that is most evident in their namesake, the Last Word ($25). Being my second all-time favourite classic drink, this was as good as it gets.
It's got that spirit-forward punch with layers of herbaceous complexity from an ensemble of Gin and Green Chartreuse before lime added a sprightly kiss, while a single Maraschino Cherry is plunged into the murky olive-hued liquid for good measure.
Then you get to Last Word's seasonal menu ($25 each), populated by fresh creations dictated by the bartenders' ideas and whims. These are driven by the bartenders' creativity and unfettered by stringent mixological traditions.
My choice of Shiso was a fortuituous one because it turned out a wonderful tipple that was crisp and zesty, but with depth, and tinged with a sharp but subtle aroma of Shiso.
On the other hand, testing bartenders' on-the-fly competencies is also important in a bar like this. In this department, Last Word's newest addition Joel, a former sommelier until recently, didn't quite deliver on my request for a Mezcal Negroni ($25). Understandable with his inexperience.
Needless to say though, the components came to life at the hands of Shelley, starting strongly with the braggadocio the drink should rightfully exude before slowly gliding into a gentle dry finish. It hit the spot as it should — simply textbook satisfaction.
Simple Japanese Bar Bites
Last Word does a rather simple Izakaya bar-bite-inspired menu. Of course, the bar concept borrows heavily from Japanese classic bars — it's only fitting.
Looking through the menu, you'd find similarly timeless Japanese bar bites like Shisamo and Chicken Karaage.
Being the maverick that I am, the regular Chicken Karaage wasn't enough to draw my attention so naturally, I gravitated towards Last Word's Ikageso Karaage ($18).
It's a simple but efficacious snack, each bite marked by an airy crunch and a soft bouncy recoil. It gets even better after being given a free dive into the piquant Yuzu Mayo.
So if you're looking for a no-frills classic bar, look no further. It's clear from my visits that, in the end, this is a bar that will have the last word.
Make your reservations here.
Last Word
Website | Instagram | Facebook
Address: 8 Purvis Street, #02-01, Singapore 188587
Hours: (Tue–Sat) 5pm–10:30pm