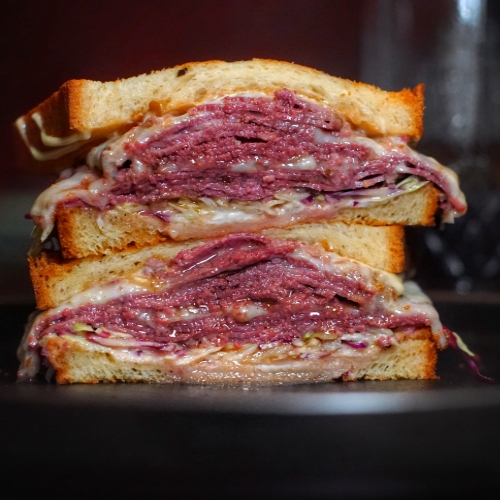 Chef Drew Nocente's Cenzo is a POlished Marriage of Italian Homeliness With Modern Australian Quirks
Witnessing one of your favourite restaurants lower its shutters for the last time is never a good feeling and the abrupt demise of Salted & Hung made me quite demoralised. However, Chef Drew extended an olive branch in this bleak year of closings as he set up a new restaurant, Cenzo, along swanky Club Street.
Cenzo is a stylistic departure from the smoky, swashbuckling flavours native to Salted & Hung, masterminded by Chef Drew as a cutting-edge casual Italian restaurant that incorporates the modern sensibilities of his birthplace Australia into the timeless flavours passed down through his cultural roots.
It's really hard to instil a place with stylistic decisions that really reflect what's on the billing but I think the congruent and chicly distinct decor is the perfect embodiment of the culinary ideas Chef Drew wishes to convey to his patrons.
The interior of Cenzo is a cascade of design tenors — ingress led by stripped-down, rustic, and classically Italian restaurant tones that eventually flows into the voguish modern main dining area, sleek and cheeky with some of the most bodacious palette choices.
On one end, svelte ribbed walls melded harmoniously into the background against the deep teak of the dining tables. On the other, the mise-en-scene was dominated by splashes of scarlet on the tiled walls and couches, snazzily set in contrast to the arresting swathes of azure that permeate the flooring.
A familiar sight is also waiting at its rear. It's an iconic fixture to Salted & Hung that is a welcome sight here — an open kitchen where you can see how Chef Drew and his team navigate the roaring grills and the smooth flow of their service.
Many of the top restaurants are apprehensive of vibrancy and the electrifying colour choices may feel garish to some. But to me, Cenzo boasts of one of the most congruently planned and best-designed dining rooms of the year. One that doesn't restrict itself to the exhausted trope of muted minimalism and is comfortable in its own pronounced idiosyncrasies.
More than Ample Preamble
If you're familiar with the bold and inspired flavours of Salted & Hung, Cenzo reiterates many of Chef Drew's creative quirks — but this time, with more refinement and less blunt force, since the exclusion of the same level of smoking apparatus limits that range of high-octane smokiness.
Starting off with the Raw Blue Prawns ($25), we were feted by a deft integration of Asian inflexions into the dishes. The dish was built upon an array of prawns, gently sweet and remarkably plump, later blanketed by a dribble of sauces that endowed them with a splash of piquancy and aromatic wakame umami.
One of the more intriguing dishes at Cenzo that's akin to two dishes in one, accompanied by a handful of crunchy fried prawn heads for a creamy umami burst — a shrewd usage of the flavoursome heads without unbalancing the intricacy of the dish or putting them to waste.
The follow-up of Parmesan Chips ($10) wasn't as elaborate and well-thought-out but the simple snack was a greatly satisfying way to start the meal, giving you a delightful light crunch on its crust but exposes the silkiest core that bounces gracefully and breaks apart so effortlessly.
The Veal Tongue ($22), too, weren't riotous flavour bombs as tongues tend to be. Cenzo's handling of the gustatory organs focused more on the inherent textures and flavours and abstains from drowning them out with heavy sauces or clumsy smoke.
Some of the most satisfying tongues to have graced my lonely mouth — lush and succulent with a sheer, buttery chew and very tastefully and moderately enriched with twangy anchovy sauce to quell the game, though keeping a good hint of that funk to add some layers to the flavour.
Less Salted, don't get hung up
Of course, the greatest test that I had to put Cenzo through was ordering the Pastrami Sandwich ($22), an iconic favourite at Salted & Hung. The absence of a smoker dissuaded them from stubbornly replicating the classic recipe and this new rendition is markedly different.
This incarnation of the Pastrami Sandwich was more in line with the more controlled and refined flavours where a glistening layer of pastrami, piquant slaw, and a slather of robust aioli were bookended by bread significantly lighter than the predecessor's heavily charred sourdough.
Definitely more sophisticated, less surfeit, and quite splendidly balanced — all while still retaining a satisfying richness.
As far as vegetables go, I think a good head of Roasted Cabbage ($14) is one of the greatest pleasures that can be created in a kitchen and Cenzo's take was a close second to the brown-butter-drenched rendition at Lolla— equally tender and juicy, while less charred, and accoutred in a sweet and nutty macadamia Tahini.
Handmade pasta is always the headliner in any Italian restaurant experience and Cenzo's Cacio e Pepe ($22) gave a very good account of itself. It has a few flaws no doubt but most of them came down to personal proclivity.
The burly squiggles of pasta were finely crafted and sprung about with a welcoming chew, modestly slicked on with pepper and parmesan-forward richness — alas, it's not quite the classic no-holds-barred Cacio e Pepe archetype and is instead less brusque, with more nuances floating to the surface.
One very admirable aspect of its sleek articulation was the interaction between citrus zest and pepper, elegantly accentuating floral undertones that are usually obfuscated. Emulsification could be amped up for more creaminess but the profile is a convincing manifestation of Chef Drew's lighter Cacio e Pepe pasta, more suited to the Singapore context.
Unfortunately, the desserts were a tiny letdown. They were by no means weak offerings but stems from the fact that I'd developed fond memories of Chef Drew's desserts of the yesteryears. But for straightforward, hearty classic Italian desserts the Cannoli ($12/4pcs) was decent — slightly piquant, airy on the skin, and spruced up with a pistachio nuttiness.
The Drew's Tiramisu ($14) was a rather inviting Oreo dessert but didn't really live up to its billing as a Tiramisu. Cenzo does with less Bailey's and espresso punch and had the sweetness toned up a bit much. Nonetheless, there's the unmistakably enjoyable creaminess and great textural interplay — just not quite as expected.
Looking beyond the culinary aspects of this meal, Cenzo was one of the most holistic restaurant experiences of my year. The floor staff were exemplary too — service was brisk and warm, hosts provide informative but concise suggestions, and they didn't smother you with unwanted eagerness.
It's in its infancy but Chef Drew's first post-Unlisted-Collection venture is looking like another smash hit. It's only been a week but the creative and refined flavours, striking and unconventional decor, and congenial service are highly promising for its longevity.
Make your reservations here.
Cenzo
Website | Facebook | Instagram
Address:81 Club St, Singapore 069449
Hours: (Mon–Fri) 12pm–2:30pm, 5:30pm–10:30pm, (Sat) 5:30pm–10:30pm