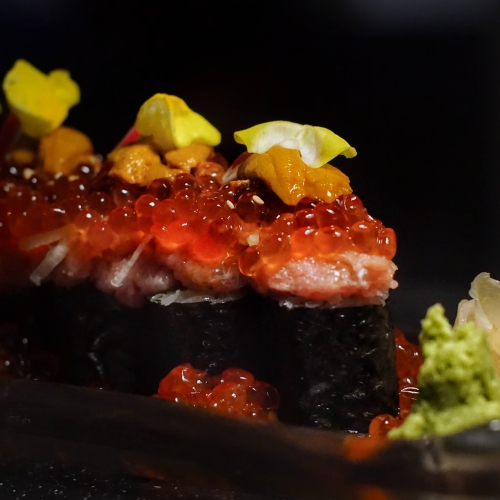 Unadulterated Modern Japanese Fun at omu Nomu's Cosy Sake Bar Space
An "authentic" Izakaya experience almost certainly entails a few things — comforting and gratifying bites, carafes of sake, and rowdy Japanese salarymen. But what if you want a different kind of Izakaya service? You visit Omu Nomu.
Purists might cry out that this quaint bar along Beach Road is not quite in the traditional mould of Izakayas. But from experience, the sake bars in Singapore have been more whimsical by the day.
It's only apt to draw parallels between the louder, urban edge of Omu Nomu to the unapologetically groovy Mobomoga, one of my best Japanese restaurant experiences in Singapore that was coincidentally marked by the vibrant gyrating of disco lights.
"Authenticity" is overrated — natives don't have a monopoly over the best versions of their own cuisine. A deep understanding of cuisine can bring you far as well.
And that's what this hole-in-the-wall, dyed in striking crimson neon, provides. Omu Nomu may be offbeat but they lean into that eccentricity quite effortlessly.
Pay a visit for their acky modern takes on Japanese classics and their all-around convivial service, as the team throw around banter, as well as mugs of some of the best Highballs I've had in Singapore.
Method to The madness
That said, Omu Nomu's menu isn't some monstrosity plagued with sacrilegious bastardisations of Japanese food. One of my favourite ways of looking at their approach towards Izakaya fare is that there is a willingness to push the envelope.
A shining example of that innovation is in one of the least expected areas — their alcoholic tipples. Instead of the usual Suntory Kaku Highballs, the chefs enthusiastically ask for your spirit profile. That ends up with amazingly smoky and intoxicating tipples like the Port Charlotte Highball ($22).
They also don't swing all the way out of the left field in terms of bites. What Omu Nomu does offer is some less-oft seen classic snacks like Ei Hire ($12) — grilled stingray fin.
Umami, sweet, and extremely delightful for prolonged chewing, these slivers of dried jerky-like fins are an addictive pairing to the Highballs.
Omu Nomu's crowning glory is undoubtedly the Overloaded Maki ($68), a practice in unfettered decadence. What they jokingly describe as a "bukkake roll" features a tantalising mess where the good stuff explodes all over the rolls.
From the top, you have silky golden crowns of Uni, built on magnificent hills of Ikura sprouting out from pale pink beds of Negitoro. The most succinct embodiment of Omu Nomu's method to their madness — cheeky, indulgent, and easy on the eye.
The Classic Skewers
Many Japanese establishments have a penchant for specialising in certain areas of the cuisine such as Sushi, Donabe, and Ramen. What makes Omu Nomu work, in its modern no-holds-barred persona, is a swiss-army-knife approach to cover as many bases as possible.
One of the most classic Japanese bar snacks is the beloved Yakitori so it's a no-brainer to include, especially with its versatility with drinks. The star skewer? The less conventional Foie Gras ($10).
This beauty encompasses a robust spectrum of fattiness and smokiness, underscored by a sensual melt-in-mouth texture.
Admittedly, what little Yakitori we had was hit or miss. Of course, it's hard to rival the seasoned mastery of some of Singapore's best chicken skewer experts but Omu Nomu gives a good account of its Yakitori nous.
The Chicken Hearts ($3.50) were made delightfully bouncy and crunchy without much of an offal stench but the Pork Belly ($4) skewed slightly dry and the coat of sauce overpowered most of its porky richness.
Still, that doesn't undermine what Omu Nomu is aiming to provide. You don't come here for the most pristine authentic Japanese food, what you get are gratifying bites, satisfying drinks, and a good, good time.
Make your reservations here.
Omu Nomu Craft Sake & Raw Bar
Website | Facebook | Instagram
Address: 302 Beach Rd, #01-08 Concourse Skyline, Singapore 199600
Hours: (Mon–Sat) 12pm–12:30pm, 5:30pm–12pm