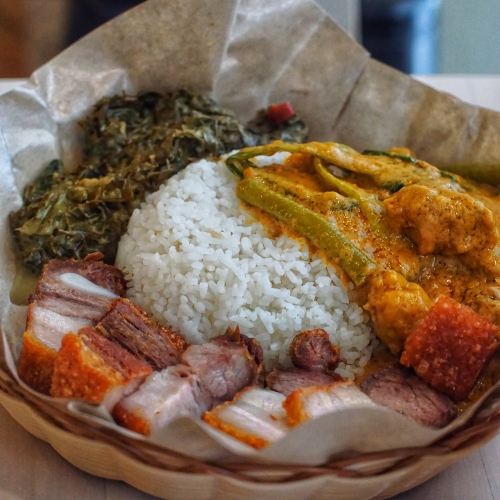 Kuya's Kusinang Pinoy offers COmfortingly Familiar but Different Flavours From the Philippines
A confession has to be made — my working knowledge of Filipino cuisine, beyond staples such as Lechon, is shallow and unimpressive. A chance encounter with Kuya's Kusinang Pinoy's quaint hole-in-the-wall of course called out to me, affording a chance to expose myself to a less familiar cuisine in Singapore.
Walking in, it feels like a rustic eatery that you won't find amiss if it were selling cai png. Amidst all that simplicity though, is a touch of distinctly tropical accoutrements that lends a markedly Filipino charm to the space.
Kuya's Kusinang Pinoy is given a welcoming splash of greens and warm lights that ushers you towards the focus of the shop — a glass display with intense lights focused on a motley of dishes.
Admittedly, it took some time and assistance to parse through the unfamiliar names on the menu at Kuya's Kusinang Pinoy. But it's a rather straightforward point and order once you are given a quick and understandable run-down.
Same Same But Different
One interesting observation was in some decided similarities to many of the "local" dishes or those from regions in closer proximity to us. We were welcomed by comfortingly kindred tastes that were strangely still recognisably distinct.
I think the influence of certain shared cultural similarities is discernible, especially in Kuya's Kusinang Pinoy's Tosilog ($7.50). A mighty homely ensemble featuring morsels of sweet marinated pork, sapid garlic rice, and a perfectly flowy sunny side up.
A coherent and harmonious combination where the garlic rice was aromatic but moderately balanced and not drowning in garlic fragrance. The egg was fried to a flawless texture and lends a burst of flavour and silkiness to the rice.
The pork itself was tender, chunky, and dyed in a crimson glaze, reminiscent of the sweet and slightly savoury Chinese BBQ Spared Ribs.
Funnily, the quirky parallels we'd drawn to our local staple of cai png actually aren't too far from the truth. If you're not up for the pre-determined combo, the Set A ($7.50/1 dish) and Set B ($9.50/2 dishes) options give you the freedom to build your own jumble of dishes.
Those wary of their comfort zones can go for some dishes such as the Roast Pork or Chop Suey which won't look that out of place in a local eatery. You can't go wrong with the Roast Pork, a solid rendition that comes with tender, fatty meat and a soft crunch on its craggy exterior.
Alternatively, you can also find the ubiquitous coconut milk doused in several dishes at Kuya's Kusinang Pinoy There's a Beef dish that looks sparsely like a curry but is more akin to chunky beef coated in comfortingly smooth and sweet coconut fragrance.
On the other hand, Taro Leaves are also given a dose of coconut milk to supplement their funky, earthy profile.
Joking comparisons aside, Filipino cuisine is of course a microcosm of tastes and history in and of itself. It is not a replication of any other cuisine. That said, many Singaporeans who might be wary of venturing into more "adventurous" territory should rest assured, since Kuya's Kusinang Pinoy showed that it can be different but still extremely familiar.
There is solidity in Southeast Asian regional cuisine styles so don't be afraid — learn to embrace our similarities and you'd be in for a ride.
Kuya's Kusinang Pinoy
Website | Facebook | Instagram
Address: 420 North Bridge Road, #01-06 North Bridge Centre, Singapore188727
Hours: (Sun–Fri) 12pm–8pm