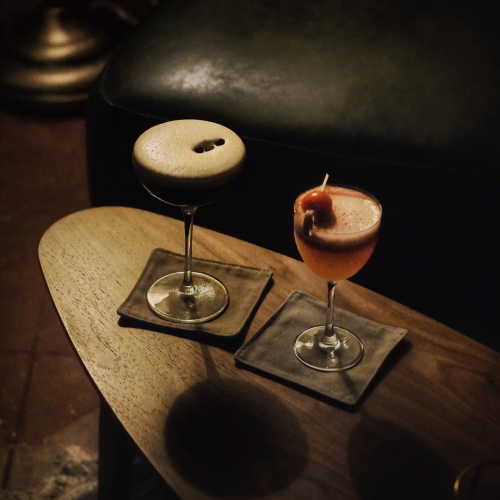 Intimate vibes & Crazy $11 Happy Hour AT The Store, bEST vALUE Bar IN Singapore
As you stroll along Neil Road, you'd chance upon a non-descript shopfront, dominated by a slate-grey facade, a simple monochrome sign, and a mysterious blue door. The only indication of what's inside is an ambiguous decal, "The Store", and a placard affixed on an easel with "$11 appetisers and cocktails" stamped on it.
You place your hand on the bronze handle and take a peek inside. The front of "The Store" looks more like one of those snazzy fitting rooms you'll find in Singapore's CBD, more than a bar. With your curiosity piqued, you take a step inside.
Beyond the plush antechamber, you are guided into a larger room with a cosy bar counter, foliage embracing a skylight, and a charming man working his magic behind the counter.
You get seated at the bar and strike up a conversation with him, his name is Hirman. The experienced bartender doesn't toot his own horn but as a global ambassador for Tito's Vodka, he brings plenty to the bar table.
Their motto here seems to be putting creative and inspired spins on classics. The Store doesn't just make simple Collins or Negronis for their happy hour like most other bars in Singapore would.
Everything comes with an inventive dimension, while Hirman will affectionately enquire about how you'd like your drink profile.
$11 Happy Hours at The Store
Streams of light still peek through the daylight but the folks at The Store know you're already primed for some alcohol to wash away the banality of Singapore life. So they knowingly hand you The Store's happy hour menu, with the slim dual strokes in the "$11" price tags catching your attention.
Happy hours often involve the most vulgar concoctions you'd find at any bar, save for a few upscale places that miraculously still maintain their discounted prices. At just $11, The Store brings happy hour to a whole new level for a craft cocktail bar in Singapore.
For now, happy hour menus aren't fixed and may not be for some time, to keep things interesting. The only things that have remained constant are the food items.
$11 gets you simple, enjoyable bar bites to help your stomach hold up against the incoming barrage of drinks.
The Store's Sourdough Platter ($11) is as simple as it comes, served in a tidy arrangement of thin crunchy bread and ramekins loaded with creamy guacamole and baba ganoush.
With a knack for crunchy textures, the alternative of Tortilla Chips with Cheese and Corn Salsa ($11) was The Store's other enjoyable no-frills treat.
Just oodles of rich, smooth cheese and the spiritedly tangy bite of the corn salsa — an addictive drink accompaniment that may just finish before your drink orders are drained.
Onto the drinks section of The Store's $11 happy hour, you'd find an ever-revolving roster of drinks to be served at the bar on a monthly rotation. Most of them will be spins on the timeless recipes but rest assured, every drink hits the spot with Hirman's bartending nous.
A common fixture is the Collins, which Hirman is a huge fan of. So on my first on their first iteration of the happy hour, the zesty and easy-to-drink Tom Collins ($11) was definitely one of the highlights, along with the plushly textured and zesty Whisky Sour ($11).
Subsequent visits greeted me with more unique experiences, such as a changing music-themed week for March where The Store curates drink ideas and playlists based on genres including Grunge and Hip-Hop.
One of the most memorable tipples has to be the Under Pressure ($11), endearingly named after the Queen hit, made for their 80s pop week. A punchy Reverse Manhattan twist loaded with Dewars Rye Whiskey that goes seamlessly with the tacky synths on repeat.
Magical Main Menu
As the light recedes from the skylight and the golden hour window of 4pm to 6pm passes, The Store's happy hour ends and I ask Hirman to hand me their main menu, for the real good stuff.
Being the adventurous imbiber I am, I asked Hirman for his recommendations on the most intriguing drinks on hand. Naturally, the Irish Kyoto Collins ($24) was an instant order.
As a Collins should be, The Store ensures that this cocktail bar classic is elegant even with the unorthodox addition of wasabi. The sharpness of the Japanese cuisine staple was gracefully integrated into the lighter base, adding a sharp kick that doesn't overpower.
I'm a Negroni fiend and dive headfirst into any mentions of the word Negroni. Suffice to say, The Store's queerly named Notanegroni ($24) was the next on my hunt for the best Negroni in Singapore.
As the name suggests, it kinda is but also isn't a Negroni. Amongst its holy trinity of components, sweet vermouth switched for Umeshu which added a balancing plum-tinged levity to the signature Negroni swagger.
Despite professing my utmost detest for espresso martinis, bar one, The Store's one-of-a-kind Coffee Kombucha Espresso Martini ($22) handily beat the renditions you'd get in Singapore.
Unlike the regularly one-note espresso martini, the floral notes of the coffee kombucha impart a dearth of complexity and depth. Not to mention that luxurious foam was just picture perfect.
Similarly, the wholesome and comforting Timotini ($22) is one of the odd few bloody marys that managed to tickle my fancy.
Hirman shares my distaste for the stale canned tomatoes most bars use, so he ensures The Store uses fresh tomatoes and white balsamic to give it a fresher, lighter, and more piquant profile.
The Store is an interesting case study of a craft cocktail bar — there aren't many places in Singapore that provide this intimacy, this quality, and this affordability. You won't leave dissatisfied regardless of whether it's the $11 happy hour or the main menu that lured you in.
Make your reservations here.
The Store Bar
Website | Facebook | Instagram
Address: 11 Neil Road, Singapore 088809
Hours: (Tues–Sat) 4pm–12am