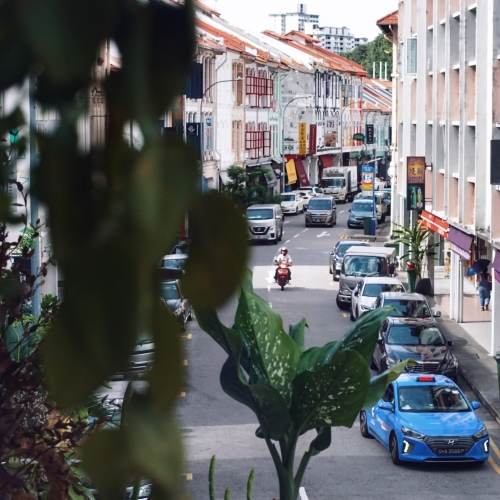 Foxtail — Keong Saik Rooftop Bar that's vibrant and hella affordable
A cryptic sign pointed towards a rugged flight of stairs leading to a shophouse's upper floors. "We've saved seats for you upstairs," it read. A glance at an adjacent sign yields hints of a mysterious name, "Foxtail".

Taking a leap of faith and trusting an arbitrary sign soliciting patronage, you trudge into the sickly whites of the fluorescent-lit stairwell.
Unexpectedly, you peep a motley of vibrant colours peeking out at the stairwell's mezzanine. The incandescence intensifies as you edge closer until you find yourself drenched in sultry technicolour and the riotous rumblings of electronic music.
With whiffs of cyberpunk, Foxtail's rooftop bar compound is a marriage between swathes of audacious neon and lush colonies of thriving plants.
You're greeted by ceaseless chatter which dissipates into the night sky, away from its quaint balcony — one boasting a panoramic view over bustling Keong Saik Road.
There are no airs to this speciality cocktail bar. Just an affable team of mavericks running the show behind an open bar. In fact, Foxtail's vibes are suspiciously conducive for a Singapore-CBD-style dive bar.
However, a taste of their painstakingly crafted cocktails –everything at only $18 nett, save for one— will assuage you that it's driven by adept mixologists whose joie de vivre takes precedence over opulence and snobbery.
The Foxy Divas
As the last rays of the golden evening sun slowly fade away, the best way to indulge in its residual warmth is with a hearty Bloody Mary in hand.
Foxtail's Boody Maria ($18) is radically different. This take on the often-mistreated classic oozes class — immaculate balance in smoothness, spice, and punch without the fetid musk of stale canned tomatoes.
Its savoury charisma is best corroborated with a healthy bite of carbs and the Margherita Pizzette ($15) reads as an amorous bedfellow that will help accentuate that tomato richness.
The miniature pizza is a looker, ushered fresh to Foxtail from neighbouring Pasteria Abate. That photogenicism translates to a soft chewy bite on the charred crust and a luscious coat of herb-bolstered sauce.
A prolonged chat with the bartenders will reveal that Foxtail takes a lot of pride in their Mezcal-mixed drinks as one of the few bars utilising Machetazi's craft spirits in Singapore.
As things unravelled, it was evident that no pride was misplaced — Foxtail's Mezcal Negroni ($18) is the best in Singapore. Mezcal imbues greater smoky depth whereas a premium sweet vermouth constructs more layers.
More importantly, it peacocks that same unapologetic swagger that all Negronis should have while all the layers seamlessly glide and transition in the background with the finesse of a ballet troupe.
Is Everything Better With Mezcal?
Building on their impassioned fling with Mezcal, alter egos of many classic drinks are accosted with the smoky flair of the Agave spirit.
For concoctions as innocuous as the Whisky Sour, spiffs of pizzazz are added can be found in their saucy Mezcal Sour ($18) and On D Flip Side ($18) glow-ups.
The classic's blissful plush foam layers over a smoky mezcal kick in the former while the latter introduces honey and Aperol to sweeten the deal further with an agreeable perfume of fruits and florals.
Confidence is always a sexy trait so it goes without saying that everyone should get a taste of their Doses & Mimosas ($18) which they feel can be tweaked into Foxtail's modern bar classic, ala Singapore Sling or Penicillin.
Superlatively refreshing and pleasantly crushable while spruced up by the irreplaceable aroma of freshly plucked basil. A lively prosecco then plays cheerleader with a playful effervescence that also hid an enthrallingly layered dryness,
Ending bar visits with the Last Word seems quite customary for me but here, the nightcap stakes are amped up with the boozy potency of Mezcal.
Imagine unadulterated complexity, spearheaded by a pepper-tinged Mezcal and herbaceous boldness, given the tender loving care of honey and lime.
Fittingly named "1 for Da Road" ($23), Foxtail's Mezcal Last Word is the ultimate end to any party — which explains why it's the only drink that isn't $18 nett on their menu.
And that is the charm of Foxtail. It is a specialty cocktail bar masquerading with the pomp and abandon of a dive bar but that makes it all the more affordable and fun.
A no-holds-barred Friday night soiree? Or a fun and affordable alcohol-fuelled date that doesn't scream "trying too hard"? Foxtail's Keong Saik rooftop bar space is easily the best in Singapore for that.
Make your reservations here.
Foxtail Bar
Address: 1 Keong Saik Road, #02-01, Singapore 089109
Hours: (Tues–Fri) 6pm–12am, (Sat) 4pm–12am, (Sun) 2pm–12am