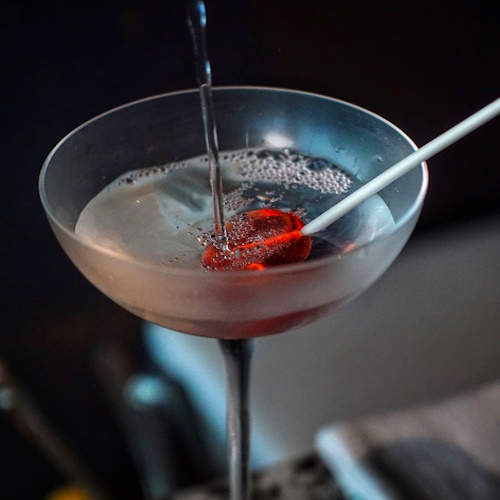 0MO Bar Returns in 2023: Modish Blues, New Blood and Fresh Menu focused on Singapore
To me, MO BAR must be up there as one of the most outstanding cocktails bars Singapore has to offer. At least, it was one of my foremost exemplars for hotel bars — before it inadvertently went on hiatus as part of Mandarin Oriental Singapore's hotel-wide revamp.
Six months have eluded us and the Mandarin Oriental building has now been revitalised.
Relaunched in early September, the buildings' windows now spill with warm light once again while its facade is gussied up with a cloak of bracing emerald-green paint.
Improvements don't end at its lobby either. As with the hotel itself, MO Bar has also received a glow-up, with its slightly dated space prior to the renovations now elevated with a chic modern edge.
It's rejuvenated with a sharper and dapper palette consisting of navies and azures and takes on the ambience of an intimate cocktail lounge. However, changes are not merely superficial, with the MO Bar team also undergoing personnel changes.
Gone are the distant heydays of long-time Bar Manager Adrian Besa running the show, a sight many regulars would have cherished.
Bar operations are now being overseen by new head honcho Charlie Kim, a charismatic Korean bartender who'd most recently managed at contemporary casual-dining outfit Quay House.
2023: A Bar Odyssey
Admittedly, rushing in as the first-ever customer in this new era came with risks.
Nonetheless, I was enticed by the chance to dive into the concoctions in "Blue Print", a menu where MO Bar traverses Singapore's past, present and future.
It's a departure from the familiar formula of previous menus, including my favourite Vol. 3, which toured Asia as a whole but it's a welcome experiment, seeing familiar Singaporean flavours through the lens of the expat bar team.
Understandably the first day of operations meant that drinks selections were, unfortunately, limited Nonetheless, I swiftly made up my mind on the White Rabbit ($26) order — a laksa drink masquerading as a nostalgic candy-based concoction.
Yes, the name is a red herring. Instead of saccharine milkiness, MO Bar turns up the weirdness with an assiduously crafted assam-laksa cocktail profile.
The plush, piquant drink is first reminiscent of yoghurt, though it also has laksa aromatics gracefully floating atop the tangy base. It's comforting and easy, and actually not as adventurous as it sounds — though it would still prove a bit of an acquired taste for some.
On the other hand, the Reclaimed Slings ($26) manifested as a progressive take on the Singapore Sling, taking cues from flavoured Martinis except the top notes remain the vivacious blend of cherry and tropical pineapple but toned down in sweetness for balance.
The rest of the profile hides an insidious boozy bite that turns into a balmy sharpness which also skews it more sophisticated and less intolerably cloying. Probably one of the more well-thought-out Singapore Sling riffs I've seen.
New look, new leadership, new menu, and new beginnings. While there's probably no repeating the meteoric rise in 2021, with the bar debuting at No. 36 in World's 50 Best Bars in London before clinching No. 8 in 2022's Asia 50 Best Bars, I think MO Bar's 2023 return has shown its potential.
The intimate and convivial bar vibes still persist while the prototype drinks also showcased creative ideas. It just will take time for team chemistry to marinate and tweaks to be refined, but things look promising.
Make your reservations here.
MO BAR
Website | Instagram | Facebook
Address: 5 Raffles Ave, Level 4 Mandarin Oriental Singapore, Singapore 039797
Hours: (Sun–Thurs) 5pm–1am, (Fri-Sat) 5pm–2am