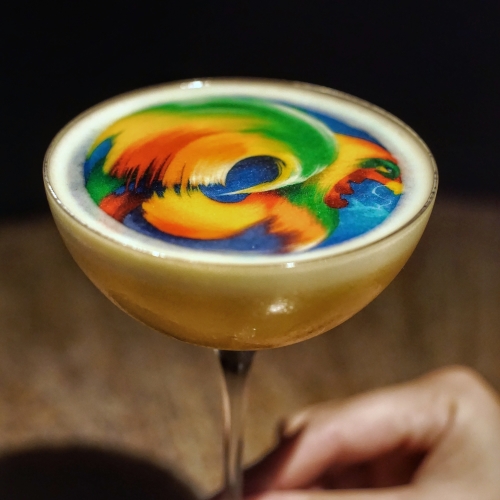 MO BAR Dazzles With More Asian-Focused Ingenuity In New Vol. 4 Menu
If the prime directive of a bar is to provide both the holistic experience possible and also the most creative concoctions to wow the palate, MO BAR must be up there as one of the most exemplary cocktails bars Singapore has to offer.
While even some of the best bars in Singapore still endeavour to juggle between these cardinal facets of bar management, MO Bar is a shining example where the bar nails it all too effortlessly.
Though the run-of-the-mill hotel bar is often the subject of the ignominy of being trite and rather bland, the Mandarin Oriental linchpin is comfortably seated at the pantheon of elite hotel bars, reserved for the most iconic venues such as Manhattan.
While at one point, MO BAR wasn't a prominent fixture on many barhoppers' radars, they've enjoyed a meteoric rise in recent times.
They first debuted at No. 36 on Asia's 46 Best in 2020 before triumphantly returning from London in 2021 at an impressive No. 36, edging out many stalwarts in the local bar scene.
My experiences at the bar absolutely justified the accolades too. Besides the great tipples that bar manager Adrian Besa stylishly fashions, the ambience here is exquisite with a touch of cosiness from a friendly, but not too serious, service.
Following their clinching of their virgin World's 50 Best plaque, MO BAR also swiftly decided to reinvent themselves with a dazzling new Vol. 4 Menu.
Reinvigorated Vol. 4 Still Stays True
For MO Bar's Vol. 4, it's not just their drinks that are eye-catching — the intricately crafted menu is a sight for sore eyes too in its spherical glory, going the extra mile to conceptualise one of the snazziest physical menus you'd see.
Soon as I was seated bartender June, the bar's familiarly exuberant mascot, made her way over and started working her charm in explaining the menu to me. Being no stranger to the bar, it was easy to grasp its lunar phase indicator of drink strength and its story-telling modus operandi of weaving unique tales from all over Asia.
Straying away from the regular light spritzes or highballs, I lasered in on the Holi ($24), MO BAR's distillation of the vivacious Holi Festival from India.
Despite being sublimely light and easy to drink with a supremely plush mouthfeel, it's punctuated with Indian spice aromatics that somehow meld seamlessly to add a touch of nuance without straying too far into experimental territory.
As a matter of national pride, I had to inspect how MO BAR represented Singapore on their menu by ordering the Satay By the Bay ($25), an inventive rejig of the Negroni by borrowing on the familiar flavour of Satay.
Like any Negroni, it blitzed with a braggadocious sweetness on the first sip but a complicated riot of flavours soon blossomed in the mid-body. The umami, fruitiness, and nuttiness are complemented by a potent smoke that transfigures the profile to one more akin to a Boulevardier.
A dry finish drags on, underscored by a nice underlying nut aroma while MO Bar's smart placement of pineapple and cucumber as garnish imbued a bewitching nose that convincingly reminds you of Satay.
Of course, it's not a visit to MO BAR without getting a taste of their iconic edible paper series of cocktails, with a Seoul-inspired instalment being one of the highlights on Vol. 4.
Being as refreshing and sweet as it was, the Full Moon ($26) was a simple but efficacious crowd-pleaser that's been given a spiff of wheatgrass aroma to add an endearing malt-like property.
For your nightcap, look no further than MO BAR's Nostalgia ($27). I can't put my finger on it but this concoction was, like its name suggests, exceedingly nostalgic and transports you to the carefree days where you pig out on those sweet sweet childhood snacks.
But then you're hit with the sweet realisation of adulthood as the boisterous cognac comes to the foreground, before its vivacious finish that slides from a syrupy intensity that trails off into a nice salted caramel note.
Keep to the Drinks
I'm perpetually curious as to how each cocktail bar handles their grub since not many of them manage to create menus strong enough to support the tipples.
The verdict? It's not bad, considering I've had some absolutely terrible Gyu-Katsu Sandos ($34). MO BAR grasped the delicate handling of the Beef Tenderloin patty with an airy breaded crust while the nicely pink protein itself was rather luscious and complemented by an umami garlic aioli.
Alas, the bread was the downfall as those poofy slices of white bread proved to be too thick and slightly dry, hampering the overall mouthfeel of the Sando.
An intimate evening of cocktails at MO BAR will undoubtedly be one of the best bar experiences you can find in Singapore. You have attentive service, a creative mixological compass, and a decent view of the skyline.
Just don't expect too much from the food, which is generally priced quite extravagantly — and I argue that you really shouldn't when at a fancy cocktail bar.
Make your reservations here.
MO BAR
Website | Instagram | Facebook
Address: 5 Raffles Ave, Level 4 Mandarin Oriental Hotel, Singapore 039797
Hours: (Mon–Fri) 3pm–10:30pm, (Sat–Sun) 3pm–10:30pm