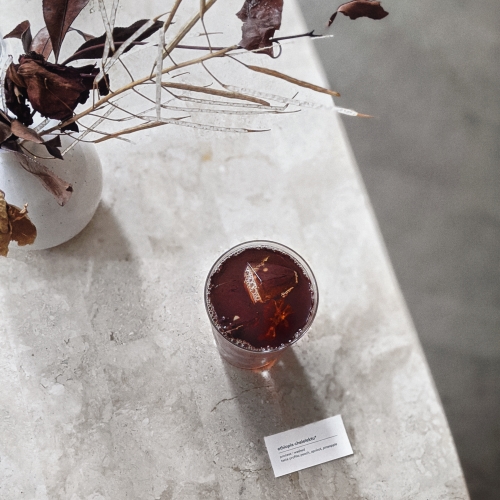 Platform is an idyllic Refuge from Singapore's Wearying Pace
It was an impulse that led me to enter this monochrome cafe nestled within the enclave of Telok Ayer. As I was passing by Platform's shopfront, my gaze was inadvertently arrested by the pulchritudinous stylings, assuasively calling out to me.
Stepping inside, I could observe tendrils of daylight meekly peering through the pellucid windowpanes and curtains affixed to the facade. They slowly, and playfully, trickled in, carefully caressing the surfaces of the sparse fittings intimately flush up against the right wall.
Platform is marked by a dramatic dichotomy of moods, where the brittle rays of the sun slowly faded as they cascaded through its minimalist white cafe space.
Coruscant whites are exchanged for the placid warmth of muted orange lights that illuminated a tenebrous inner alcove, where intricate dry flower arrangements draped from the ceiling.
Platform as a concept is the embodiment of graceful chicness. Every facet is a laconic distillation of calm, from the soothing whites and tasteful flora to the unhurried echoes of lo-fi hip-hop.
This is a space fashioned for rumination, where time slowed amidst the delicate ambience's inertia. A fever dream, where patrons get lightly dizzy from furtively inebriating drinks.
Elegant Mixology
An easy misconception subscribed to by many imbibers is the necessity of potency. Platform doesn't conform to blueprints shared by peers in its thriving vicinage of speciality bars — some experimental, some straightforward, some rowdy.
Behind its inelaborate white counter, you'd be greeted by Kim Shin, an experienced mixologist who advocates for a dogmatic approach to prioritising sophisticated flavour building over potency. Iconoclastic ideals in an epoch marked by a rousing revival of the classics.
The most elegant way to characterise Platform would be that it's a flavour experience and not a bar, or a cafe. It's an exhibition of refinement. Of layering. Of sensations. And of moods.
At the hands of this seasoned Jigger & Pony alumni, it's apparent myriad details were assiduously crafted into his drinks, low in ABV as they may be. Platform coherently picked up from Fancy, his short-lived concept also with finesse at its nucleus, as a moving spiritual successor.
For our first, Kim Shin personally chaperones a stemmed glass, three-quarters to the brim with liquid ruby, and an ingredient card to our table and proceeds to dissect his creation.
Sipping on it uncovers more nuances that words cannot articulately translate. Understated mixology is the essence of Platform — evident even through simple but efficacious non-alcoholic concoctions like the Shiso Perilla ($13) spritz.
Striking herbaceous notes embraced soft salty undertones, enlivened by a touch of ginger beer spice — basically many small unobtrusive nuances that adhere to a harmonious big picture.
Blanketing warmth and headier spirit redolence can be sought from the Saffron ($18), a whiskey-based concoction carrying Platform's highest alcohol dosage at 11%.
Progression is elegant and well-paced — first, Juniper berries and saffron tonic meld together to posit gin-and-tonic-esque florals, whereas the cocoa whisky kicks in with delay to imbue soft trails of oaky musk before dry, earthy notes cap it off.
Simple COffee From Kurasu
Discerning coffee notes can sometimes elicit obscure emotions. As easy as it is to simply bask in the earnest richness of a latte, you can also get lost in the beatific, translucent profile of a clean pourover.
Slow living is a tangible spirit at Platform that's felt through every inch of the concept. But it's especially eloquently distilled into their light roast Pourover Coffees ($9) since the menu was designed in tandem with fellow Wabi-Sabi poster child, Kurasu.
Generally, Platform's filter coffees are crisp, transparent, gentle on the palate, and blessed with an almost weightless mouthfeel. If ambience had a taste, Platform's is indescribably clean and euphoric.
Aesthetics are a trite commodity in Singapore's F&B nowadays. Even so, Platform is a concept that stands out from mere eye-candy — owing to a pertinacious devotion to minimalism and slow living.
Souls who seek refuge from the wearying pace of life — this shall be your harbour.
Platform.
Website | Instagram | Facebook
Address:19 Amoy Street #01-01, Singapore 069854
Hours: (Mon–Tue) 5pm–10:30pm, (Wed–Sun) 2pm–10:30pm