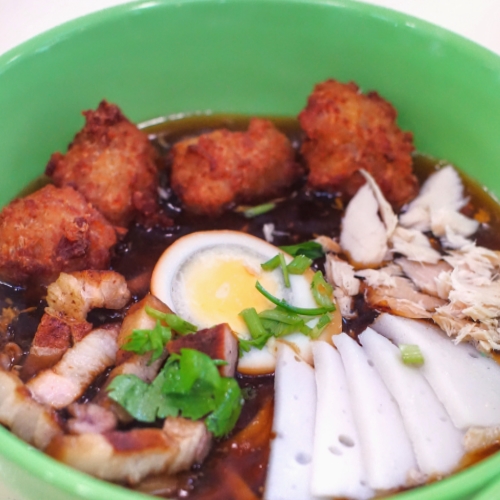 Famous Feng Zhen Lor Mee Expands to Hawker Hotspot in Yishun
Hawker franchises are having their moment in the sun right now. A wave of syndication has washed over Singapore — beloved trademarks are propagated to the farthest reaches of the island, all throughout the heartlands.
Part of it was due to the advent of Michelin Guide Singapore which propelled many decades-old hawker brands to stardom. Amongst those is Feng Zhen Lor Mee, a popular stall that is hidden in the far-flung Taman Jurong estate.
And it's owing to these trending "branded" kopitiams that Singaporeans everywhere can get access to some of the best embodiments of our hawker heritage. Coincidentally, their first outpost is in one of these curated congregations deep in Yishun.
That said, quality control is hard to corporatise efficiently. Growing with numbers could mean an inverse scaling of quality even if scales of economies are improved.
So it proves to be a gamble whereby some would fail, like Nam Sing Hokkien Mee's recent misadventure into Bukit Batok. But how would Feng Zhen Lor Mee's time-honoured lor mee recipe fair?
Like that Lor
Most savvy lor mee eaters know that all of the flavours inherently come from one thing only — the braised gravy. The devil is all in the details and it takes a lot of meticulous preparation to replicate the original.
Away from the original Taman Jurong outlet and all the way in the hood of Yishun, it's a great litmus test of Feng Zhen Lor Mee's expansion.
One thing was clear as the first cluster of gravy-stained noodles were slurped up — the gravy was decent. But then again, the insane crowds queueing for their signature Traditional Lor Mee ($4/6) would have arrived with high expectations.
There's nothing bad about it but the viscosity could have been amped up a notch and flavour notes —especially herbal notes— could be ramped up a notch. Perhaps it could be Feng Zhen Lor Mee's tactic to counter surfeit though since many people abhor thick gravy.
Besides, there's nothing a liberal dose of garlic, vinegar, and chilli can't fix. Fix up your gravy with a bit of oomph from the accoutrements and it's as good as most lor mee.
If there is one aspect that Feng Zhen Lor Mee deserves credit for, it's in the ingredients. The yellow noodles were blanched to give a good chew, while the accompanying jumble of ingredients was mostly dependably executed.
I enjoyed the mouthfeel of the fried meatballs and the braised pork belly was tender and juicy. The egg was too bland and braising it in gravy would give it a touch more richness.
Upping the ante, they also offer a Fish Lor Mee ($6/8) in case you prefer your lor mee with flaky fish. The fish isn't perfect —some slivers of the Batang fish turn out slightly dry and clumpy— but some swear by fish in their lor mee.
While I would say there are inconsistencies in Feng Zhen Lor Mee's overall product, it's also still early in their tenancy at Yishun so expectations should be managed. It's not a great bowl by any means but admittedly, Yishun also doesn't have many great lor mee competitors either.
Feng Zhen Lor Mee (Yishun)
Address: 417 Yishun Ave 11, Singapore 760417
Hours: (Mon–Sun) 7:30am–8pm
*This was an invited tasting.