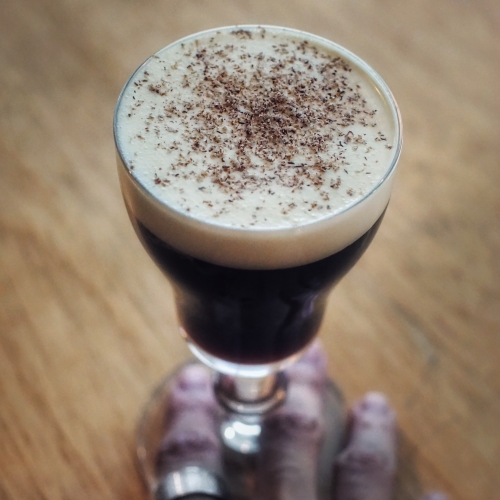 Shake Coffee Is Singapore's Coffee Maverick That Serves Killer Irish Coffee
Brewing coffee is a lucrative business to some, and to others, a passion. For the mastermind behind Shake Coffee, Ong Shi Chun (better known as "Scong"), his passion for coffee is blindingly apparent.
More precisely, it's his love for a loving marriage between coffee and alcohol, his two great loves.
Scong is not just adept at brewing a good cuppa, his Irish Coffee is regarded with high esteem by most of Singapore's speciality coffee community.
Ask any barista in the know for the best coffee cocktails in Singapore and they won't direct you to Jigger & Pony or any fancy bar. No, they will point you towards Shake Coffee's nondescript dwelling within the Antler co-working space at Bugis.
It's a simple, homely space that feels like a conducive space for tech bros to run their startups. But the main stage is at the counter, where Shake Coffee cohabits with popular gelato makers Apiary.
Coffee Is Still King
Regardless of Scong's ceaseless infatuation with coffee cocktails, make no mistake because Shake Coffee still maintains high standards for its specialty coffee, unspiked.
If anything, the proprietor's pursuit of caffeinated tipples actually helped push the coffee making standards even further.
There are all your usual suspects of White Coffee, Americanos, and the like but if you're into pour-over coffee, Shake Coffee will definitely call out to you.
Besides a slew of beans roasted by Scong's own hands, to his exacting specifications, an array of beans from roasters over the world can be found on Shake Coffee's menu too.
Ultimately though, an order of their namesake is imperative — Iced Shaken Filter Coffee. From their current curation, the Natural Processed Mexico Finca Chanjul ($8) is strongly recommended to be shaken up.
The shaking was crucial — no it's not a gimmick. Shaking the coffee in a cocktail shaker adds a lot of luxurious foam which makes up for filter coffees' general lack of mouthfeel.
More importantly, with the Mexican singe origin's profile —a bright fruit sweetness and acidity with a full-bodied caramel depth— the plush texture translated a lot seamlessly due to the caramel.
Master of Coffee Cocktails
My general rule of thumb is that coffee is best ordered from specialty coffeehouses and craft cocktail bars are the best at whipping up concoctions.
What about coffee cocktails? Neither of those, it's really Shake Coffee that stands out the most within this specific niche. Scong not only has the know-how of coffee but an intimate relationship with spirits — it's meant to be.
So I'm not exaggerating when I say that Shake Coffee's Irish Coffee and Espresso Martinis are some of the rare coffee cocktails I can appreciate in Singapore.
His secret recipe for Irish Coffee ($18) just strikes with such coffee richness. Using a Brazilian base with Jameson and a touch of whisky, it's given a strong robust body and plenty of complex depth, especially with shavings of nutmeg.
Most of the deficiencies of the run-of-the-mill Irish Coffees are mitigated too. It is creamy but in a balanced way where cream does not overwhelm the mouthfeel while it remains uncloying and coffee-forward.
Similarly, his Espresso Martini ($18) is nothing like the regular spiked glasses of passable coffee most cocktail bars serve. Shake Coffee's rendition is deftly balanced and showcases the nuances of the coffee.
While the coffee cocktail niche isn't the biggest, Shake Coffee is undoubtedly the king of that specialty. As a coffee snob and functional alcoholic, there's no other cafe in Singapore that screams "best of both worlds" quite like Scong's sanctuary for coffee-forward concoctions does.
Shake Coffee
Website | Facebook | Instagram
Address: 128 Prinsep St, #01-01, Singapore 188655
Hours: (Mon–Fri) 9am–6pm, (Sat) 12pm–6pm