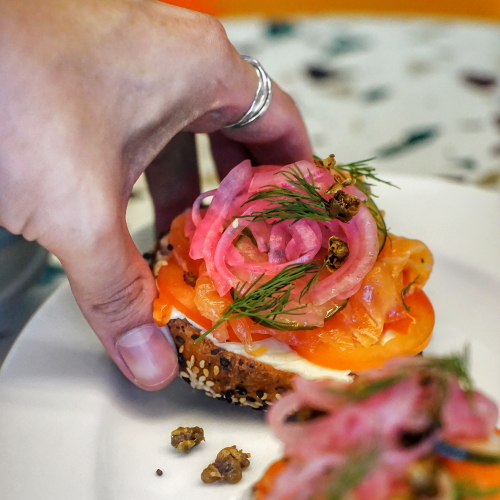 Groove out at Fraser Street Brothers with vibrant vibes & Charming NY Bagels
Chic minimalist cafes are a sight of a bygone era as the trend reached critical mass, leading many new cafes to move away while opting to add more personality to their decors. In this new wave of cafes, the new Fraser Street Brothers perhaps stand out the most with its vibrant orange and blue colour palette.
Fraser Street Brothers was actually born from a circuit breaker experiment of pivoting to bagels for convenience. After it was met with excited feedback, The Meating Place decided to pivot and plan out this stylish new concept that's a departure from their regular style.
It's hard to miss this new spot at Duo Galleria when you walk past. The eye-catching paint job makes it impossible to not take a second look.
The most interesting area of Fraser Street Brother's space is probably the bakes section that's filled with a myriad of baked goodies and, most importantly, a case of tantalising NY-style bagels.
Not Too Many Bagels
Since the cafe is still a fledgling, head in with controlled expectations as the menu is still small and receiving fine-tuning. As far as bagel sandwich permutations are concerned, there are only two selections available at Fraser Street Brothers, though they promised more in the future.
Deliberating was fast, as I quickly decided to go for the classic Lox ($18) over the Egg, Avo & Smoke Salmon. A timeless classic that never fails to deliver, right?
When talking about the best bagels in Singapore, the benchmark is always pegged to Two Men Bagel. As a newcomer, Fraser Street Brothers stacked up impressively against the king of local bagels, all things considered.
Open-faced bagel sandwiches are the main style of the presentation here, unlike TMBH's ever-popular sandwiches, and the Big Apple's signature dense, chewy texture worked like a charm here. A delightfully hefty bite underscored the soft and moist crumb, without any hint of gumminess that can be a problem for dense bagels.
My choice of Sesame Bagels was topped with ribbons of soft velvety salmon and smooth cream cheese, giving it a supremely clean profile that had a nice moderated richness, further elevated by a fragrant sesame perfume.
Fraser Street Brothers then balanced out the taste profile with pickled onions and cucumbers for that sprightly acidic kiss, whilst also punctuating it with bursts of umami from the debris of fried capers.
A Common Coffee Taste
NY-style bagels and coffee are an inseparable pairing, so it's only fair to gauge Fraser Street Brothers through the full combo. Being rather blase about espresso-based cuppas, I chose to go for the most rudimentary Cappucino ($6).
If you relish the complexity of coffee notes like me, Fraser Street Brothers' caffeine might not scratch that itch. On the other hand, if you're fond of the ubiquitous "balanced-and-nutty" espresso, then their house blend will be more than welcome to your palate.
Using a house blend of Brazilian beans roasted by local coffee titans Common Man Coffee Roasters, the punchy and slightly chocolate-tinged notes will be what the common man enjoys. Alas, I personally felt that it fell into the common trap of sporting too strong of an astringent kick in its finish.
Will Fraser Street Brothers displace Two Men Bagel House as the de facto spot for best bagels in Singapore? Not quite. Not yet. However, they've distinguished themself quite strongly on their debut and are undoubtedly one of the more impressive bagels around. This is a promising spot worth keeping an eye on.
Fraser Street Brothers
Address: 1 Fraser St, Singapore 189350
Hours: (Tue–Sat) 8:30am–5pm