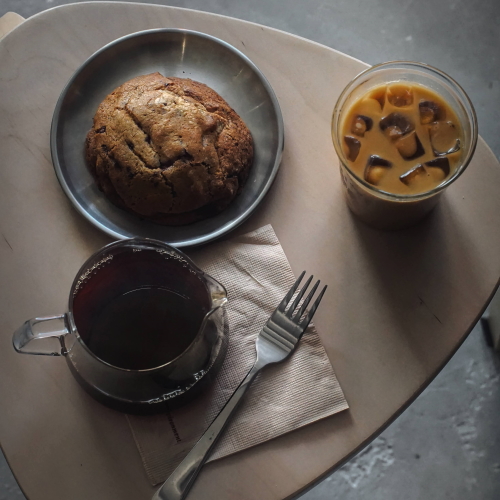 Grey Area Coffee Roasters Finally Brings Specialty Coffee to Kampong Bahru
Passion is what leads many of us on voyages to achieve our dreams, and for the owners of Grey Area Coffee Roasters, it's a dream come true for them when they finally opened their chic, slate-hued little slice of haven down at Kampong Bahru.
If you're a frequent coffee drinker, chances are you'd have gotten a cuppa or two from the duo running Grey Area Coffee Roasters, Xiang Sheng and Luke, both experienced veterans hailing from Alchemist Coffee.
As someone who's had many cups served to me by Xiang Sheng and has had long conversations about coffee and his vision for a coffeehouse, it's surreal to finally receive cups of caffeine at his own space.
The name is indicative of the duo's approach to coffee — "grey area" because there is no black and white in brewing coffee and it's about being attuned to everyone's different preferences.
Remaining firm in their conviction, it's no wonder that Luke personally roasts his own coffee beans so that customers can get a whole myriad of coffee profiles that would cater to their tastes when they step into Grey Area Coffee Roasters.
What's perhaps most noteworthy is that they are the first specialty coffee to open in the Kampong Bahru area, one of Singapore's relatively unnoticed cafe hotspots.
The Pristine Cuppa
As I'd mentioned, coffee is an entirely subjective experience. For some like me, acidity and funkiness are what makes coffee so beautifully intricate and for others, it's a fragrant, punchy, and balanced white that makes their day.
Having tried two different varietals of filter coffee on Grey Area Coffee Roasters' roster, they both managed to address different taste profiles quite articulately.
Looking to play it safe, you can't go wrong with a glass of the Uraga Gomoro Ethiopian Single Origin ($6) that just indulges you with the smoothest and cleanest floral notes. Throw in some ice (+$1) and you have the perfect caffeinated remedy for Singapore's sweltering weather.
As far as acidity and unconventionally goes, Grey Area Coffee Roasters do an impeccable job in developing the roast and the brewing process of the Los Nogales Colombia Single Origin ($6).
Boasting of a delicate tea-like body that seamlessly transitioned into a soft and vibrant white grape acidity, the faint lustre takes its spot on the palate without being too overwhelming and gives the entire brew an elegance akin to tea.
With a penchant for avoiding white coffee due to one too many disappointing encounters with generic cuppas, Grey Area Coffee Roasters' White ($5) with Oat Milk ($1) exceeded my expectations.
That satin-like signature oat milk heft and texture was prevalent, while oat richness also interacted quite harmoniously with the deeper chocolate notes of the Brazillian Single Origin they use in their espresso — delightful cup for an afternoon perk-me-up.
Bakes Surprised Me
Being the nosy food reviewer I am, it's almost customary for me to snoop in on where coffeehouses procure their bakes from and the answer did startle me a bit. Grey Area Coffee Roasters actually made everything in-house.
These career baristas actually devoted time and effort into the R&D of bakes suitable for their brews and the result was surprisingly good. Nothing fancy, just fuss-free and affordable bites to go with the star, the coffee.
For starters, the Chocolate Brownies ($3.50) were not bad at all and tasted better than your average home baker's creation. It had that fudginess, a bit of cakiness, and oodles of chocolatey richness, even if it was slightly too dense.
Their hot-seller of Chocolate Chip Cookies ($3.50) was another solid tidbit to nibble on in between sips of coffee, sporting a rather commendable Levain-style texture that was lightly doughy and chewy.
It skewed a bit too sweet but considering the relatively short duration Grey Area Coffee Roasters' masterminds have been baking, it's genuinely pretty commendable and I will expect the quality to improve with consistency.
Grey Area Coffee Roasters fills an important niche in the Kampong Bahru area. Sure you can get decent brews from the likes of Kream & Kensho or Plain Vanilla. But why settle when you can get cups dedicatedly brewed by two young men who are wildly passionate about coffee?
Grey Area Coffee Roasters
Address: 13 Kampong Bahru Rd, Singapore 169345
Hours: (Mon, Wed–Fri) 8am–5pm, (Sat–Sun) 9am–6pm