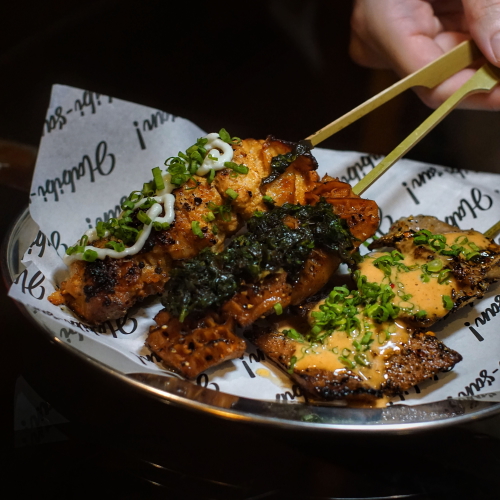 Modern Izakaya Habibi-san Is An Invigorating Study in Smoke
Smoke is the flavour of the moment —cooking with smoke has seen an explosion in recent years as popular restaurants pop up all over the island, advocating for smothering your food in the fiery throes of untamed flames. Even with a multitude of Australian smokehouses, Yakitori bars, and even Californian Grills, nothing stands out quite like the distinctive Middle Eastern fusion leanings of Habibi-san.
An extension of its roommate, bespoke cocktail trailblazer Bar Stories, Habibi-san co-habits a bustling little space tucked away in the vibrant shophouses of Haji Lane.
Unlike the other concept under the roof, the Middle Eastern Izakaya has a fixed menu, the majority of it fixated on the all-important relationship between smoke and bar bites that will leave you satiated as if you inhaled a whole cigar.
Spectacularly Sapid Start
You can't really claim to have explored a Middle Eastern concept without getting your hands dirty and slathering some pita bread with dips. Thankfully, pita aficionados wouldn't leave unsatisfied because Habibi-san churns out the most stellar dips to complement their pillow Pita Bread ($3).
First, a dip in the traditional Babaganoush ($12) yielded a smooth overload of flavour, jazzed up with crunchy chicken skin before the Mentaiko Taramasalata ($13) took over with oodles of XO mentaiko umami that hid an intriguing sharp twang.
Beyond anyone's wildest imagination, Habibi-san's greatest feat was in conjuring up a plate of Roasted Brussel Sprouts ($16) that is best described as life-changing.
I've always been partial to Brussel sprouts, much to the ire of my veggie-detesting palate, but they really elevated those crunchy green morses to the next level. It plays a game of seduction with an intoxicating smoke, accentuated by complex umami bestowed by a bed of bonito flakes, with the whole dish driven by a cacophony of thundering crunching.
More smoke was to be found buried in the Burrata di Puglia's ($15) crimson hill of tomatoes towering above a mound of burrata, interacting dramatically with a piquant perfume of daikon salsa and basil oil.
In the same vein, Habibi-san ensures each of their skewers is enrobed in the sultry smoke-tinged whisper of their grill where the Iberico Pork Jowl ($12) was given an elegant touch of fennel and bulldog mayo to build on its luscious base.
Decelerating at the end
As inebriating as the decadent whiffs of smoke were in the first few courses, Habibi-san sadly under-delivered on the only big dish that we ordered for the night, a chopped-up tendril from a Fremantle Octopus ($24).
Not to really undermine its taste profile because it still packed a decent amount of smoke while being accompanied by moreish macadamia tahini but the texture was chewy and quite far off the mark.
Similarly, Habibi-san's desserts didn't quite perform to the lustrous standards of their small plates. The Atas Truffle Brie ($13) was enjoyable enough for its truffle-perfumed sharpness but it's pretty uninspiring as far as cheese dessert courses go — as affordable as it was.
On the flip side, while Habibi-san's "Namastyle" Chocolate Tart ($13) can't really stake a claim on being inventive either, it paints a strikingly different picture with its decadent interplay between chocolate and dulce de leche while kinako injected some enthralling personality to an otherwise procedural creation.
For an articulate thesis on how smoke & fire can be used with creative ensembles, look no further than Habibi-san! The Brussel sprouts shouldn't be slept on — they were simply that good.
Make your reservations here.
Habibi-san!
Website | Instagram | Facebook
Address: 55 Haji Ln, Singapore 189248
Hours: (Tue–Sun) 5pm–10:30pm