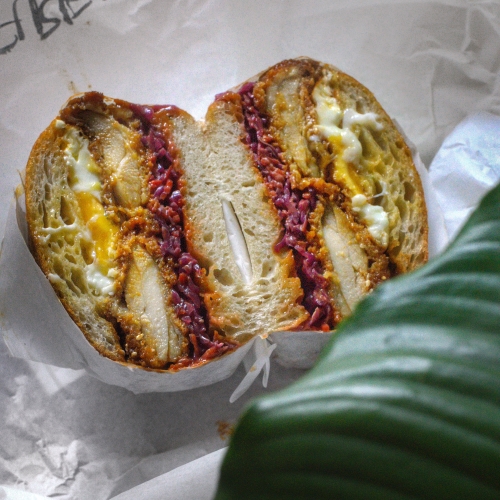 46 Mittsu's Everton Park Outlet Makes the Quirkiest Affordable Sandos
As part of a spade of relocating cafes, affordable sandwich maestros 46 Mittsu have also recently found themselves a new home in the quaint vicinage of Everton Park. Formerly housed in a congregation of concepts at secluded Kim Yam Road, they've struck out on their own this time around.
The interior is what you'd expect from a cafe in the neighbourhood — casual, no-frills, and a little rustic. They'd put together a charming little space where you can lounge around while devouring some of their glorious sandos, filling it up with little whimsical trinkets to give it a bit of pep.
There isn't a staggering amount of sitting space at 46 Mittsu since most of the space is used up for the kitchen. But you don't need much space for these convenient sandwiches anyways, you just need your hands.
Either find a seat right outside the door with their comfy lawn chairs or snag a spot on the fixed wooden bench flushed to the corner — it's all pretty cosy.
Some people even prefer to order for takeaway and sit themselves down at one of the many benches lining the sheltered walkways, right in view of 46 Mittsu's shop.
Affordable Sandos With Unique Flavours
Like the beloved burger, a sando is a simple, messy indulgence that doesn't need much finesse to really shine. Hence, it's applaudable that 46 Mittsu manages to put some creative spins on many of their creations.
Some quirky ideas come through brilliantly like the Firebird ($15) which is 46 Mittsu's take on Korean Fried Chicken in a sandwich.
The focus of this sando was all in the sauce, a gochujang sauce that's sweet, savoury, and funky while complemented by a mild touch of heat that subtly accentuated the rest of the components.
Texturally, 46 Mittsu's homemade sourdough ciabatta added a decent chew and crustiness but was slightly too tough at times. Nonetheless, it made for a splendorous mix of textures when teamed up with the succulent chicken and crunchy slaw.
Besides that, 46 Mittsu's menu also contains a few other sando choices, each with different proteins including pork, fish, and beef. With fond memories of their former beef sandwich, I immediately jumped at the idea of their Holycow ($18).
Truthfully, this paled in comparison to its predecessor which was stuffed full of smoked beef brisket — while the beef chunks in this sandwich were decent, they could also be slightly sinewy at times.
Not to say 46 Mittsu's new beef sandwich is bad — there's a charming blend of earthiness from chimichurri and greens which worked great in unison with the beef's richness.
For artisan sandwiches, 46 Mittsu undoubtedly offers a great price-to-quality ratio and affordability will be a great draw in comparison to most other cafes. There's no overly ornate flashness, the focus was all on their no-frills sandwiches — and that's a great sign.
46 Mittsu
Address: 2 Everton Park, #01-61, Singapore 081002
Hours: (Tues–Sun) 8am–5pm