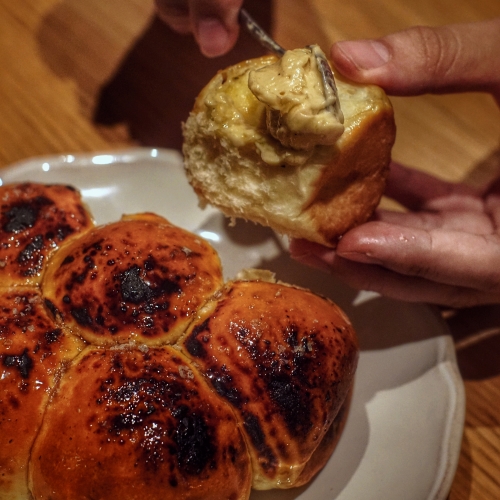 Rosemead's Satisfying Californian Flavours Come With Fine Dining Prices
Fine dining in Singapore has been slowly evolving out of the time-honoured white linen mise en scene and started incorporating a lot more casual edge. Abandoning the frou-frou and wholeheartedly embracing the swing towards intimacy is Rosemead, a new casual fine-dining concept by the Jigger & Pony Group.
Built on the same grounds as the now-defunct Black Swan, Rosemead exudes a relaxed tastefulness that its predecessor was renowned for.
With the Jigger & Pony ethos of intimate hospitality, it's no wonder that this swanky new affair is on many people's radars as one of the most hyped restaurant openings of early 2021.
You'd get bathed in gentle, warm lights to keep you cosy and at home, while the attentive service staff quickly accede to your requests, with haste, and a warm smile.
Beyond the front of the house, you'd also be pampered by the Rosemead's kitchen with comforting Californian flavours rising from the embers of this impressive wood-fired behemoth, majestically affixed to the centre of the space.
Many grills-centric restaurants have pushed the style of cooking into the spotlight as of late but Rosemead pushes the envelope, procuring this beast from Atlanta that burns vibrantly and fiercely.
This is the special touch by Executive Chef David Tang who aspires to bring the warm, welcoming taste of Rosemead, his hometown in California, to Singapore in a self-styled "modern Californian fine-dining" experience focused on sharing plates.
Cool Start to the Meal
It's always good to start strong and Rosemead absolutely kick-started with a bang when the House Rolls ($19) arrived in all their glazed glory.
Pushing bread to the next level is an exceedingly challenging uptake but their infusing of intoxicating mushroom glaze easily elevated the dense brioche to new heights. Simply impossible not to devour when everything's jazzed up with a liberal smear of the stupidly umami shiitake cultured butter.
And then came the first dish proper for the night — the cold King Crab ($42) dish that's sharply dressed in a finger lime and fermented chilli concoction.
Enjoyably luscious crab, though a bit more richness would help, that's gently nudged flavour-wise by a creeping heat and gentle zest. A piquant introduction to the night at Rosemead.
The Warm Embrace of Rosemead, California
Seafood can be one of the trickiest ingredients to deal with, especially the likes of squid, but this Swordtip Squid & Mussel ($27) was done perfectly, texture-wise.
You know a squid dish is good when it bounces back firmly but still retains a gentle bite but Rosemead's use of green chilli harissa added a very distinct pep that complemented the seafood flavours deftly.
Black is my favourite colour, so suffice to say, the sleek jet-black facade of the Wagyu Short Rib ($65) really called out to me. Slicing through the tender ribs was an effortless move, as the glistening black easily parted to expose a gentle warm pink.
That said, the pink was rather deceiving — it was tender but not as succulent as the hue would suggest, though it was beautifully punctuated with fatty parts to make it even more decadent. Plus, Rosemead's magical rain of truffles and black sauce bestowed it with a strong depth of flavour.
With all that said, the Whole Roast Chicken ($80) was undoubtedly the Piece de Resistance here at Rosemead, cooked to perfection with that stellar char embracing succulent juicy chicken flesh.
On top of the pristine roast chicken texture, the robust sauce was simply sublime — it came packing with gratuitous umami with a heady aroma from the black winter truffles beautifully blanketing the magnificent fowl. Quite possibly the highlight of the night,
On the other hand, I found that Rosemead's issues with pricing were especially evident in their Canary Island Seabass ($72) dish.
While soft and boasting of a delectably crispy layer of skin, the green peppercorn and Iberico ham sauce it swam in still didn't help to justify such exorbitance, however reasonable it might seem from the restaurant's costing perspective.
Sweet Dreams
Needless to say, the grand spectacle of their made-to-order oven would lead you to suspect that the grilled items are all that's worth your money. However that was patently untrue because their desserts were quite marvellous — we tried all three.
My pick of the desserts at Rosemead was the Chitose Farm Strawberry & Heirloom Beetroot ($18). Utilising beetroot may sound like a risky gamble but they managed to strike the perfect balance.
A silky smooth mouthfeel that featured layered facets of zest, salinity and a distinct earthiness. It's slightly off-kilter but something I deeply appreciated. Word of warning — it's not the most accessible, since some of my dining partners were put off by the profile.
Conversely, the Sudachi Lime & White Chocolate ($18) would be a much more charming choice for those who aren't as adventurous. This intricate creation has a good mix of interplay, both texturally and flavour-wise.
Rosemead's beautifully plated dessert is constructed with sleek sheets of white chocolate sleekly arranged atop zesty elements which produce a contrasting sweet-tangy profile and some crunch amidst some creaminess
Ultimately, the safest choice would be the Burnt Honey Meringue & Malted Milk Chocolate Tart ($18). There's nothing to dislike about it — you've got the most decadent treat you could get at Rosemead. It's got that gratifying malty chocolate punch that's paired with an elegant tinge of sweetness from waves of burnt honey meringue.
Well-Stirred Tipples but not worth the coin
Since Rosemead is a concept by the Jigger & Pony Group, you really can't go wrong with the tipples here. Mixology is as sound and skilled as you'd expect from such a meticulously designed drinks program.
That said, the prices were rather steep for a cocktail bar and I'm not sure I would be willing to shell out for the eye-watering price tags.

As a one-off, I gravitated towards the rather enticing Rosemead Old Fashioned ($32). Admittedly, I would shy away from paying $32 for an Old Fashioned but this was impossibly smooth, immaculately balanced, and came loaded with impressive depth due to being spiced up with clarified beef fat, amongst other ingredients.
Stepping out at the end of the meal, and after getting a sneak peek of a new bar concept on the second floor, I was left deeply satisfied by some stellar dishes at Rosemead like their Roast Chicken.
Alas, some of the prices were ultimately off-putting —$72 for seabass is almost enough for a 3-course dinner at Spago— and I'm not sure I can be persuaded again on some of the heftier digits on the menu. This is definitely one of those "special occasion" spots.
Make your reservations here.
Rosemead
Website | Instagram | Facebook
Address: 19 Cecil St, Singapore 049704
Hours: (Tue–Sun) 6pm–10:30pm