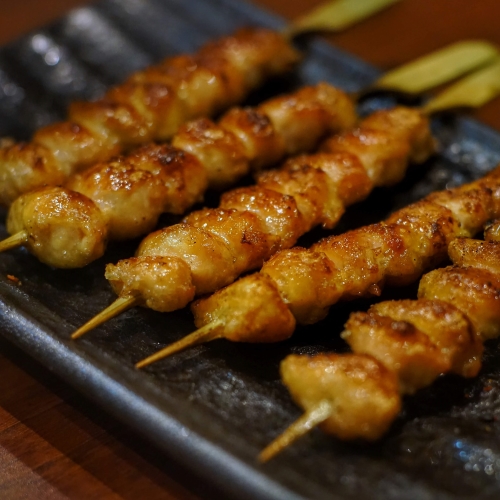 Yatagarasu is Every Chicken Part in Smoky Yakitori Perfection
Smoke is a fickle mistress — flames can be unpredictable, untameable, but can also impart an unrivalled flavour to the ingredients. While Western-style smokehouses have dominated the conversation for open-flame cooking, Yatagarasu is one of the few gems (not really hidden anymore) that punches at the same weight class in the art of cooking with smoke.
Yatagarasu, much like smokehouse superstars Burnt Ends, puts on no airs. There's a confidence, a conviction, to encrusting intoxicating layers of char onto Yakitori skewers but it's simple, stripped-down, and the most archetypal Izakaya that won't feel amiss at Cuppage Plaza.
Nestled in a cosy shophouse street just a stone's throw away from the Singapore River, they are kept in good company by a strong congregation of other Japanese establishments such as Ramen Suzuki and Hitsuji Club.
With its glowing status amongst discerning Japanese food connoisseurs, getting a seat at Yatgarasu requires some effort but the wait time to get a reservation has reduced significantly from the original hefty one or two months since a smart expansion to a unit a few doors down.
As with most grill concepts, it's paramount to get a seat at the counter to get front-row seats as the magic on Yatagarasu's grill unfolds right before your eyes.
Great Chicken, Nose to Tail
I can't say with certainty that Yatagarasu utilises every part of the chicken, nose to tail, for their Yakitori though it certainly feels that way as you walk your eyes down the menu and parts like "tail", "heart" and "skin" jump out at you.
Repugnant as it may be to some, Yatagarasu handles these chicken off-cuts with absolute finesse — you'd be hard-pressed to find better sticks of Yakitori.
Anyone who has an inkling about this yakitori bar would indicate the imperativeness of ordering one item — their legendary Tail ($2.50) Yakitori. Yes, chicken glutes.
By accenting the blissfully gelatinous morsels with a gentle char, Yatagarasu infused an intoxicating dose of smoke to complement the heavier flavours from all the juices bursting out. Simply sublime and articulately answered our questions on why half the grill was filled with a chicken tail.
The unpopular Gizzards ($2.50) were also given a masterful glow-up by the glowing embers of the charcoal — stupendously bouncy and not hiding a trace of pungency, this is a prime specimen of gizzard done right.
In the same vein, Yatagarasu's beautiful treatment of the chicken Heart ($2.50) was similar to the liver but sported a feistier bite, completely stealing my heart.
Moving the textures in another department is the chicken Skin ($2.50) skewer that's pierced through a chain of fatty skin, rendered with a gratuitously airy crunch and seasoned immaculately.
Pig out on the pork skewers
Yatagarasu's approach to chicken skewers is artful but yakitori is a style of cooking that instinctively demands the rich, fatty bite of pork so it's only right to find Makimono, wrapped pork belly, smouldering on the grill as well.
Now, while the pork, in general, didn't quite pack the same delectability, there were a few highlights that easily measured up to the stunning chicken.
As with most izakayas, Yatagarasu effortlessly satisfied with classic Makimono such as the Asparagus ($3.50), Enoki ($3.50), and Tomato ($3.50) with the produces' juices gushing out, blending in with porky juices. Against convention, the true ingenuity lay in the Shiso Leaf ($3.50) where the distinct Shiso note complimented the pork so perfectly.
Ordering from different sections of the menu isn't as pressing of an issue — these were mostly solid but pale in comparison to the stellar Yakitori.
Photos of the rich Crab Cream Croquette ($6) are plastered all over Yatagarasu reviews and the creamy fillings spread onto the tongue for a comforting, homely hit.
Carbs aren't a necessity in the context of a Yakitori meal but an enticing Grilled Rice Ball ($7) eventually found its way onto our order chit. Sounds good on paper but the nicely-charred mound of rice doesn't quite warrant the price tag.
Different answers generally shoot out for the best "authentic" Japanese joints in Singapore, differing from expats, casual diners, to all-knowing Japanese food aficionados. Be that as it may, it's virtually unheard of for Yatagarasu to be omitted on a list of the best Yakitori bars in Singapore — and it truly lives up to its hype.
Make your reservations here.
Yakitori Yatagarasu やきとり八咫烏
Website | Instagram | Facebook
Address: #01-01 72 Circular Rd, Singapore 049426
Hours: (Mon–Sat) 6pm–10:30pm