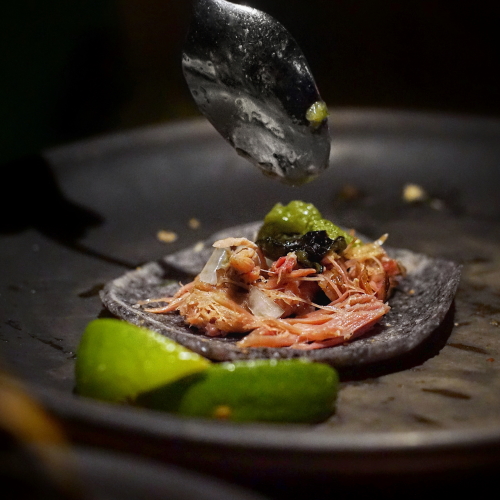 Nixta Mexican Grill & Bar — A review of SG's Best new Mexican Joint
Mexican food is always a jolly affair, filled with copious amounts of tortillas, tacos, margaritas. It's hard not to feel all pumped up when you're digging into all those hearty flavours, while juices drip all over and sauces smother your lips.
I've been to a handful of the most popular Mexican joints in Singapore, such as Papi's Tacos and the Loco group restaurants, but I can wholeheartedly say that Nixta blows everyone away.
Mexican restaurants in Singapore are generally fun and casual, feeling more taquerias than restaurants. Higher-end Mexican concepts are just an unexplored niche crying to be filled.
And who better to populate that void than Nixta, conceived by the masterminds behind concepts like Blue Label, renowned for their almost perfect blend of casual and bougie.
Tortillas better than anyone else's
I'm not kidding when I say the tortillas here are next level. Maybe it's the supply, maybe it's their oven. Either way, these are addictive.
Whilst I'm one for hyperbole, Nixta's Guacamole Nixta ($22) was unquestionably the best guac I've ever had the experience of putting in my mouth.
Maybe they added narcotics, maybe it's just a secret recipe, but that emerald-hued pile of mash was indescribably buttery and luxuriously flavourful, with enough zing to enliven the mixture.
While a simple mashed avocado mixture may not impress you to shell out $22, their tortilla chips were also a revelation. It's simply several steps ahead of any competition — smoky, crispy and sported a bewitchingly hefty bite to it.
Our next dish, the Nixta's Quesadilla Oaxaca (S$26) could pass off as an average Quesadilla at first glance, save for the colour. Though in reality, it was anything but that.
It was a simple medley of chorizos, luxurious cheese and a side of fresh, mellowly flavoured avocado, but there was magic in the smoky tortilla skin which added plenty of pizzazz to the no-frills ensemble.
Unexpectedly, any pizza cravings could also be satisfied with an order of their Tlayuda de la Casa ($20), essentially a twisted Mexican Pizza.
The roasted corn sang with a delectable sweetness, underscored by elegant whiffs of herbal notes. A squeeze of lime, and you have a lively band of flavours bustling about on the palate.
A satisfying end to the Nixta experience
As we near the end of the meal, after swiftly demolished the starters and small plates, we were presented the hefty Duck Barbocoa (S$56).
A scruffy, bound Hoja Santa leaf, is unravelled to reveal a succulent leg of duck that sported a tantalising shade of gentle and welcoming pink.
A "make-it-yourself" taco kit gives you some autonomy over your tacos, consisting of sharp white onions and cilantro, a stack of soft tortillas, and a sprightly lime tomato salsa.
When assembled, the flavours come together harmoniously, with the salsa helping to cut through the heavy-hitting flavours.
Whilst the duck was indubitably provided huge flavours, a rather disappointing dryness detracted from what could have been a showstopper.
Saving the best for the last, the Nixta experience came to end with their behemoth of a Churros (S$18). This signature was coiled unto itself multiple points, turning out like a strangely mouth-watering incense coil.
While the beautifully airy crisp left me in euphoria after every bite, it was the accoutrement of sauces that elevated the whole thing.
A dip into the decadent chocolate, then into the caramelised goat milk resulted in a heavenly explosion of richness and a mild funk that danced playfully amongst the gamut of flavours.
With 4 people, this entire spread comes out at just a little over S$40 for each of us. Genuinely amazing value for the high-quality cooking on show.
This leaves us pondering the question of: "Is Nixta the best Mexican restaurant in Singapore?" My answer is a fast, resounding: "Yes."
Nixta Mexican Grill & Bar
Website | Instagram | Facebook
Address: 116 Amoy St, Singapore 069936
Hours: (Daily) 12pm–10.30pm