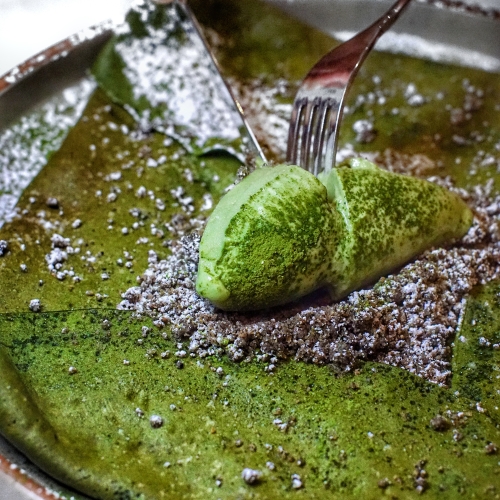 Whitegrass & Hvala's Lovechild Boyutei is Undoubtedly chic but Falls Disappointingly Flat
There's no mistaking that the Hvala brand name holds a lot of sway over the Singapore cafe scene — as one of the go-to's for Japanese treats, all their branches are often packed to the brim. Still, setting up their new concept Boyutei with a Michelin-starred restaurant? Unexpected.
Moving into the old space vacated by Coconut Club, Boyutei is the love child of Hvala and Japanese-fusion restaurant Whitegrass.
The dynamics are interesting — it's Hvala's chic casual Japanese meets Michelin star power. A rather curious combination but many are left anticipating a much more refined cafe experience.
As expected from a cafe with Hvala's name attached, Boyutei is elegantly chic and adorned with Japanese-inspired minimalist stylings. That's enough to draw me to go down during the early days of opening.
An understated sense of aesthetics lends to the slightly more elevated casual dining experience, where the dainty touch of marble and dignified streaks of wood make it tasteful but not overtly pretentious.
It's the Tea We Want
Of course, earthy hand-brewed teas have to be on the agenda when you're visiting a concept associated with Hvala. As soon as we were seated, we eagerly looked through their drinks curation.
While Boyutei does provide a diverse and esoteric range of Matcha to pick from, we quickly settled on the Samidori ($15).
Honestly, it was just alright for the price. There's the grassiness you expect and an earthy aftertaste but it didn't quite warrant the price tag.
Something especially puzzling was the self-service brewing — as much as I like making my own Matcha, it makes more sense to go through the hands of Boyutei's staff, who have accrued more expertise in tea preparation.
As someone who's always been more convinced by the charm of Hvala's Hojicha, the Hojicha Latte ($9) was the other order — a thirst quencher for a sweltering day.
A dependable cup, with a nice toasted aroma and whiffs of fragrant earthiness. Not a mind-blowing cup but Boyutei's rendition stacks up just as well against Hvala's.
Well, it's not crepe…
After having seen it make the rounds on social media for a good part of a month, the alluring Goma Matcha Crepe ($14) was pretty much what drew me to Boyutei.
Witnessing the crepes being prepared ala minute on the girdles, being gently spread out by a dedicated staff, reassured us. But alas, some eyebrows were raised when it came.
Perhaps it's what Boyutei was going for with their crepe texture but it's evident at first sight that the corners sported an inordinate thickness.
Removing a small bite-sized section confirmed those suspicions. This was not as much a thin, delicate crepe as it was an excessively thick and chewy sheet of matcha-flavoured batter. The taste factor passed — that aromatic double-hit of Goma and Matcha was enjoyable, at least.
To be brutally honest, the crepe fell leagues below my expectations. They weren't exactly high too, as someone with no particularly strong affinity towards sweets or Matcha, but Boyutei left a lot to be desired for the big names attached.
Maybe it was an off-day? Toothing problems are normal. But until I could return for a second visit where they fix the issues, I would recommend going to one of the authentic French crepe specialists for your fix, unless you're desperate for that Matcha-Crepe combination.
Boyutei
Address: 28 Ann Siang Rd, #01-02, Singapore 069708
Hours: (Mon–Fri) 12pm–10pm, (Sat–Sun) 11:30am–10pm