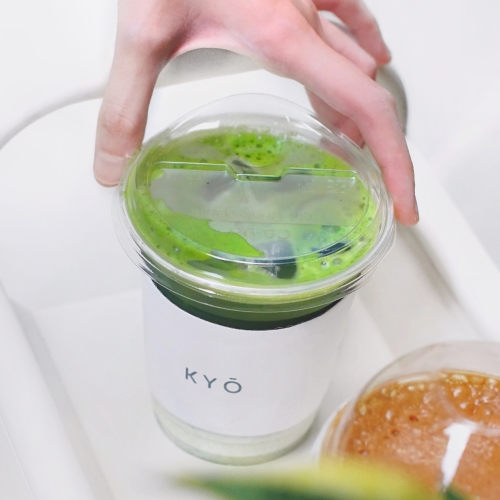 Zen Japanese COffee Takeaway Kiosk Kyo Kohee brews up Sublimely balanced Matcha Latte
A diminutive corner shop awash in a spectrum of gentle whites and cream, tucked away under one of the pervasive skyscrapers of Tanjong Pagar — that's KYO Kohee, a new cafe providing a small pocket of minimalist tranquillity amidst the speed of CBD life.
Within the small confines of a few sheer panes of windows is a nondescript set-up meant to serve takeaway coffee to hordes of sharply dressed office-dwellers looking to recluse from their desks.
Small as it may be, KYO Kohee is a cafe that oozes plenty of charm as tasteful adornments of earth tones, Japanese motifs, and scarce splashes of green imbue a sense of calm and simplicity that feels almost foreign to the area.
But this capsule coffee-and-Matcha atelier is not without its fans — lines often form outside, as the caffeine-starved await their turn to earn themselves a cup of KYO Kohee's signature beverages.
For a newcomer as small and furtive as they are, the cult following speaks volumes to the allure of their quaint little space.
Balance and More Balance
A cup of Matcha is a comfort. It can blanket your tired soul with earthy warmth and assuage your productivity woes with a gentle caffeine push. It's the elegant substitute for the high octane jolt of coffee.
Acquiring a good cup of Matcha can be frustrating. Many of the popular cafes in Singapore have attuned theirs to a sweeter profile to coincide with prevailing palates, while some tweak theirs to be unnervingly bitter — not KYO Kohee's Matcha though.
Getting a sip of their Iced Okumidori Matcha Latte ($7.90) is a palpable delight — KYO Kohee's baristas calibrated the balance immaculately. Unlike the inelegance of balance endemic to many of Singapore's popular cafes, they put consideration into all facets of the profile.
As milk-based drinks go, this Matcha Latte was blessed with a soft, smooth creaminess that didn't inundate the palate with a torrent of Matcha thickness.
Similarly, the sweetness and grassiness were kept in parity so that neither had more headroom — the harmony reminded me of my favourite Dirty Matcha from Kurasu, sans the espresso.
The coffee yielded wonderful richness too. Allpress beans aren't usually at the top of my list for specialty coffee but KYO Kohee's Iced KYŌ coffee ($6.90) managed to bring out more personality than the average cup of Allpress.
The secret lies in incorporating a dollop of caramel sauce to impart a silkier, fuller mouthfeel. Whereas it's also a great idea to jazz up your cuppa with Hokkaido Milk ($1) to give it a luxurious texture. Only a few cafes in Singapore use Hokkaido Milk and I personally think it makes a marked difference.
KYO Kohee might be one of my favourite new finds for Matcha in the city. Despite the lack of furniture and seating space, the Matcha is deeply-satiating and uncloying — trumps many of the other established veterans for me.
KYŌ Kohee
Website | Facebook | Instagram
Address: 144 Robinson Road, #01-01, Singapore 068908
Hours: (Mon–Fri) 8pm–5pm, (Sat) 8pm–1pm