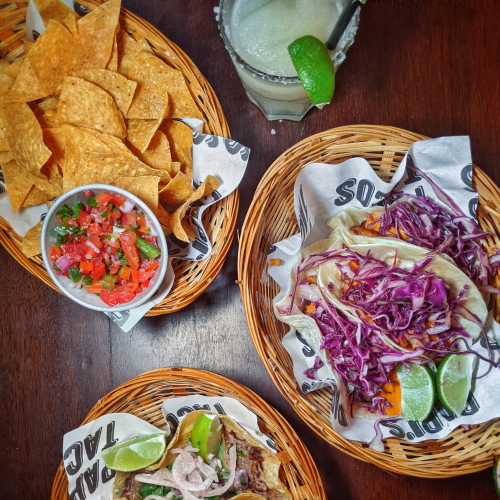 Papi's Tacos, one of Singapore most Popular Taquerias, opens at Tanjong Pagar
As far as Taquerias go, not many Mexican restaurants in Singapore provide the same casual and intimate affair that Papi's Tacos does at their hole-in-the-wall along Seah Street.
There are always ensuing rowdy festivities at some of the Lucha Group's establishments or high quality elevated Mexican cuisine at Nixta but this cosy spot does exude a uniquely relaxed chicness.
Building on the thriving popularity of their OG outlet, Papi's Tacos has finally expanded out of the small enclave that's neighbouring Raffles Hotel.
In classic Papi's Tacos fashion, this new Tanjong Pagar outlet is a small cosy space that's plastered in a vibrant colour palate.
More importantly, it still retains some of that intimacy despite the enlarged space — which is what many fans loved the most about the original Taqueria.
Let's Not Taco Bout It
Of course, tacos are the main draw for a trip down to Papi's Tacos but Guacamole and Chips as a starter is a playbook move that shouldn't be deviated from.
Really I found the Holy Trinity ($11) tortilla chips platter equally appetising. The salsa was piquant and fresh while the guacamole was smooth and rich — perfect pairings for some Margaritas.
Although I would push for the Elotes ($9) as my vote for the best appetiser at Papis Tacos, all things considered. The fuss-free Mexican street food may look unassuming but it's chock full of flavour.
Juicy kernels of grilled corn spurted sweet smoky juice, while an intoxicating touch of chipotle powder and cheese added contrasting umami to the base sweetness.
Que Es Bueno?!
If you're not here for Tacos, Papi's Tacos also grill up some rich, cheesy Quesadilla.
A Chicken Quesadilla ($14) that's a good choice too if you want something more filling. The chunks of chicken were juicy and succulent, and the rich melted cheese utterly satisfied. So simple but so good.
Similarly, their vegan-friendly Mushroom Quesadilla ($13) was a delight. A glorious oodles of cheese and succulent, earthy bits of mushroom — almost like an elevated mushroom cheese prata, weirdly.
To whet your appetite, Papi's Tacos' Shrimp Cocktail Ceviche ($18) is also a miracle worker. All that rich, piquant tomatoes at the base and herbaceousness goodness, perfectly complemented by plump, crunchy shrimp.
Let's Taco Bout Some Of Singapore's Best Tacos
Papi's Tacos is touted by many to have the best no-frills tacos and I can see why. Their Tacos de Pescado ($13/2pcs, $19/3pcs) can be ample proof of that.
The dory can be lusciously soft from grilling with a punchy smoked chipotle aioli depth. There's a mound of purple cabbage and pickled carrot to add both vegetal freshness and contrasting textures.
Lightly chewy tortilla skin is tied up by the layers of fish tenderness and vegetable crunch. That said, the new Papi's Tacos Tanjong Pagar outlet did fall slightly short of the high standards of the OG.
Similarly, the Tanjong Pagar outlet didn't do much service to the marinated pork shoulder of Papi's Tacos' Al Pastor ($13).
It's covered in plenty of rich spiced oomph but it proved slightly too chewy to be easily eaten, especially when the tortilla skin was slightly dry.
For beef lovers, the beef brisket in the Tacos de Suadero ($15/2pcs, $20/3pcs) might be up your alley. Flavourful and dripping with juices, with a touch of earthy herbs to balance.
Sadly, whilst the brisket was enjoyable, the tortillas turned a bit too soggy and a task to finish without looking clumsy in front of your date.
Ultimately, Papi's Tacos can be hit or miss and the new Tanjong Pagar outlet fall slightly short of expectations. Regardless of that, I've had multiple enjoyable visits to the OG Seah Street outlet and I have hope that they can regain that consistency — this outlet is still new after all.
Papi's Tacos
Address: 33 Tanjong Pagar Rd, #01-01, Singapore 088456
Hours: (Mon-Thurs) 5pm–11pm, (Fri) 5pm–12am, (Sat–Sun) 11am–12am
Address: 39 Seah St, #01-01, Singapore 188395
Hours: (Sun-Thurs) 12pm–2:30pm, 5pm–10:30pm (Fri–Sat) 12pm–2:30pm, 5pm–11pm
*This was an invited tasting.