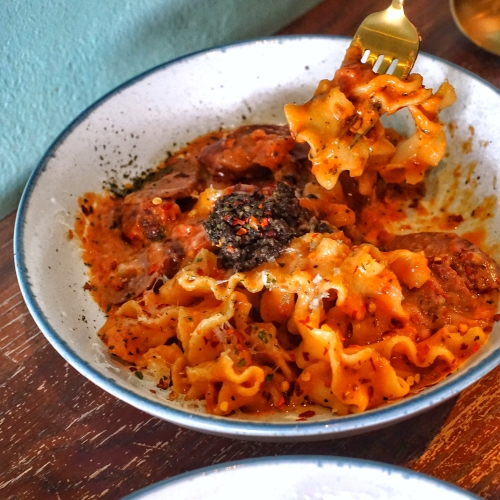 Does Tipo Pasta Bar Really have the "Best Affordable Pasta in Singapore"?
Tipo Pasta Bar is perhaps one of the biggest sensations on Instagram, especially amongst the younger crowd. Countless plaudits have been given about how this casual pasta joint has some of the best affordable pasta you can get in Singapore.
Most of it stems from the rather wallet-friendly prices of most of their pasta. Another crucial consideration is their selling point of fresh handmade pasta.
As with most cafe food, buzzwords like "handmade pasta" or "organic egg" are put on the pedestal as a sign of quality. And as with most social media sensations —like the facetiously glamourised Daniel Wellington— hype and branding can bring a company very far. Some may wonder if Tipo Pasta Bar at its core is as good as the hype makes it sound?
Passable Pasta
Now, unlike DW and their crazy markup on austere cheap timepieces, Tipo actually does deserve credit as a pasta bar. Trays of handmade pasta can be seen on display and they even present you with a tray of the day's available shapes.
Truthfully, "fresh handmade pasta" is given too much weight, speaking as a passable home pasta cook on occasion. It's shockingly easy to make decent handmade pasta with proper techniques and instruction.
To someone who's cooked and eaten his fair share of pasta, Tipo's competency as a pasta bar is average — understandable, with the price point. Alas, handmade pasta isn't the same blockbuster draw now since most half-decent Italian restaurants do it — they just don't publicise it.
So let's talk about what I actually did enjoy after three visits. For one, they allow you to Build Your Own Pasta (from $9.90) and the customisation is quite liberating. Italians are suckers for keeping traditions airtight, so the modern edge was something new to the scene.
Pasta is simple but there's another key component to it — the sauce. Tipo goes for the safe route with the most uncomplicated of sauces. There's nothing wrong with classics, except their highly-raved sauces like the Pink Sauce are, to put it bluntly, uninspired and rudimentary.
For sure, this beloved amalgamation of white and pink sauce is pretty comforting. However, it feels rather flat and lacking in depth and complexity. Of course, it's also kept simple to mesh with their customizability component. So if you're adventurous, you can spruce it up with some additional toppings.
Some massive Misses
However, my biggest gripe here is that the allure of Tipo's handmade pasta doesn't really materialise either. Pristine al dente for every dish is impossible of course but quality control was disappointingly loose.
Alarmingly, two plates served at the same time delivered wildly different textures. One was amply bouncy with a decent bite, while the other turned out limp and soggy.
Above all, their Pesto Sauce was a complete letdown. A far cry from what pesto is supposed to taste like — it tasted more like pure cream than basil or parmesan.
Ultimately, I don't fault their younger clientele for enjoying Tipo's pasta — handmade pasta is hard to find at this price point. It's undoubtedly a step up from trashy restaurant chains and Tipo is the king of its niche.
But if you're pickier with your pasta, it will not live up to the hype. it's advisable to top up a bit more at slightly more upscale places that still won't break the bank.
Make your reservations here.
Tipo Pasta Bar
Website | Facebook | Instagram
Address: 28 Aliwal St, #01-07, Singapore 199918
Hours: (Mon–Sun) 11am–10pm
*This review was written when I visited the old location, Tipo Pasta Bar has since moved to Aliwal Arts Centre.