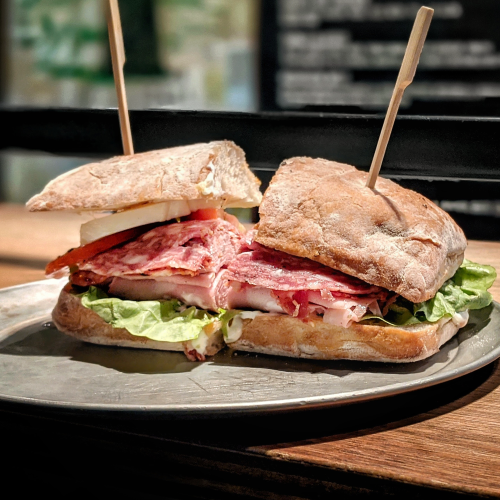 Undoubtedly the best sandwiches in Singapore.
Park Bench Deli is the mecca of gourmet sandwiches in Singapore. Which is fortunate as sandwich bistros don't really exist in Singapore. We're lucky Park Bench Deli set the bar so high for any future newcomers.
The Telok Ayer bistro attracts droves of customers daily. Their sandwich selection changes once a while, but their standards have been consistent. They are one of my favourite places ever , evident from my multiple visits.
Something that popped up in a recent menu revamp was this ??????? ????????? ($18). It was a beaut that flaunted some very invitingly thicc rolls of salami and mortadella. The saltiness of the meats and rich mozzarella blended gratifyingly with the fresh produce and nice sharp pickles — all enveloped by crispy ciabatta. It's an offer even a Corleone couldn't refuse.
Then there's their Peanut Butter & Jelly Sandwich. This decadent beauty was a crazy stroke of genius. The layers of crunchy cornflake-crusted chocolate and milk bread were just so rousing. And as you bit down, out came a geyser of thick peanut butter and berry jam. It was brimming with richness and sweetness. Simply sinful. Yet. So. Utterly. Satisfying.
I strongly suggest sharing it unless you have a truly insatiable sweet tooth. Both you and your dining partner would probably still end up with diabetes — worth it.
Their collaborations have created some of the best sandwiches in Singapore
Throughout last year, Park Bench Deli invited guest chefs to collaborate every month. And it was a process that saw them outdoing themselves time and again.
My favourite was this Bone Marrow Sandwich with Burnt Ends. This was the richest and most flavoursome sandwiches, period. The earthy and nutty flavours from the rye bread were accentuated by a hearty combination of cheddar, juicy roasted beef, and creamy marrow. Then a subtle tang of horseradish deftly cut through the heavy flavours.
A close second was this Buah Keluak Burger collab with Candlenut. The mixed beef and chicken cartilage patty was amazingly luscious and bolstered by the robust and complex flavours of that buah keluak glaze.
Even more dimensions were added by palate-arousing ingredients like chicken curry reduction and the ikan bilis sambal. Flavours were fused in sophisticated harmony, without getting overwhelming.
Park Bench Deli is unique, it is chill, and above all it has great sandwiches. Their menu might change but the quality remains, and they've shown capability in innovating with their impressive collaborations. Park Bench Deli is a place any food lover should absolutely visit.
Park Bench Deli
Website | Instagram | Facebook
Address: 9 Tyrwhitt Rd, Singapore 207528
Getting There: Alight at Farrer Park MRT or Lavender MRT; Approx. 10 mins walk
Hours: Sun-Thurs: 11:30am to 9pm; Fri-Sat: 11:30am to 10pm
Price Range: Approximately $6-$10 per pax