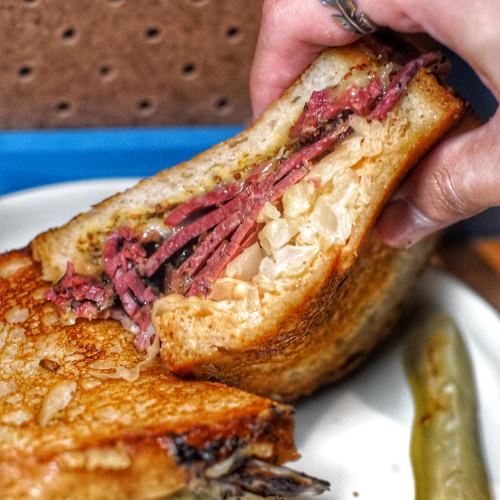 Sandwich Maestros Park Bench Deli Reinvented as A Snazzy Brunch Spot
Park Bench Deli has long staked a claim as the best sandwich maker in Singapore, creating beloved icons such as their Pastrami and Peanut Butter & Jelly sandwiches that have etched their mark on the cafe scene.
Of course, times change and Park Bench Deli has gone with the flow and expanded its concept beyond the rustic, unassuming sandwich bistro into a much sleeker and diverse brunch experience in the heart of Telok Ayer.
It wasn't the first time that PBD revamped their menu and ideas, however, last year saw them undergo a remarkable overhaul. After going under the interior designer scalpel, it's almost indistinguishable from the deli of yesteryears.
This brand new facade features a medley of sleek wooden accents surrounded by splashes of dazzling cobalt, doing a 360 and looking all spry and modern.
Strutting past the fancy sliding doors, you'd find a starkly different Park Bench Deli from the one you know. White-tiled walls, minimalist wooden panels, simplistic white tables — that exuberant, hipster-esque edge is toned down and replaced with touches of sophistication.
Though some nostalgics, like myself, might reminiscence about the "good ol' days", it can't be argued that this new look and the new arrangements are much more spacious and allow for much more comfort and privacy than the previous setup.
New Look, Who Dis?
Park Bench Deli stays true to its roots even after the drastic upheaval and continues putting together some of the best sandwiches you can find in Singapore.
Thankfully, Park Bench Deli's iconic Pastrami Reuben ($24) recipe wasn't besmirched by the radical transition — the behemoth still hits with the same tummy-filling intensity.
As anticipated, the sandwich crafters loaded up the meaty colossus with lavish rolls of thick, snappy, and salty pastrami given a gentle funky swiss cheese salinity.
To cut through the heavy gamut of meaty base flavours, the sandwich is balanced by addictively tart Sauerkraut and spiffs of mustard acidity while a twig of dill pickle added a magical levity that blended into the background unobtrusively.
Spicing things up, Park Bench Deli's new menu was given an interesting facelift as more sizeable mains and brunch classics are added to the menu — granola, hotcakes, pasta, et al.
The PBD Big Breakfast ($22) gives a good account of the new direction they have gone in as an easy sampler of a whole slew of hearty items.
Two velvety mounds of Ricotta Pancakes stole the show as these marshmallow clouds disintegrated in the mouth carrying the right amount of sweetness. Park Bench Deli might genuinely churn up some of the best pancakes found in Singapore.
Apart from that, the rest of the plate was proficiently executed as well as herbaceous, snappy Sausages, fluffy-but-crunchy Tater Tots, crispy Bacon and soft Omelette complete the ensemble. No real complaints except slight misfires in the bacon and egg textures.
This new Park Bench Deli focuses a lot more on its drinks program, with a wide array of caffeine options available. Utilising Allpress's chocolatey and slightly caramel-tinged blend, their Iced White ($6.50) was a decent cuppa.
That said, I can't say that PBD quite matches up against the more popular specialty coffeehouses around the CBD but it's good enough for non-coffee-snobs who indulge in smooth, punchy, and robust brews with some astringency.
In Sweet Memory of…
Sentimental me will, like clockwork, continue to wax lyrical about Park Bench Deli's history, rich and diversely marked with some of the most memorable creations and collaborations with other luminary establishments.
An easy first on my list of PBD favourites is the OG Peanut Butter & Jelly Sandwich, a crazy stroke of genius. The decadent beauty was bookended by slices of chocolate and milk bread crusted in a glorious armour of cornflakes.
Cornflakes crinkled loudly and thick peanut butter and berry jam shot out of its core like a geyser. Park Bench Deli's magnum opus — one that's brimming with richness and sweetness. Simply sinful, yet so utterly satisfying.
Another fixture that has gone was the regular guest collaborations to take centre stage each month at Park Bench Deli with a stellar line-up including Burnt Ends, Candlenut, and Le Bon Funk.
One of the noteworthy has to be the Bone Marrow Sandwich with Burnt Ends. A flavoursome sandwich rich in earthy and nutty flavours from rye bread, accentuated by a hearty combination of cheddar, juicy roasted beef, and creamy marrow. Then a subtle tang of horseradish deftly cut through the heavy flavours.
If there was one that's unforgettable from Park Bench Deli's collabs, it's the Buah Keluak Burger collab with Candlenut. The mixed beef and chicken cartilage patty was amazingly luscious and bolstered by the robust and complex flavours of that Buah Keluak glaze.
Even more dimensions were added by rousing ingredients such as chicken curry reduction and the Ikan Bilis sambal — flavours were fused in sophisticated harmony without getting overwhelming.
Old Park Bench Deli will always hold a place in my heart but the new, swankier version isn't so bad either. Even with the glow-up, Singapore's best sandwich maestros are still as quirky, still as unpretentious and most importantly, still as great at making sandwiches.
Make your reservations here.
Park Bench Deli
Website | Instagram | Facebook
Address: 179 Telok Ayer St, Singapore 068627
Hours: (Mon–Tues) 11am–4pm, (Wed–Fri) 11am–4pm, 5pm–10pm, (Sat) 9am–4pm, 5–10pm, (Sun) 9am–4pm