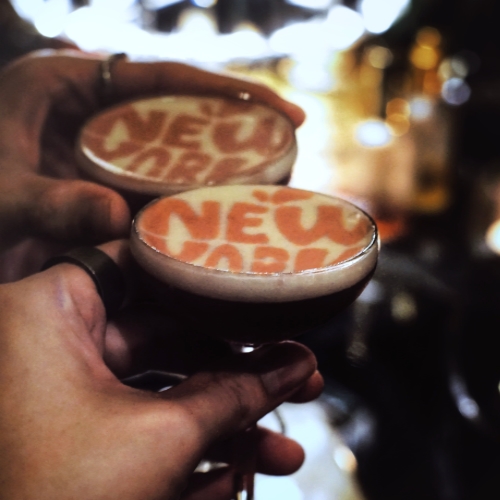 Asia's No. 9 Bar Manhattan Shakes Things Up with New York Personified Vol. 2 Menu
A most glamorous recreation of a classic American speakeasy, Manhattan is an institution that embodies all the free-spiritedness and stylishness of the archetypal New York bar. Anyone looking for American hospitality won't find a better bar in Singapore than the current No. 9 on Asia's 50 Best Bars 2022.

Even with the Singapore bar scene's acceleratingly luxurious trajectory, Manhattan still remains one of the spiffiest bars in Singapore, despite its age. Sharply dressed in a suave tuxedo black, the bar is illuminated by just the faint glows of petite table lamps and the glorious lustre of its regal main bar.
Manhattan is a classy call back to the rise of Manhattan, the gilded age of cocktails, the Prohibition era, and beyond. That proud New York spirit is channelled through their menu, ingeniously crafted around the most iconic figures to have called the Big Apple home.
2022 saw the release of New York Personified Vol. 2, their follow-up to a successful menu which paid homage to the lives of Anthony Bourdain and Robert Downey Jr., introducing a whole new cast of New York's cultural elite, ranging from pop art progenitor Andy Warhol to the divisive Beatle spouse Yoko Ono.
The transition isn't limited to just the inspirations behind the tipples but also the actual creators of the tipples. Following the departure of former Head Bartender Sophia Kang, Kelvin Saquilayan took over the reins of the Manhattan bar.
Veteran Bar Manager and familiar face Rusty Cerven still retains his authority over bar operations so there is a palpable excitement around how the dynamic duo will bring the bar forward.
Also remember to book in advance since, despite its somewhat inaccessible location on the outskirts of Orchard, the legendary Regent Hotel bar regularly welcomes pretty respectable crowds — even on weekdays.
Popcorn Haven
While I'd argue MO Bar does welcome bar snacks the best due to the arithmetical truth of two being larger than one, I think Manhattan is a close second for their Cajun Popcorn. Addictive enough to be a dinner, if one decided to abandon their civility and chomped down animistically on popcorn.
The addictive corn kernels are jazzed up with a spectacularly sapid coating of spices that give it a nice umami touch with that slightest hint of spice and heat to enliven it.
However, Manhattan does have some nice bar bites off their menu if a relentless deluge of complimentary popcorn isn't enough to satiate your tummy. For a simple light bite, the Golden Smoked Salmon Roll ($24) does the trick perfectly.
Creamy smoked salmon mousse is contained within crispy sheathes of potato skin, delivering a fierce umami punch while a heavy touch of roe salinity accentuated all the other ingredients. Decadent little bites.
Mixology Befitting Asia's No. 9 Best Bar
Let's set things straight — Manhattan is not a run-of-the-mill American classics bar despite appearances. Yes, they pride themselves in timeless concoctions like their Solera-Aged Negroni ($28) and their namesake Bespoke Manhattan ($32) but that is just the tip of the iceberg.
The willingness to innovate is best demonstrated through Manhattan's classic on the Hall of Fame section — the 3000 ($26). A tribute to RDJ's zeitgeist-defining Iron Man role, this whimsical warm cocktail is spruced up with a foam motif resembling Iron Man's arc reactor.
Akin to an Irish Coffee alter ego, the 3000 repurposes that indelible warmth while substituting coffee for strawberry, vanilla and chocolate.
A rum-spice-tinged profile blends perfectly with the comforting flavours, temperature and plush mouthfeel, leaving you all warm and fuzzy inside while phantom echoes of the line "I love you 3000" reverberate with a gripping sensation of saudade.
Still, the new meu doesn't rest on Manhattan's glistening laurels — the team has gone to great lengths to add fresh ideas to Vol. 2. One obvious standout from the new concoctions would be The Notorious R.B.G. ($32), a Black Manhattan alter ego based on seminal Supreme Court Justice Ruth Bader Ginsburg.
As ferociously hard-hitting as RBG was — this merciless tempest of three whiskeys, bitters, and black cardamom hit with the astute hawkishness she was known for.
On the flip side, Marty's Souffle ($26) showed a more intimate side of the stoic icon. Based on her husband's signature lime souffle, it's immensely comforting with plush foam blanketing what tasted almost like liquified lemon meringue tart.
Yoko Ono is perhaps the most controversial figure but Manhattan managed to tastefully tap into her avant-garde eccentricity for some whimsical ideas. Ironically, the Granny Smith ($25), based on the lone apple exhibition that kickstarted her romance with Lennon, was the easiest to swallow.
Gracefully balanced with pleasant whiffs of crisp apple piquancy while embraced by the delicate mouthfeel of Matcha foam. Alas another Yoko drink, the Grapefruit ($25) was perhaps a bit too brash with grapefruit yoghurt notes rather scant in its overall mix.
There's a trend of New York icons entangled with fruit as we see Andy Warhol's notorious Bananadistilled into the Peel Slowly and See ($25) featuring banana-infused Monkey Shoulder. You won't find apter incorporations of new elements into an Old Fashioned — slightly syrupy and distinctly aromatic banana notes seep seamlessly into the potent base.
Landing on the World's 50 Best Bar list once could be a stroke of luck but to drill their claws tightly into the top of the pyramid? That's no coincidence — that's the pedigree, consistency, and quality of Manhattan, perpetually driving the Singapore bar scene since its inception.
Make your reservations here.
Manhattan
Website | Facebook | Instagram
Address: 1 Cuscaden Rd, Level 2 Regent Singapore, Singapore 249715
Hours: (Wed–Sat) 5pm–1am, (Sun) 12pm–3pm