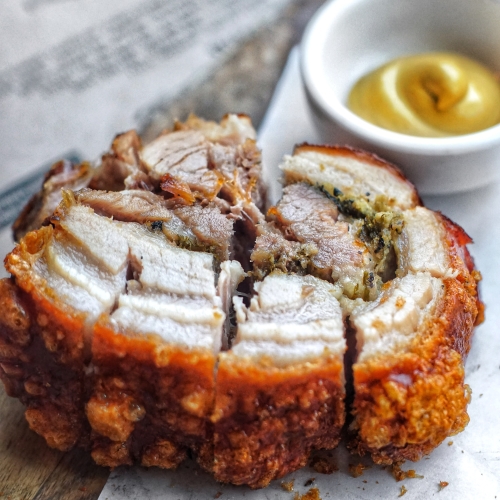 IO Italian Osteria is Singapore's Most Beloved Affordable Italian Joint
Just a short walk from Hillview MRT will lead you to a rather overlooked mall you probably never knew existed. As you inch toward it, you'll catch a glimpse of signage with two letters "IO" emblazoned on it — that's IO Italian Osteria, one of Singapore's most beloved but still paradoxically under-the-radar Italian restaurants.
It's not that IO Italian Osteria is unknown — most food lovers are familiar with it. Inevitably, its peaceful far-flung environment is also what holds it back from exploding popularity.
The restaurant's rather secluded spot is also what gives the place its charm though, as you can peep packs of furry friends trodding out of the condos at the side.
More importantly, prices are kept affordable and the atmosphere is a cosy, homely one. As we all know, homeliness is a key ingredient of authentic Italian cooking and IO Italian Osteria is brimming with it.
Service can get rather hectic here though, so don't expect the most pristine service. It's a no-frills place where the waitstaff have to move at a fast tempo and I've had orders forgotten or overheard before.
Classic Orders
There are a few things that IO Italian Osteria is best known for. For some it's the pasta, for others it's the wide assortment of Italian dishes on the menu, some of which are hard to find elsewhere in Singapore at their reasonable price points.
One order that I will never omit on a trip to IO Italian Osteria is their Porchetta ($9/$18). Yes, you could say it's the Italian cousin of sio bak.
As pristine as it comes for crispy pork belly — it's luscious and succulent in the flesh, scored with some gentle fat, while the edges crackle with aplomb.
Whilst the Italians are more renowned for Pizzas, they have other carbs equally worth highlighting too. Here, they focus on the traditional Schiacciata native to Roma.
The Traditional Roman Stuffed Schiacciata ($10/18) is as stripped-down and unelaborate as it comes. Toasted to an enjoyably airy crisp then smeared with a heady spread of truffle-spiked creamy cheese — delectable bites but also could have done with a more generous stuffing.
It's normally quite hard to pick a pasta dish to order at most Italian restaurants but IO Italian Osteria makes it even harder with a myriad of house signatures and classics to tickle your brain.
Out of those that I tried, the most memorable was probably the Orecchiette ($19). Not the most common pasta shapes out there in Singapore but they do a pretty solid rendition with a good bounce, then given a creamy oomph by the saffron sauce and pork sausages.
Fine Meal Overall
Diversity can be a draw but it also means a divestment of focus on the overall menu. So while there were a few more memorable dishes from IO Italian Osteria, the rest appeared plainer relatively. One such dish was the Rice Suppli ($9), a relative of my beloved panko-crusted Arancini.
These crispy tangerine-hued panko balls greeted you with strings of melted Mozzarella when you pry them open. Unfortunately, Mozzarella is a rather meek cheese and the rather underachieving richness of the Bolognese couldn't quite elevate it.
In stark contrast to the plainness of the Suppli, the Grilled Octopus ($34) was underwhelming and the biggest disappointment of IO Italian Osteria.
Surely, this Mediterranean classic protein could have been given more love. Alas, the textures were quite drab and other than the char on the suckers, these were rather bland and rubbery.

IO Italian Osteria did redeem themselves slightly at the end with this Pistachio Tiramisu ($14). It's imbued with the earthy aroma of pistachio that complemented the base quite well but the cream was sadly overbeaten so it wasn't quite the perfect Tiramisu.
Is IO Italian Osteria the best Italian restaurant in Singapore? No, definitely not. Still, it endeavours to bring a wide variety of authentic Italian food to us and all at rather affordable prices. With such a sprawling selection, hits and misses are expected. Ultimately though, this beloved spot is still a place worth visiting if you're down for some solid Italian food that won't break the bank.
Make your reservations here.
IO Italian Osteria
Website | Facebook | Instagram
Address: 4 Hillview Rise, #02-01 HillV2, Singapore 667979
Hours: (Mon–Fri) 11:30am–10pm, (Sat–Sun) 10am–10pm