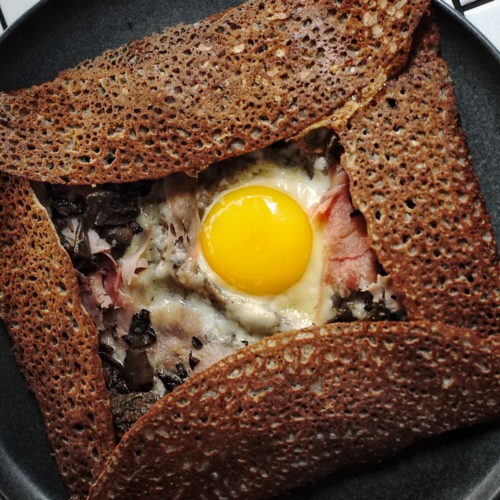 French Fold is Merci Marcel's newest crepe concept
Merci Marcel is undoubtedly one of the most beloved cafes in Singapore (and a personal fav), bringing great vibes and great food with a quirky French flair. They are advancing their brand with a new crepe concept, French Fold.
The French crepe might look just like an unassuming sheet of batter but anyone who has made it can tell you it requires quite a bit of skill. It is unapologetically French — simple, elegant and the devil is in the details.
While a different concept, the vibes here were still reminiscent of Merci Marcel with the warm lights, lush greens and tasteful furnishing. Can see myself spending lazy afternoons here.
Galettes On Point
Starting off, the main of choice was the No.4 Galette with a chiffonade of ham, organic egg sunny side up, over sautéed mushrooms and Comté cheese ($17). Unfolding this gorgeous French fold revealed a glut of fillings spread from corner to corner — very generous.
The combination of flavours was coherent and very enjoyable. rich earthiness from the succulently sautéed mushrooms and buckwheat galette, moderate saltiness from the ham, then deftly finished with a gentle sharpness from Comte. Balanced but still indulgent.
For the galette itself, French Fold's texture was slightly crisp at the edge and lightly chewy, though with a bit of inconsistency in denseness. Could be better but it's only their soft launch and it already beats out other competitors. Definitely shows promise.
Cos I'm a crepe
Maybe I'm a crepe but I loved French Fold's playful inclusion of black sesame in the crepe with orange confit, white chocolate chips, black sesame and topped with dark chocolate sorbet ($12).
The punchy citrus of the orange met with the decadence of dark chocolate was a delight. However, the orange peels with that touch of bitterness did most of the heavy lifting, so a bit more peel could make it more coherent.
The black sesame was rather endearing as it helped inject a kiss of nuttiness that helped soften the spirited profile. Plus its crunch, the tender orange slices and the light sorbet played well with the bouncy crepe and kept it quite interesting texturally.
I was lucky enough to visit them on their soft launch and whilst there are kinks, it was very promising and the items are enjoyable as is. But knowing Merci Marcel's penchant for quality, I look forward to French Fold bringing even better crepes in the future!
French Fold
Address: 204 Telok Ayer St, Singapore 068640
Hours: 8am–10:30pm